African floods compound health, conflict challenges
Share - WeChat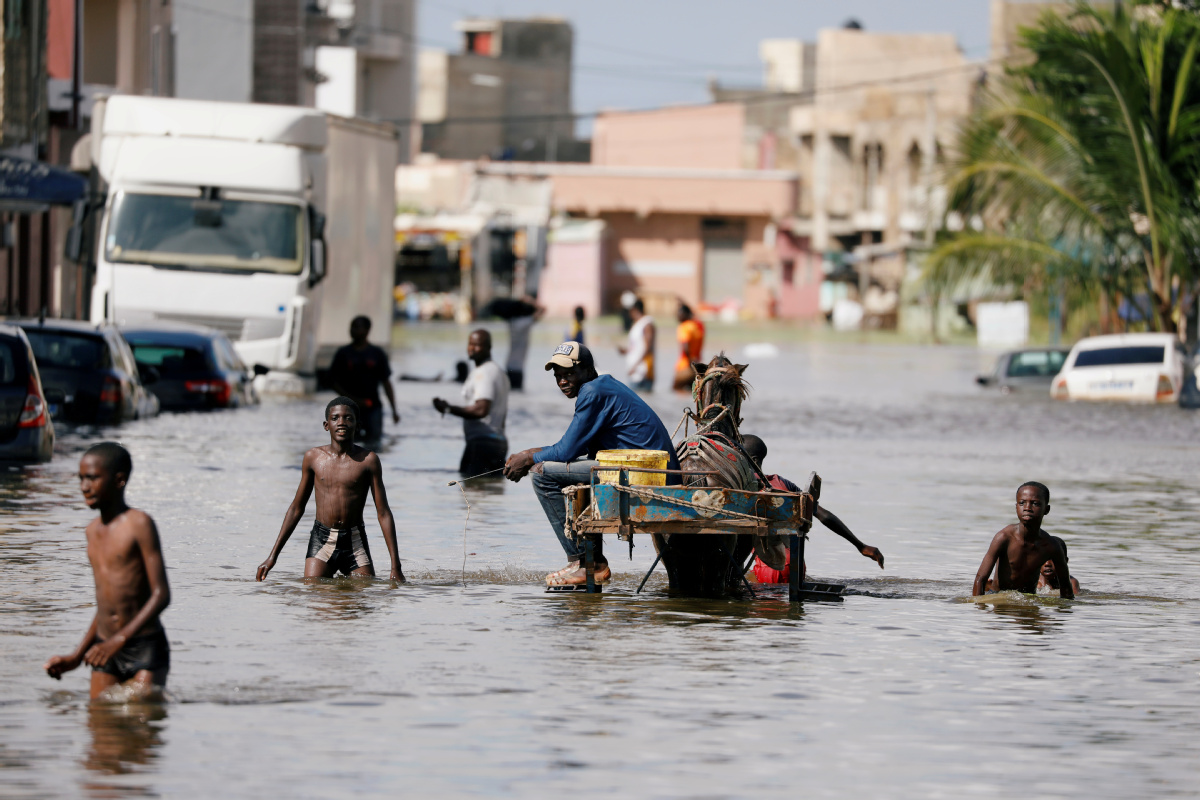 Heavy rains are triggering flooding across Africa, resulting in death, displacements and destruction of properties and infrastructure even as the continent continues to struggle with COVID-19, other health-related emergencies and civil conflict.
In some countries, the flooding has interrupted efforts to respond to the coronavirus or even deliver relief assistance to flood victims.
The Climate Prediction Center, a United States federal agency, said torrential rains have led to widespread flooding, killing many people in Senegal, western Mali and northern Nigeria.
Flooding has also been reported in Burkina Faso and northeastern Ghana because of heavy rains.
The agency said heavy downpours exceeding 100 millimeters led to inundation in western Mali, including Bamako and surrounding areas.
Farther east, heavy, prolonged rain caused flooding over the Fada area of eastern Burkina Faso, northeastern Ghana and northern Nigeria.
In Senegal, the government has activated a state of emergency due to severe flooding over many regions, including Dakar, areas of Joal, Khombole, Sokone, Passy, Thiare, Kaolack and Tambacounda. Six people were reported to have died in the floods.
On Sept 7, the country recorded 124 millimeters of rain in seven hours, an amount usually received during the entire rainy season from July to September.
Two days later, Burkina Faso declared a state of natural disaster after 13 people died in floods following days of heavy rain.
In Niger, three months of heavy rains have left massive destruction of properties and infrastructure as well as many people dead.
National authorities said that by Sept 7, 58 casualties had been registered. More than 52,400 households representing 432,613 people have been affected and more than 36,150 houses destroyed.
In Ethiopia, more than 1 million people were reported to have been affected by Sept 8, including more than 340,000 displaced.
Worst in a decade
The European Civil Protection and Humanitarian Aid Operations agency said floods affecting Ethiopia since early this year are considered the heaviest and most destructive of the past decade.
Due to heavy rains in the Ethiopian highlands and in Somalia, flooding of the Shabelle River has displaced more than 287,000 people and affected more than 300,000 others in Somalia since late June.
Sudan has also been hit hard by floods, with more than 500,000 people affected since the start of the rains in mid-July, the UN Office for the Coordination of Humanitarian Affairs said.
On Sept 4, the government imposed a three-month state of emergency after rains destroyed about 100,000 houses and killed more than 100 people.
In Tunisia, floods have killed at least six people following days of heavy rainfall in several regions.
On Thursday, Moussa Faki Mahamat, chairman of the African Union Commission, extended his condolences to the governments and peoples of member states affected by the flooding.
"I'm particularly mindful that member states are confronted with humanitarian challenges while also battling the coronavirus pandemic," he said.
Faki reaffirmed the commission's commitment to supporting member states in their early recovery strategies and called on the international community to join efforts to support the affected countries.