China's second sea-based space launch places 9 satellites in orbit
By Zhao Lei on board Zhonghua Fuxing in the Yellow Sea | chinadaily.com.cn | Updated: 2020-09-15 09:43





Share - WeChat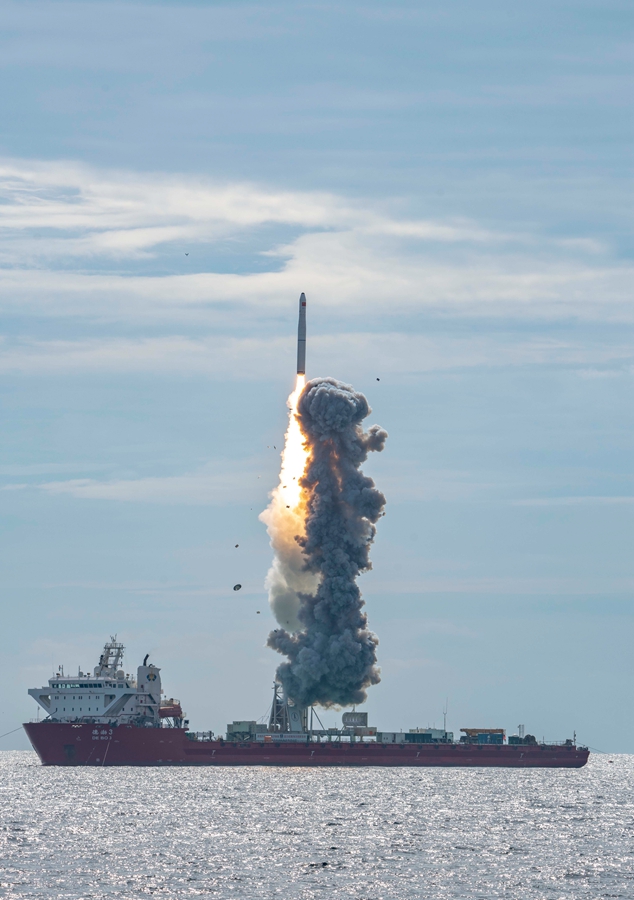 The Debo 3 belongs to the salvage bureau in Yantai, Shandong province. It is 159.6 meters long and 38.8 meters wide and has a carrying capacity of 20,500 metric tons. The ship is electrically propelled, with a maximum speed of 22.2 kilometers per hour.
The entire flight was controlled and monitored by engineers on board a support ship anchored several kilometers from the Debo 3. Spectators, including reporters and invited guests, were on board a large passenger liner nearby.
The mission helped to optimize seaborne launch procedures and improve the safety and reliability of such operations, laying a foundation for frequent sea-based launches in the future, said Jin Xin, the rocket's deputy project manager.
Peng Kunya, the rocket's chief designer, said the sea area used in Tuesday's launch can be used in future missions to lift satellites into sun-synchronous orbits, adding that the advantages of sea-based launches — higher efficiency, flexibility and safety — will attract more clients.