Typhoon expected to approach Jilin
Share - WeChat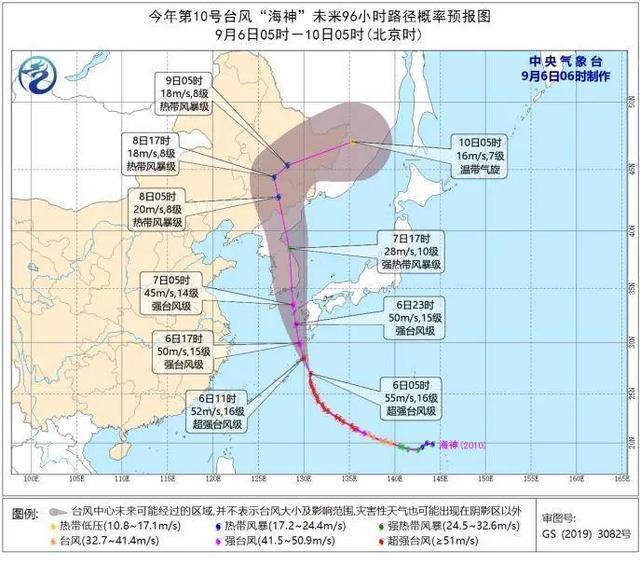 Haishen poses high flood risk since soil is already saturated from previous rain
Typhoon Haishen, the 10th typhoon of the year, is expected to approach Jilin province on Tuesday, and local authorities have strengthened preparations to reduce losses.
The province is facing a relatively high risk of flooding and mountain torrents, as the soil is already saturated due to rain brought by previous typhoons, according to local authorities.
The province has prepared emergency supplies worth over 130 million yuan ($18.9 million) and has organized 70 warehouses stocked with emergency supplies across the province.
Jilin has also set up more than 1,900 emergency response and rescue teams and a special fund of 230 million yuan for disaster relief.
China's national observatory renewed a blue alert for Haishen on Monday, warning that from Monday to Tuesday, gales are expected to hit parts of the Bohai and the Yellow seas as well as coastal regions of the Liaodong and the Shandong peninsulas.
It also issued an orange alert for mountain torrents and a blue alert for geological disasters for parts of Northeast China due to the typhoon.
China has a four-tier color-coded weather warning system, with red representing the most severe weather, followed by orange, yellow and blue.
The National Meteorological Center also said Haishen weakened from a strong typhoon to a strong tropical storm on Monday after it landed on the southern coastal areas of South Korea.
After moving to Jilin province on early Tuesday morning, it will further head to Heilongjiang province on Tuesday afternoon, and morph into a post-tropical cyclone gradually as it weakens, the NMC said, adding that there would be strong winds in some areas of Northeast China, as well as the East China, Yellow and Bohai seas on Monday and Tuesday.
Central and northern areas of Liaoning province, most parts of Jilin and central and eastern areas of Heilongjiang will experience heavy or torrential rain. The accumulated rainfall over the two-day period could reach 40 to 130 millimeters or even 150 to 180 mm in some areas, it said.
Compared with other provinces in eastern and southern China, typhoons are less common in China's northeastern region, as only 1.2 typhoons on average hit the area annually.
However, Typhoon Bavi and Typhoon Maysak, the eighth and ninth typhoons of this year, both brought strong rain and wind to the region, making Haishen the third to affect the region in half a month.
Meteorological experts have advised people in disaster-prone areas to take shelter from winds and that vessels in these areas should be cared for. They warned that farmlands in central and eastern areas of Heilongjiang and Jilin faced high risks of flooding, and management should be strengthened to reduce adverse effects on crops such as corn, rice and soybeans.
People should also be aware of the adverse impacts brought by the typhoon to the sailing, fishery and breeding industries, the experts added.
Xinhua contributed to this story.