Chronicle of Xi's leadership in China's war against coronavirus
Share - WeChat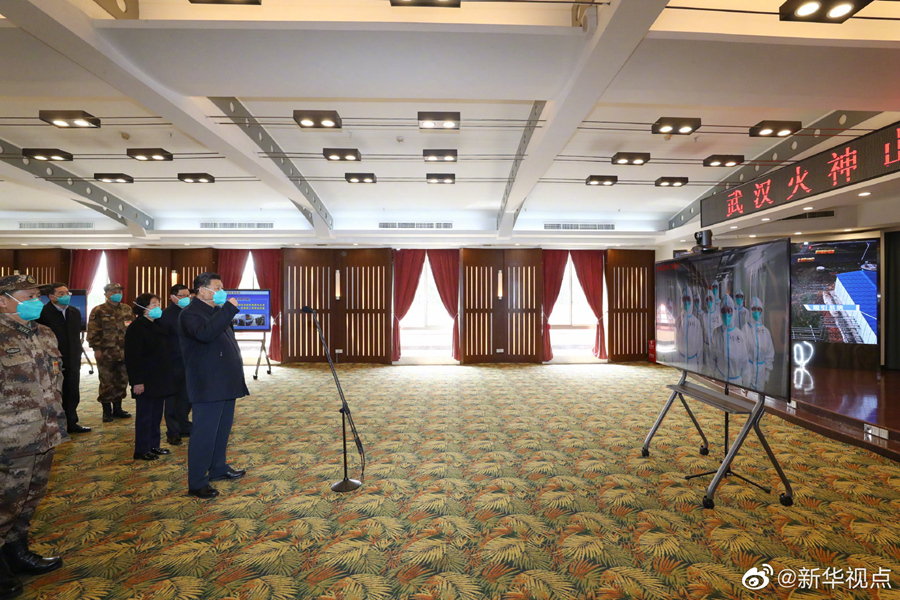 BEIJING — On March 10, 2020, at Huoshenshan Hospital in Wuhan, President Xi Jinping — wearing a mask — spoke to a patient lying in bed by video link.
"What you should do now is to stay confident. We all should be confident that we will win this war," Xi said. "Victory for Wuhan, victory for Hubei, and victory for China!"
Xi, also general secretary of the Communist Party of China (CPC) Central Committee and chairman of the Central Military Commission, appeared at a critical place -- Wuhan, the Chinese city hit hardest by the COVID-19 outbreak at the time.
Eight days after Xi's visit, the city reported no new cases for the first time. On April 26, Wuhan hospitals cleared all COVID-19 cases.
Over the past seven-plus months, China -- the world's most populous nation -- has gone through an extraordinary time. More than 80,000 Chinese were infected by the virus and about 4,700 people lost their lives. Epidemic control became the country's top priority.
During the Spring Festival holiday starting in late January, hundreds of millions of people abandoned their holiday plans. They stayed at home for weeks in a row. Cities were locked down, businesses were closed and public gatherings were canceled.
The annual sessions of the national legislature and the national political advisory body -- a key event on the country's political calendar known as the "two sessions" -- were postponed for the first time due to a public health emergency.
Xi said the epidemic was the fastest spreading, most extensive and most challenging public health emergency the country had encountered since the founding of the People's Republic of China in 1949.
"Life is of paramount importance," Xi said. He launched a "people's war" and personally took charge of the response, marshaling national resources to fight the "invisible enemy."
In little more than a month, the rising spread of the virus was contained; in around two months, the daily increase in domestic coronavirus cases fell to single digits; and in approximately three months, a decisive victory was secured in the battle to defend Hubei province and its capital city of Wuhan -- a major achievement of strategic importance in the nationwide fight against COVID-19.
Though there were a handful of sporadic outbreaks over the past few months, the Chinese government -- with its experience and targeted measures -- managed to break the transmission routes quickly.
From a global perspective, China was among the first countries to resume work and reopen schools and businesses. The country is now racing against the clock to win its anti-poverty fight and achieve a moderately prosperous society in all respects.