Further steps to ease market access lauded
Share - WeChat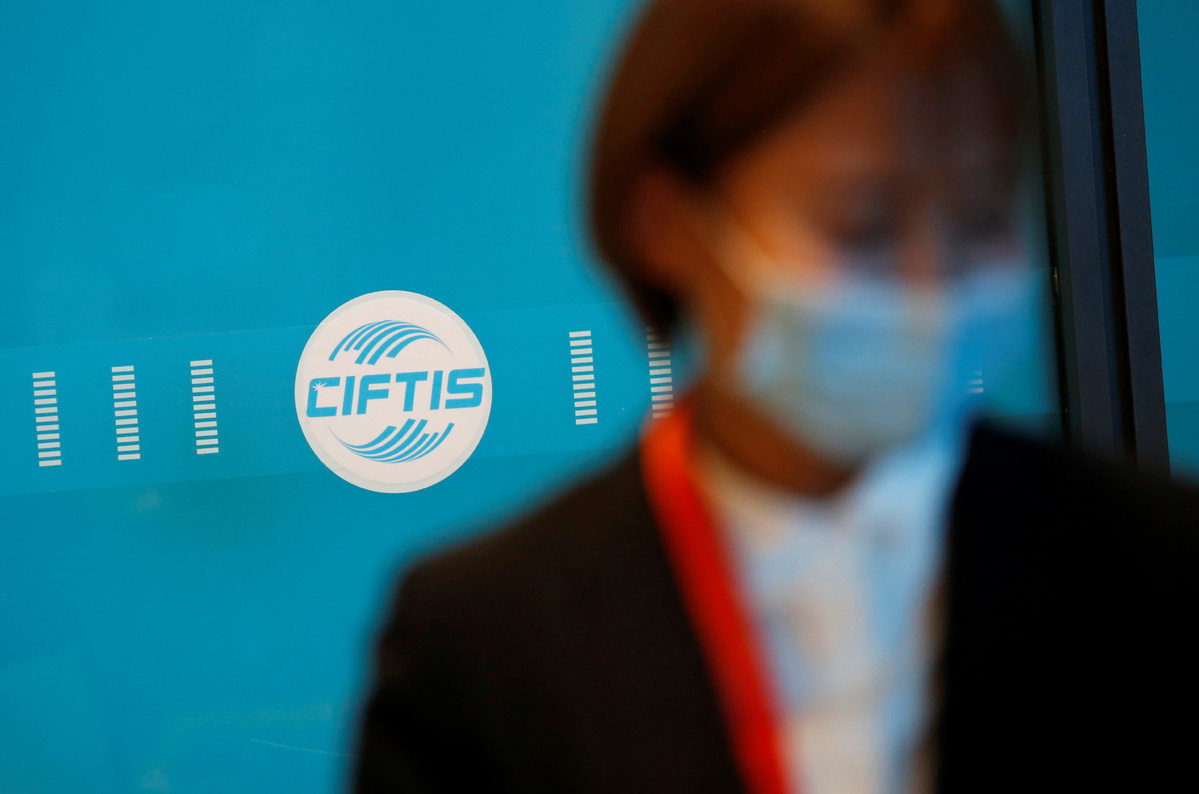 Top execs say President Xi's push for services sector will boost global recovery
Top global business executives lauded China's increasing presence in the international trade in services and its contributions to the economy, following President Xi Jinping's latest commitments for China to remain steadfast in opening wider to the world, further ease market access for the services sector, and increase imports of quality services.
Xi made the commitments when delivering a speech on Friday via video to the Global Trade in Services Summit of this year's China International Fair for Trade in Services in Beijing.
The CIFTIS-held as all countries battle the COVID-19 pandemic, stabilize their economies and protect people's livelihoods-shows China's willingness to work together with others to enable global trade in services to thrive and the world economy to recover at an early date, Xi said.
Bjorn Rosengren, CEO of technology group ABB, said,"As China's first comprehensive exhibition for the global trade in services, the CIFTIS is an excellent platform for bringing customers and suppliers together to explore new opportunities.
"China has shown great foresight in accelerating the construction of 'new infrastructure'-such as 5G networks, data centers and e-mobility-and in developing its capabilities in artificial intelligence,"Rosengren said.
The country's effort to promote new technologies "aligns perfectly with our business, which is increasingly focused on integrating AI and digital technologies into machines, robots, power grids, transport systems and other infrastructure", he added.
President Xi said China will also continue to work on a negative list system for managing cross-border services trade and develop open platforms for a pilot program for the innovative development of the sector.
Xi said Beijing will be built into a national integrated demonstration zone for greater openness in the services sector, as well as a pilot free-trade zone featuring scientific and technological innovation, opening-up of the services sector and the digital economy.
Considering that the services sector, more than other sectors, requires an open, transparent, inclusive and nondiscriminatory environment, Xi called for the concerted efforts of all countries to reduce border and behind-the-border barriers constraining the flow of production factors, and to promote cross-border connectivity.
China will promote greater harmonization of rules for services at the multilateral and regional levels, and work for continued improvement in global economic governance and more inclusive growth of the world economy, he said.
Xi also underlined the importance of unleashing the power of innovation in driving cooperation forward.
"China will work with other countries to enhance macro policy coordination, accelerate international cooperation in the digital sector, step up intellectual property protection and facilitate the vibrant growth of the digital economy and sharing economy," he said, adding that such efforts will generate renewed dynamism for the world economy.
China has become an important growth driver in world services trade in recent years. It has been the world's second-largest trader in services for six consecutive years, and its trade in services in 2019 reached5.42 trillion yuan ($792 billion), the Ministry of Commerce said.
Although affected by COVID-19 and other factors, China's services exports outperformed imports, with exports totaling 1.09 trillion yuan from January to July, declining 1.4 percent on a yearly basis, and imports hitting 1.53 trillion yuan, down 22.8 percent.
Wilson Ho, vice-president and managing director of SAS Greater China, said the data analytics group "has always been very optimistic about the Chinese market and has full confidence in China's economic development prospects".
"The holding of CIFTIS as per schedule indicates that the Chinese market has indeed entered the post-pandemic recovery phase. We can see that the Chinese market is very resilient and full of opportunities. It is our honor to be able to participate in CIFTIS this year," Ho said.
"Our goal is to continue to innovate, enabling our customers to realize their competitive advantage. And China is an integral market of that growth plan for SAS."
Asgar Rangoonwala, president of Xian Janssen, a pharmaceutical subsidiary of healthcare group Johnson & Johnson, said the event is a strong sign of the Chinese government's confidence in overcoming COVID-19 and reviving the economy, as well as its firm commitment to further expanding the opening of its economy.
"What we heard in President Xi's speech at the opening ceremony has been extremely encouraging,"Rangoonwala said. "We are truly impressed by the determination, decisiveness, and strong results of the Chinese government's efforts to control the COVID-19 outbreak and drive economic recovery."
Raymund Chao, chairman of PwC for the Asia-Pacific region and China, said Xi's speech showed the world that it's important for China to host the 2020 CIFTIS when many countries are fighting COVID-19.
"The 2020 CIFTIS is the first major international economic and trade activity held by China since the outbreak of the epidemic. It issues a positive signal that China adheres to economic globalization and strengthens international economic and trade cooperation," Chao said.
"It helps global service trade enterprises to strengthen international exchanges, obtain new orders and expand new markets, which will play a positive role in reducing the impact of the epidemic and promoting economic recovery."
Yukio Kajita, a professor on the faculty of law at Japan's Chuo University, said the global demand for trade in services has continued to increase in recent years and the fact that China, which stands ahead of these changes, chose to the hold the CIFTIS now is of great practical significance.
"I am looking forward to the CIFTIS promoting a full flow of talent, technology and other resources, so that it helps world services innovation in the post-pandemic era,"Kajita said.
Alexis Hooi, Liu Zhihua and Wang Xu contributed to this story.