Youngsters given taste of medical careers at hospital
Share - WeChat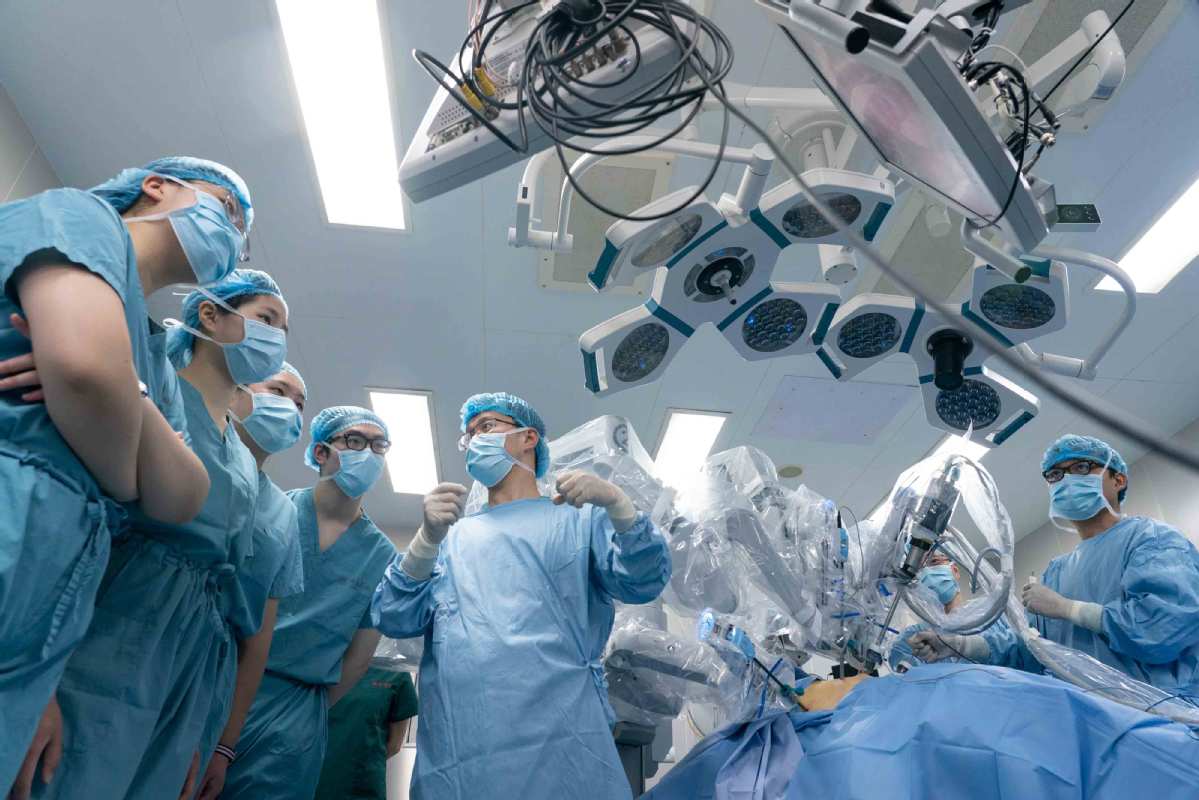 More than 30 senior high school and university students toured a major Shanghai hospital's fever clinic, respiratory disease, infectious disease and infection control departments as well as others involved in treating COVID-19 patients on Saturday.
They were invited by Ruijin Hospital Affiliated with Shanghai Jiao Tong University School of Medicine with the aim of fueling their desire to become medical workers, who have made an extraordinary contribution to protecting people's health this year.
The students also visited operating theaters, donned protective suits and met hospital staff members who battled the novel coronavirus outbreak. Beginning in late January, more than 150 doctors and nurses from the hospital were dispatched to aid Wuhan, the capital of Hubei province and the Chinese city hit hardest by the pandemic.
Guo Wuwei, a 16-year-old student from Yangjing Middle School, said he has dreamed of being a doctor since childhood and was happy to finally have the opportunity to put on a white medical gown.
He attempted a bronchoscopy examination on a dummy patient during the visit and doctors praised him for his stable hands.
Another 16-year-old, Lin Jiahao from the High School Affiliated to Shanghai Jiao Tong University, said the visit to the operating theaters and hearing from the nurses how to count, disinfect and store surgical equipment after operations impressed him most.
"We can sometimes see scenes of surgical operations from the media, but it's the first time that I've been aware of the large amount of work behind the scenes, which is also important to ensure the accuracy and completeness of medical procedures," Lin said.
Twin sisters Ge Anqi and Ge Anyi, 18, said their first experience of washing their hands and arms like a professional medical worker in an operating theater had made them realize the strict process was important for patients' health, even though their mother has worked as a nurse in operating theaters for decades. Ge Anyi is a student of Shanghai Datong High School, and Ge Anqi is from Shanghai Guangming High School.
Doctors from various departments at the hospital recounted their experiences and feelings about aiding Wuhan. Chen Wei, from the department of respiratory and critical medicine, said he and his colleagues received 28 COVID-19 patients in severe or critical condition within 24 hours of their arrival in the city.
"But I never defined myself as a hero in harm's way, the term usually used by media to describe healthcare workers rushing to Wuhan for medical aid," he said."I was just performing a doctor's duty-alleviating patients' diseases and pain-at another location."
Xin Haiguang, from the infectious disease department, led the youngsters on a tour of the fever clinic, where medical institutions screen and quarantine fever patients and identify those potentially infected with the novel coronavirus.
He told the youngsters that one patient in Wuhan told him:"I can only see your name on your protective suit but cannot see your face. However, I'll keep you in my heart for my entire life as you saved me."
Such heartfelt appreciation was beyond any praise or awards for medical workers, he said.
Tan Yongchang, from the anesthesiology department, led the students in performing a simulated tracheal intubation on a dummy patient. During his 51-day medical assistance mission in Wuhan, Tan and his team completed 71 such operations on critically ill COVID-19 patients, even though they were at high risk of getting infected themselves during such procedures.
"Often I compare an anesthesiologist to a pilot for a flight as both of us are there to secure a safe takeoff and a stable landing of the journey," he said.
"Like medical workers in other positions, anesthesiologists need strong professional capabilities and the sense of responsibility that deserves the trust of patients, who count on us for their lives."
Ning Guang, president of Ruijin Hospital, said that being a medical worker and being able to help people in need was both a job and a blessing.
"We encourage the young generation to make 100 percent efforts for any career they choose and build it into a lifelong cause full of social values," he said.