Band stays true to its origins
Share - WeChat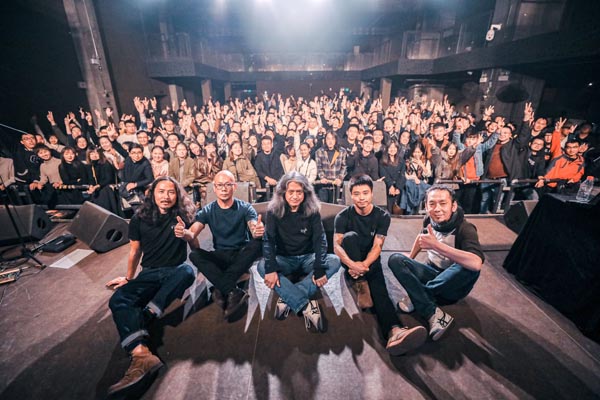 Local folk music connects Lanzhou's rock diaspora back to their hometown
It's almost as if they hadn't been away. When Chinese band, Wild Children, performed their classic hit, Ballad of The Yellow River, at the popular band-competition reality show, The Big Band, the five members of the group touched the audience with their harmonic voices.
Without the accompaniment of any musical instruments, they sang the song quietly and smoothly. Written over two decades ago by the leading vocalist Zhang Quan, the song expresses the singer-songwriter's homesickness for Lanzhou in Gansu province in Northwest China and his deep love for the local culture along the Yellow River. After they sang a cappella, the band also displayed their musical instruments.
"We grew up on the vast desert of Gansu province and we sang to everything around us, the nature, the grass, and the goats. We want to let more people know that China has a band named Wild Children, which is different," said Guo Long, the accordionist of the band, in the reality show. "Rock music could be powerful yet restrained."
One of the celebrity guests in the reality show, actress-singer Zhou Xun, shed tears while listening to the song. Chace, 21, whose real name is Zhu Yiha, the front-man of a newly-formed Chinese band, Mandarin, showed his respect for Wild Children, saying: "They sing for themselves, not for anyone else. When they play their musical instruments, it's like having a conversation."
Wild Children's performance was a sharp contrast to the other 32 bands that competed in the reality show, including veteran rock groups, such as Carsick Cars, Queen Sea Big Shark, and newcomers, Mandarin and Floruit Show. The bands cover different music styles, from heavy metal, pop-rock to electronic dance music and alternative rock.
In its second season, the reality show, which is produced by Chinese streaming site iQiyi and began broadcasting on July 25, has made further efforts to successfully bring Chinese indie rock bands to mainstream.
On their social media platforms, such as Sina Weibo, Wild Children has received warm feedback from their fans. For the band, which was founded in 1995 and now resides in Dali Bai autonomous prefecture in Yunnan province, it's an unexpected reward.
Most Popular