Till divorce us do part
Share - WeChat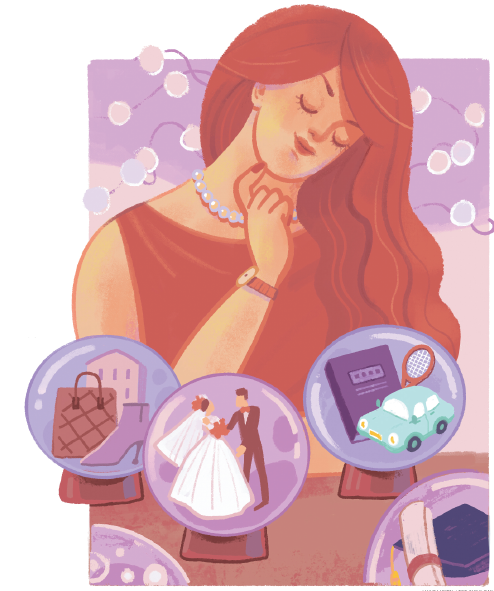 Far from being a social obligation, marriage in China is increasingly being seen as an optional extra for those willing to splash out.
"Finding priceless treasure is much easier than finding true love in a man," the Tang Dynasty (618-907) poetess Yu Xuanji declared.
Yu, it seems, could speak with a degree of authority and feeling on such matters, having married a court official named Li Yi as a concubine at the age of 16, only to be banished by him at the behest of his primary wife three years later.
Of course, the notion Yu voiced in her poem about the difficulty of finding a perfect soulmate was not exactly new even when she penned her lines 12 or so centuries ago.
"Since ancient times, people have been aware that good marriages are rare," says Yang Juhua, professor with sociology and population studies at the National Academy of Development and Strategy under the Renmin University of China.
In fact one idea that Chinese from ancient and modern times seem to have reached a consensus on is that "a good marriage is a luxury item", Yang says.
The fact that people think this way suggests that they now have "higher standards and expectations for marriage", she says.
In recent years an increasing number of young Chinese have chosen not to marry, in contrast to earlier times when the expectation was that they would marry by a certain age, Yang says.
"The saying about marriage being a luxury is consistent with a decision to stay single, because luxuries are not necessities. You can choose to splash out a lot of money to buy a luxury, but then again you can easily choose to do without the luxury, too."
A recently broadcast television drama, San Shi Er Yi (Merely 30), told of the relationships of three women, including their attitudes regarding marriage, divorce and personal growth. It struck a responsive chord particularly among female viewers.
One of those who said she could identify strongly with the series is Ye Guniang, 34, a white-collar worker in Beijing, who has been married for three and a half years and is now going through a divorce.
She met her husband, 11 years her senior, in 2016, she says, and they dated for nine months, marrying soon after Ye became pregnant.
"It was all so natural," she says. "Even had it not been for the baby, we had planned to marry anyway. I admired him so much. He loved mountaineering and had even been to Qomolangma, which was something I thought was incredibly cool."
However, Ye soon realized that something like mountaineering and being able to say one had scaled the world's highest mountain contributed nothing to their marriage.
"I knew he was cool, but being cool could not make up for not caring about me or for me. I'm a professional in my field, and yet he never respected that. He'd hardly ever say anything positive to me or show that he cared whether I was tired or not."
Most Popular