Birthrate for Uygurs is No 1 in Xinjiang
Share - WeChat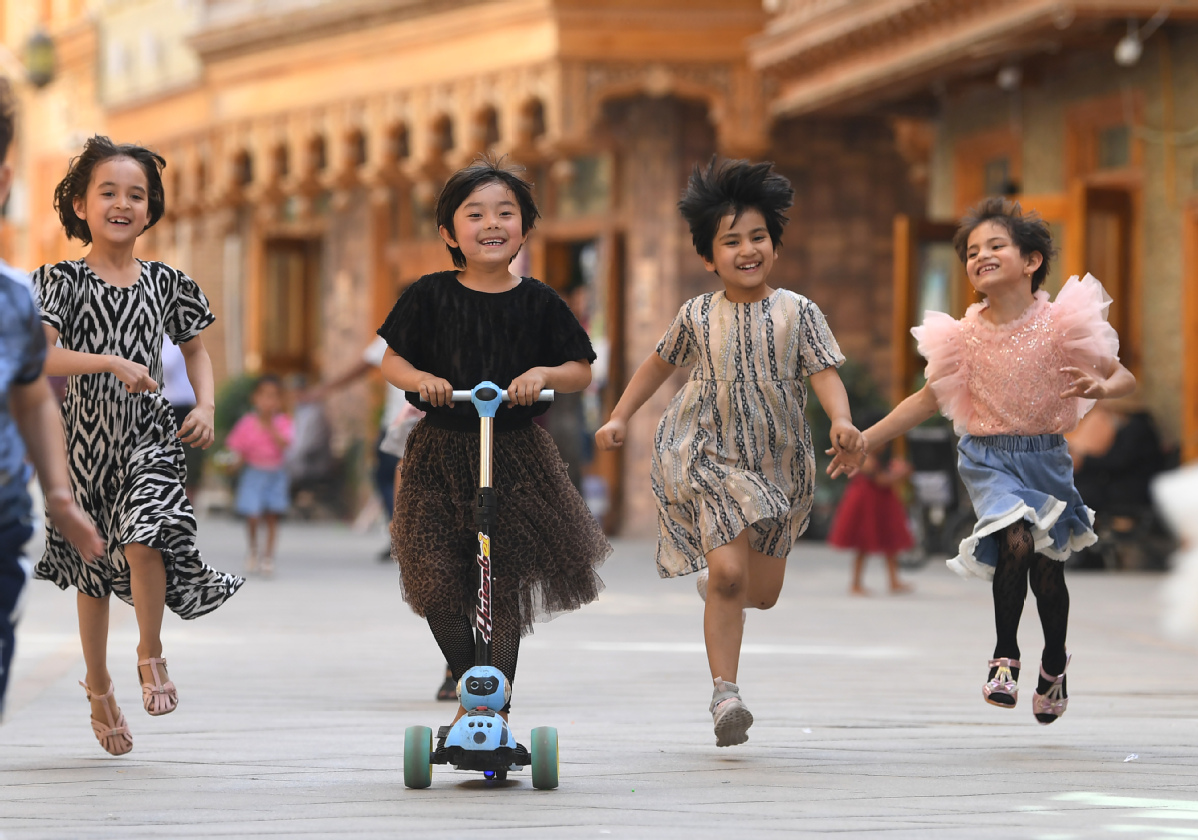 The growth rate of the Uygur population in the Xinjiang Uygur autonomous region from 2010 to 2018 was higher than the rest of the region, including the growth rate of people from the Han ethnic group, according to the latest research that disproves claims in a report published by a German scholar.
The report published by Adrian Zenz entitled "Sterilizations, IUDs and Mandatory Birth Control: The (Chinese Communist Party's) Campaign to Suppress Uygur's Birthrates in Xinjiang" states that "Xinjiang is using forced sterilization and coercive family planning against Uygurs and other minorities in Xinjiang in an attempt to limit their populations".
However, according to research published on Thursday by the Xinjiang Development Research Center on the development of Xinjiang's population, the birthrate of the Uygur population between 2010 and 2018 was about 12 newborns per 1,000 people, while that of the Han people was about nine per 1,000.
Mutalif Roz, director of the region's health commission, said during a news conference on Saturday that China's family planning policy for ethnic minorities was looser than that for Han people, and the country had not formulated any such policy for a single ethnic group.
"For some time in the past, suffering from the 'three evil forces' (terrorism, extremism and separatism), the family planning policy could not be fully implemented in southern Xinjiang prefectures like Kashgar and Hotan," he said. "Plus, many were born outside of the state plan and without marriage, which led to a rapid rise of Xinjiang's population."
The rapid rise in population has placed enormous pressure on the region's water and land resources. Since implementing the family planning policy in Xinjiang, such pressures have been alleviated, and health conditions of people from various ethnic groups, particularly women and children, have improved, according to the center's research.
Zenz's report noted that local government officials in Xinjiang forced women from ethnic groups to have contraceptive ring implantation, tubal ligation or even induced abortion.
"In Xinjiang, illegal medical practices like late pregnancy induced labor, compulsory birth control and forced pregnancy tests are banned," Mutalif said. "People of all ethnic groups are free to choose whether or not and how to practice contraception."
Over a period of time, there have been increasing cases of voluntary tubal ligation and intrauterine device replacement. Practice has proved that among all kinds of long-term effective contraception measures, tubal ligation and IUD placement are internationally acknowledged as safe while resulting in the fewest side effects and the highest efficiency. Such measures have been widely applied domestically and have garnered voluntary acceptance from childbearing age groups in Xinjiang, reports from the center said.