China urges US to immediately withdraw restrictions on Chinese diplomats
Share - WeChat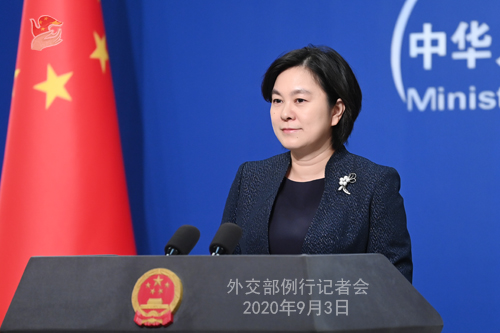 China urged the United States to immediately withdraw its decision to impose further restrictions on Chinese diplomats, saying it will make a just and necessary response according to the development of the situation.
These moves "run totally counter to international law, the norms guiding international relations and the consular treaty between China and the US", and have "seriously disrupted bilateral ties and normal bilateral exchanges", Foreign Ministry spokeswoman Hua Chunying said at a daily news conference on Thursday.
The restrictions are unreasonable and not supported by law, she said, adding that they were an example of "anti-China paranoia".
China has always provided convenience according to law and regulations for normal activities by US diplomatic and consular personnel in China, Hua said.
Also, China's diplomatic missions in the US will maintain normal exchanges with US communities, and China will continue to support normal exchanges and cooperation between various sectors of the two countries, she said.
China-US ties are vital not only to the two countries but also the world, and the two countries need to maintain smooth channels of communication at all times, Hua added.
The US State Department announced on Wednesday that senior Chinese diplomats will now need to seek its approval to visit US universities and to meet with local government officials, following a decision in October that required Chinese officials to notify the department of plans for such meetings.
In addition, Chinese diplomats will have to get permission to host cultural events outside their diplomatic missions involving more than 50 people.
In making the announcement at a news briefing, Secretary of State Mike Pompeo said Washington is "simply demanding reciprocity".
A spokesperson for the Chinese embassy in Washington said in an online statement that the US move runs counter to its "self-proclaimed values of openness and freedom".
It came less than two months after the State Department abruptly ordered the closure of the Chinese consulate in Houston, which prompted Beijing to order the shuttering of the US consulate in Chengdu, Sichuan province, in response.
Chinese Ambassador to the US Cui Tiankai earlier said the closure of the Houston consulate was only one in a series of moves to "demonize China and ramp up ideological confrontation".
"However, no sensible foreign policy is based on ignorance, arrogance or shortsightedness, let alone hatred," he wrote in an article for Politico.