With schools shut, families and teachers get inventive
Share - WeChat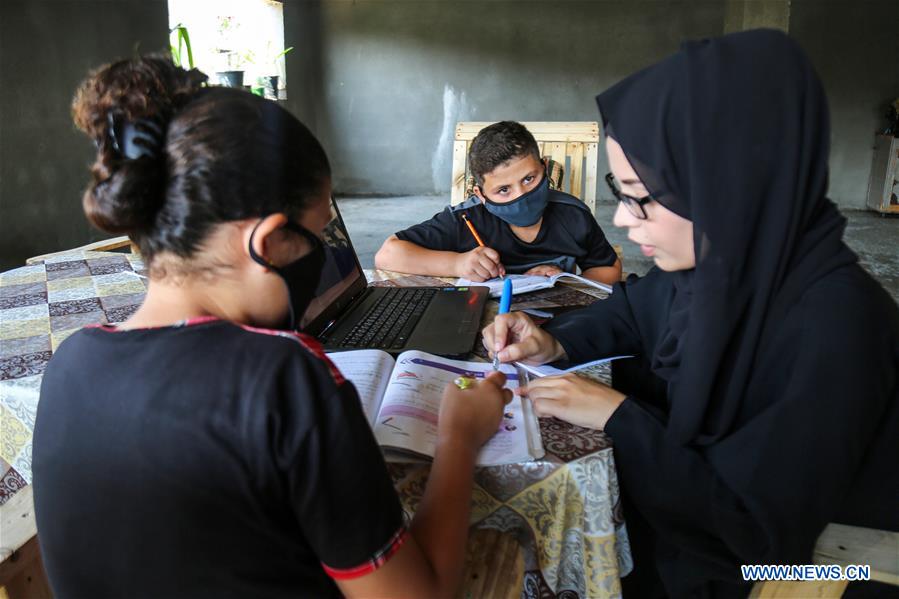 Editor's note: This news column showcases stories from around the world that bring a touch of positivity to the fight against the deadly coronavirus.
GAZA-Ekhlass Mohammed from the northern Gaza town of Beit Lahia decided to teach her four siblings at home when schools in the Gaza Strip once again shut down amid a resurgence of COVID-19.
The 22-year-old woman said the new round of closures-ending a short-lived period when classes had resumed following the initial shutdown-"brought us back to the starting point in the educational process".
In addition to covering the standard school curriculum, she is also teaching her family members English, Arabic and maths-all with the aid of a computer.
Of her new role, she said: "All of us must uphold our responsibility toward our people and students. They would have lost the school year if we didn't take care of them."
When the fresh coronavirus cases were revealed, the Hamas-run government imposed a full lockdown on the whole of Gaza to combat the outbreak.
All schools, mosques, markets and institutions have been closed in Gaza, and public gatherings have also been prohibited.
The impact has hit struggling families particularly hard.
Hala Abu Ryash, a mother of four from northern Gaza, said that poverty has prevented her from buying mobile phones or laptops for her children's study needs.
She said that her staying home for long periods has badly affected her, as well as harming the psychological well-being of her children. "Nothing can replace traditional education."
So far, Gaza's health ministry has recorded 400 cases, including 290 cases attributed to community transmission and four deaths.
With the spread of the virus, the resumption of in-school classes hinges on "the recommendations of the specialized committees", said Ziad Thabet, undersecretary of the Ministry of Education in the Gaza Strip.
Thabet said that remote learning can make use of "various tools and methods, such as self-learning cards, specific assignments and scientific projects", in addition to technology-based channels.
Online formats
Nihaya al-Ramlawy, a teacher at a government school, has gathered all of her students in a Facebook group to teach them how they can use online formats for lessons.
Ramlawy, 36, said she came up with the idea in order to maintain the students' learning without interruption. But she said that the unreliable power supply in communities was a problem.
More than half a million students attend schools in Gaza, and more than half the schools are affiliated with the United Nations Relief and Works Agency for Palestine Refugees in Near East.
Farid Abu Azra, head of the agency's education program in Gaza, said officials are trying to promote distance learning for students at all levels.
Xinhua