Oxford vaccine enters late-stage trials
Share - WeChat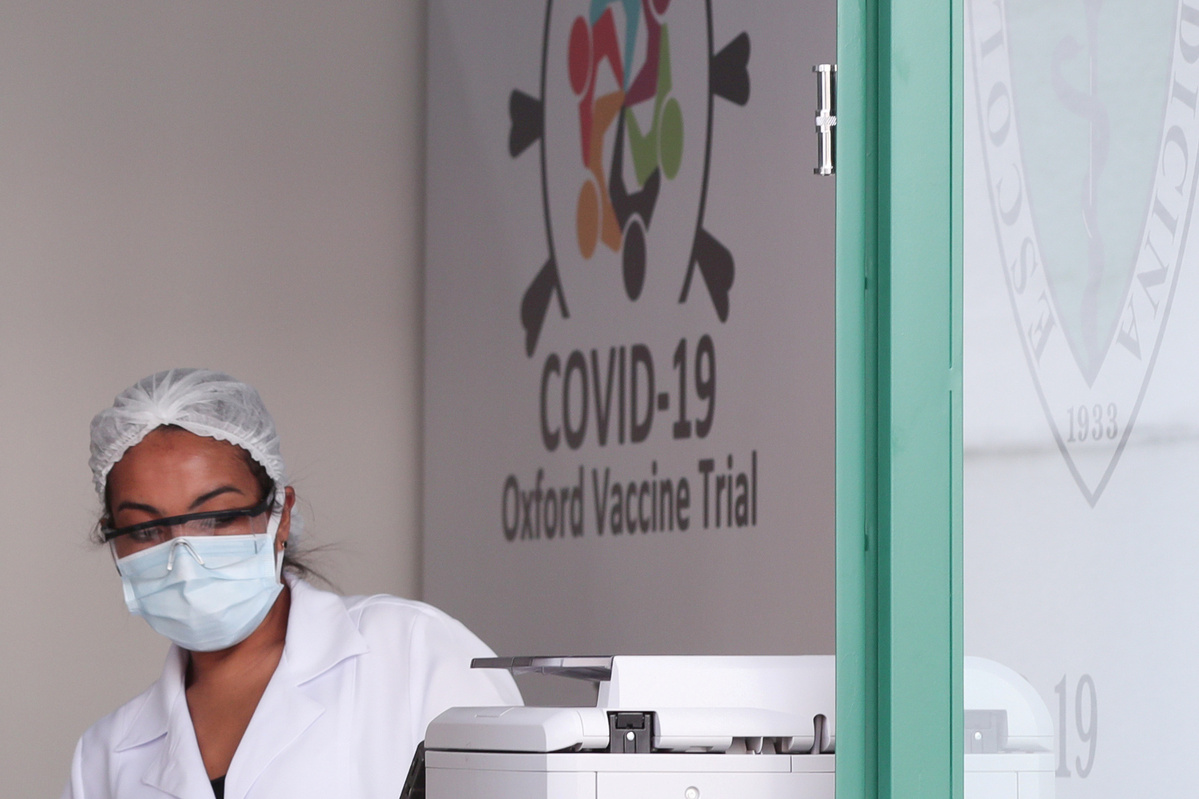 Late-stage clinical trials for the so-called Oxford vaccine have commenced in the United States, and developers say the first results determining the efficacy of this promising COVID-19 inoculation candidate can be expected this year.
Oxford University and development partner AstraZeneca, which is a pharmaceutical company headquartered in Cambridge, England, confirmed that the first of 30,000 volunteers received treatment in the US this week. The study is double-blind, so volunteers and healthcare professionals will not know if an injection contains a placebo or AZD1222, which is commonly referred to as the Oxford vaccine and that was formerly known as ChAdOx1 nCoV-19.
The US-based study joins three other Phase III trials taking place for this particular treatment; in the United Kingdom, Brazil, and South Africa.
The Oxford vaccine is among frontrunners in the race to produce effective protection against novel coronavirus infection, having elicited a strong immune response in Phase I and II trials that concluded in July, according to results published in the medical journal The Lancet.
Of at least 90 COVID-19 vaccine candidates in development around the world, fewer than a dozen have reached Phase III clinical trials.
Several major Chinese healthcare companies, including Sinovac Biotech, CanSino Biologics, and Sinopharm, are involved in the development of vaccines that have entered late-stage trials.
Last week, Zheng Zhongwei, head of China's COVID-19 vaccine development task force, confirmed that some domestically produced vaccines have already been authorized for emergency use.
Oxford University said further human trials may soon take place; in Chile and Peru.
"Oxford and AstraZeneca are collaborating with clinical partners around the world as part of a global clinical program to trial the Oxford vaccine," said Andrew Pollard, who is director of the Oxford Vaccine Group. "This latest trial in the US, led by AstraZeneca, will expand our safety database further and will help to provide the possibility of an earlier understanding of whether the vaccine can prevent infection."
Phase III trials could return results toward the end of this year, Oxford University said. Places with high infection rates will produce results sooner, as a sufficient number of volunteers must come into contact with the virus before a trial is concluded. This means that results from the UK trial may lag behind those that started later, since lockdown measures in Britain have slowed the spread of the virus.
AstraZeneca has signed supply deals with numerous nations for its treatment, including populous countries such as Russia, Brazil, and Japan. The European Commission confirmed last week it had signed a contract worth 336 million euros ($398 million) that guarantees at least 300 million doses for European Union countries, with an option for a further 100 million. In early August, the company announced a partnership with Shenzhen Kangtai Biological Products in which the Chinese vaccine maker has agreed to achieve annual production capacity of at least 100 million doses in the Chinese mainland starting this year.
AstraZeneca estimates it will need to secure capacity for 3 billion doses, and the company is actively seeking deals with other therapeutics manufacturers to meet this target. On Tuesday, UK-based pharmaceutical company Oxford Biomedica confirmed it had reached an agreement to produce large batches of the vaccine during an initial 18-month period. AstraZeneca will provide Oxford Biomedica with an upfront payment of 15 million pounds ($20 million), and further payments totaling 35 million pounds could follow if both parties agree to deal extensions.