Passenger loads to be capped on flights at 'high risk' for COVID-19 infections
Share - WeChat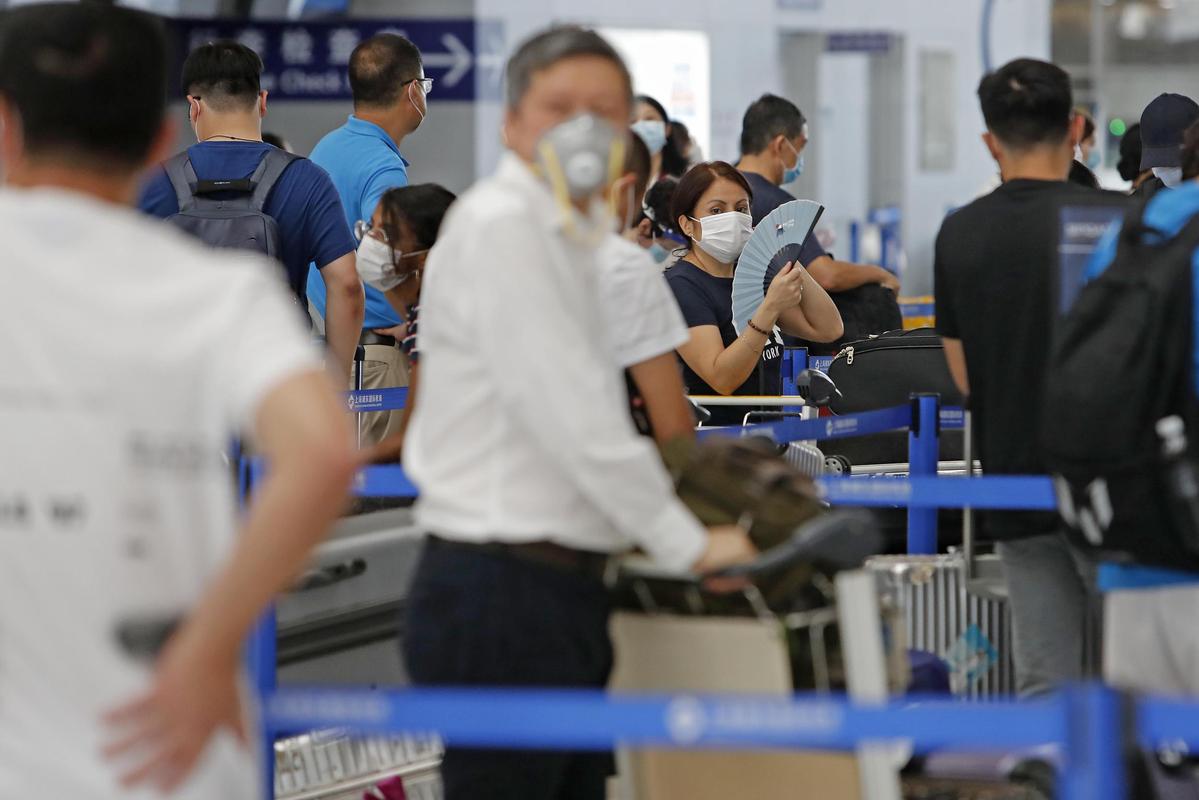 China will cap passenger loads to 75 percent of an aircraft's seats on flights designated a "high risk" for COVID-19 in an effort to contain imported coronavirus cases, the country's aviation regulator said.
The pandemic situation is still severe and complex globally, officials said.
With an increase of international passenger flights, the number of cases imported through air travel has been on the upswing, the Civil Aviation Administration of China said on Tuesday.
The National Health Commission said on Tuesday that no new locally transmitted COVID-19 cases had been reported across the Chinese mainland since Aug 16, with all new infections coming from abroad.
By the end of Monday, a total of 2,509 imported coronavirus cases had been reported on the mainland. Of them, 2,327 had been discharged from hospitals after recovering, and 182 remained hospitalized, with three in severe condition, the commission said.
To stem further cross-border transmission of the virus, the administration will scale up management of international passenger flights with an elevated infection risk.
The administration said international passenger flights classified as "high risk" could fill no more than 75 percent of the seats.
Risk is determined by the administration's latest technical guidelines for airlines' epidemic prevention and control.
Those technical guidelines take into consideration factors such as the ratio of existing confirmed cases among every 1 million population at the flight's departure country or region, and a flight's duration.
Restrictions on passenger loads will be further expanded to cover two more types of flights. The first type is those with a total of five or more passengers having tested positive for the virus on the same route in three consecutive weeks. The second is those restarted after having been suspended by the administration under a flight incentive and suspension policy announced in June.
For those two types of flights, the carriers will be allowed to increase their passenger loads to full capacity when no passengers on the route have positive nucleic acid tests for three consecutive weeks. They also can apply for more flights on the same route.
China will continue to strictly implement flight incentive and suspension measures based on its epidemic prevention and control work in a bid to prevent further cross-border transmission, the administration added.
'Circuit breaker' rule
In early June, China eased restrictions on international passenger flights contingent on epidemic risks being under control. Authorities highlighted the "reward and circuit breaker mechanism" for the carriers to have flights increased or suspended in line with the companies' epidemic control work.
Under the policy, airlines must suspend flights on a route for a week if five passengers test positive for coronavirus. If the number exceeds 10, the airline must suspend the flights for four weeks.
As an incentive, carriers have been allowed to increase the number of international flights to two per week on a route if no passengers tested positive for the virus using nucleic acid tests for three consecutive weeks.
The administration also required airlines to step up temperature checks and health screening of passengers, reserve isolation areas for emergency use and check passenger health codes and nucleic acid testing certificates.
As a result, the administration has ordered 31 flight suspensions and canceled 52 inbound flights.
Cold-chain cargo
Also on Tuesday, the Ministry of Transport issued a notice requiring companies to strengthen personal protection and conduct regular nucleic acid testing for front-line workers and enhance disinfection of cold-chain cargo ships, vehicles and other transportation equipment. The move is meant to curb contagion risks via cold-chain logistics channels.
The ministry also asked cold-chain logistics enterprises to strictly inspect customs declaration documents and quarantine certificates of imported food and gather information on the vehicles used, the crew and the consignee involved in shipments.