Nation pioneers techniques in green agriculture
Share - WeChat Xi's thought: Ecology
"The planting structure should be adjusted to actively develop water-saving agriculture and refrain water-wasting irrigation."
- President Xi Jinping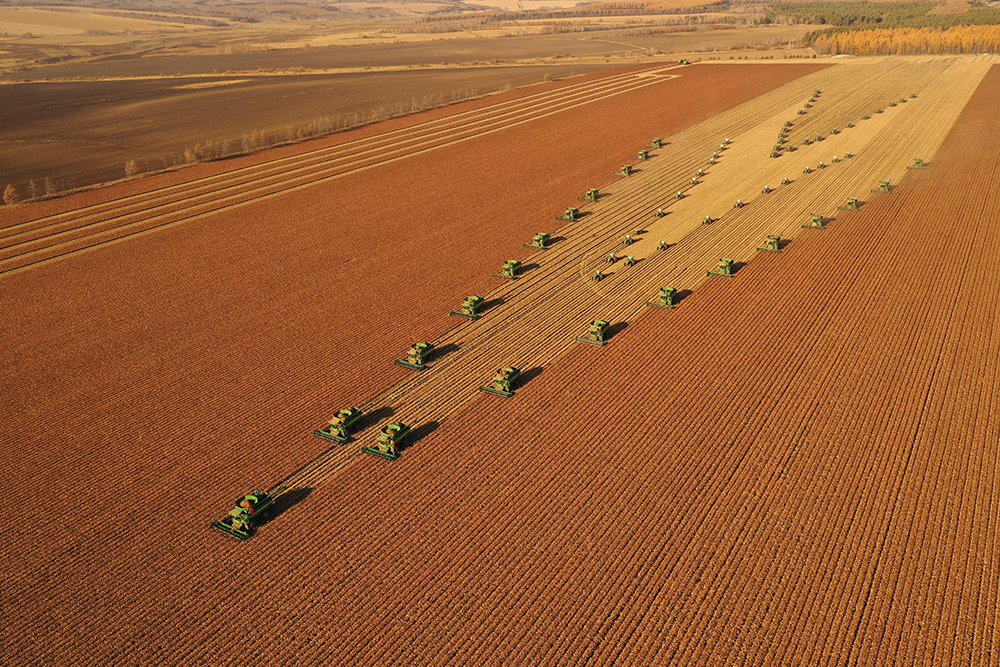 Xu Yue, who cultivates fruit and vegetables on a 5.3-hectare farm in Beijing's Tongzhou district, used to spend a lot of money on organic fertilizer each year, but government subsidies have now eased the burden.
"With subsidies from the government, we only have to pay one-seventh of the original price for organic fertilizer this year," Xu said.
He has bought 25 metric tons of organic fertilizer, with each ton costing him just 120 yuan ($17.20) as a result of the subsidies. That has substantially reduced the cost of producing organic food, and Xu has been able to extend organic farming practices to more than a third of the farm this year.
The district's agricultural authority expects to subsidize the use of organic fertilizers on more than 1,300 hectares of farmland this year to help farmers practice organic farming and develop sustainable agriculture. The subsidies are also expected to reduce the use of synthetic fertilizers in the district by 28 percent compared with the amount used in 2015.
Efforts to promote green agriculture have intensified across China in recent years and the Ministry of Agriculture and Rural Affairs says progress is being made, with the use of synthetic fertilizers and pesticides falling for three years in a row.
"We should make more efforts to improve the quality in the supply of agricultural products and attach importance to sustainable development," President Xi Jinping said at a meeting in Beijing in March 2017 during the annual sessions of China's top legislature and top political advisory body.
On multiple occasions, Xi, who is also general secretary of the Communist Party of China Central Committee and chairman of the Central Military Commission, has stressed the importance of ecological conservation in developing agriculture.
During an inspection tour of Jilin province in July, the president visited a demonstration zone for green food production in Lishu county, Siping, to learn about the improvement of the area's black, humus-rich chernozem soil and the growing of corn, and he stressed that effective measures must be taken to protect black soil.
Northeast China, one of the world's three major chernozem regions, is a major area for maize and soybean farming. The black soil produces high yields but declining soil fertility was a problem, Xi noted.
The practice of returning maize straw to the farmland for mulching purposes not only increased the amount of organic matter in the soil but also helped prevent wind-and water-driven soil erosion and preserve soil moisture, Xi said, adding that such a model was worth promoting.
When inspecting a rural ecotourism park in Helan county in the Ningxia Hui autonomous region in June to learn about its integrated development of modern agriculture and tourism, Xi stressed the need to actively develop water-conserving agriculture and refrain from water-wasting irrigation.
The planting structure should be adjusted to better protect the area's water resources, Xi said, noting that the people of Ningxia have long been blessed by the Yellow River.
Production should be based on the situation of local water resources and efforts made to focus on the quality rather than the quantity of produce while increasing added value, he said.
Green and sustainable agriculture is also a major task outlined in the Rural Rejuvenation Strategy, a national plan aimed at modernizing China's rural areas by 2035.
Bearing fruit
The agricultural sector has grown steadily for decades, resulting in greatly increased output and securing the supply of food for the world's largest population. However, resource-intensive production has resulted in many problems, with the excessive use of fertilizers and pesticides contributing to increased yields but also resulting in environmental pollution and food safety concerns.
In recent years, green development of agriculture has gained momentum, resulting in better quality produce and reduced pollution.
In 2018, Chinese farmers used 56.5 million tons of synthetic fertilizers, a drop of 3.7 million tons, or more than 6 percent, compared with 2015, according to a report on the country's green agricultural development released in June by the Chinese Academy of Agricultural Sciences. Meanwhile, the use of pesticides dropped by nearly 16 percent to 1.5 million tons over the same period.
Progress has also been made in conserving water, the report said, with 370 billion tons used for agriculture in 2018, a decrease of 21 billion tons compared with 2012 as a result of greater use of high-efficiency irrigation systems.
The promotion of organic fertilizers and fertilizer-saving techniques and the use of greener pest control techniques, such as biological pesticides to replace traditional chemical pesticides, have resulted in a substantial reduction in environmental pollution in rural areas, the report said.
Last year, green pest-control techniques were applied in 37 percent of all farmland growing major crops in China, a rise of 7.6 percentage points compared with 2018.
Improving quality
Measures to improve the fertility of farmland, such as using reaped crop straw and animal manure as fertilizer, the application of technologies to prevent and control heavy metal pollution, and suspending agricultural production on some damaged farmland, have also resulted in reduced pollution, the report said.
The quality of farmland in China kept improving last year, and soil degradation declined. In pilot areas in Northeast China, a major agricultural region, the amount of organic matter in the soil was 2.4 percent higher than in 2016, the report said, citing data from the Ministry of Agriculture and Rural Affairs.
Liao Xiyuan, the ministry's head of science, technology and education, said China's agriculture is becoming greener and output is rising.
The country produced 660 million tons of grain last year, up from 500 million tons 10 years ago, while production of meat, eggs and milk reached 140 million tons, an increase of 20 million tons in 10 years, he said, resulting in an adequate supply of food in China.
Meanwhile, pollution caused by agricultural production has been reduced significantly over the past 10 years, Liao said, with the amount of nitrogen, a major chemical element in fertilizers, discharged during agricultural production almost halved.
The ministry said sustained efforts will be made this year to promote new techniques, such as the use of organic fertilizers and high-efficiency fertilizing technologies, and pest control and prevention using natural biological enemies, to ensure that the use of synthetic fertilizers and pesticides continues to decline.
Turning waste into profits
Song Xuemei, director of the department of agriculture and rural affairs in Shanghai's Chongming district, a national pilot area in the green development of agriculture, said the use of synthetic fertilizers and pesticides has declined for eight consecutive years in the district due to the establishment of a green-oriented incentive system for agricultural development.
In Hebi, Henan province, a major pork-producing area, strict environmental protection standards have been adopted for pig raising across the city.
Ding Dagan, deputy general manager of Henan Yifa Animal Husbandry, a pig-breeding company in Hebi, said he has been increasing investment in recent years to improve waste treatment at his farms, including upgrading the recycling facilities that turn pig waste into fertilizer and methane for fuel.
This has also generated profits for the company. Before the outbreak of African swine fever last year, the company's 60,000 pigs could generate about 1.2 million kilowatt-hours of electricity annually, meeting half its demand for power, Ding said.
Zhang Fusuo, a member of the Chinese Academy of Engineering and a professor of plant nutrition at China Agricultural University, said green agricultural development had been on the rise in China since 2010, contributing to the development of a wider green economy.
"Looking to the future, we must try to increase agricultural production, and meanwhile reduce environmental pollution and conserve resources," he said, pointing to the important role science and technology have to play in the development of greener and more efficient agriculture.
At the Chinese Academy of Agricultural Sciences, a key research program carried out over the past four years has resulted in a reduction of more than 30 percent in the use of synthetic fertilizers and an almost 40 percent reduction in the use of pesticides for vegetable production on pilot plots that yielded 4 percent more vegetables than before, said Li Baoju, a researcher at the academy's Institute of Vegetables and Flowers.
Jiao Xiang, from the Chinese Academy of Social Sciences' Rural Development Institute, said despite the progress made in promoting the green development of agriculture in recent years, some challenges remain, including inadequate consumer knowledge about and support for green agricultural products, and a lack of proper guidance on the development of green agriculture.
The loss of agricultural talent and labor due to factors such as the harsher working conditions and lower pay had also created obstacles to green agricultural development, he said.
"More investment is needed for the development of agricultural talent and research and development in agriculture," Jiao said, adding that more subsidies are needed to ensure that green agricultural production continues to grow.
Zhang said green agricultural development covers a wide range of areas including green production and green consumption and involves different disciplines, but existing agricultural education cannot meet the demand.
"We need to produce versatile talent that has extensive knowledge, international vision and is capable of innovation, while also being familiar with reality of the industry," he said.