Sri Lanka students sweat it out in quest for safe water
Share - WeChat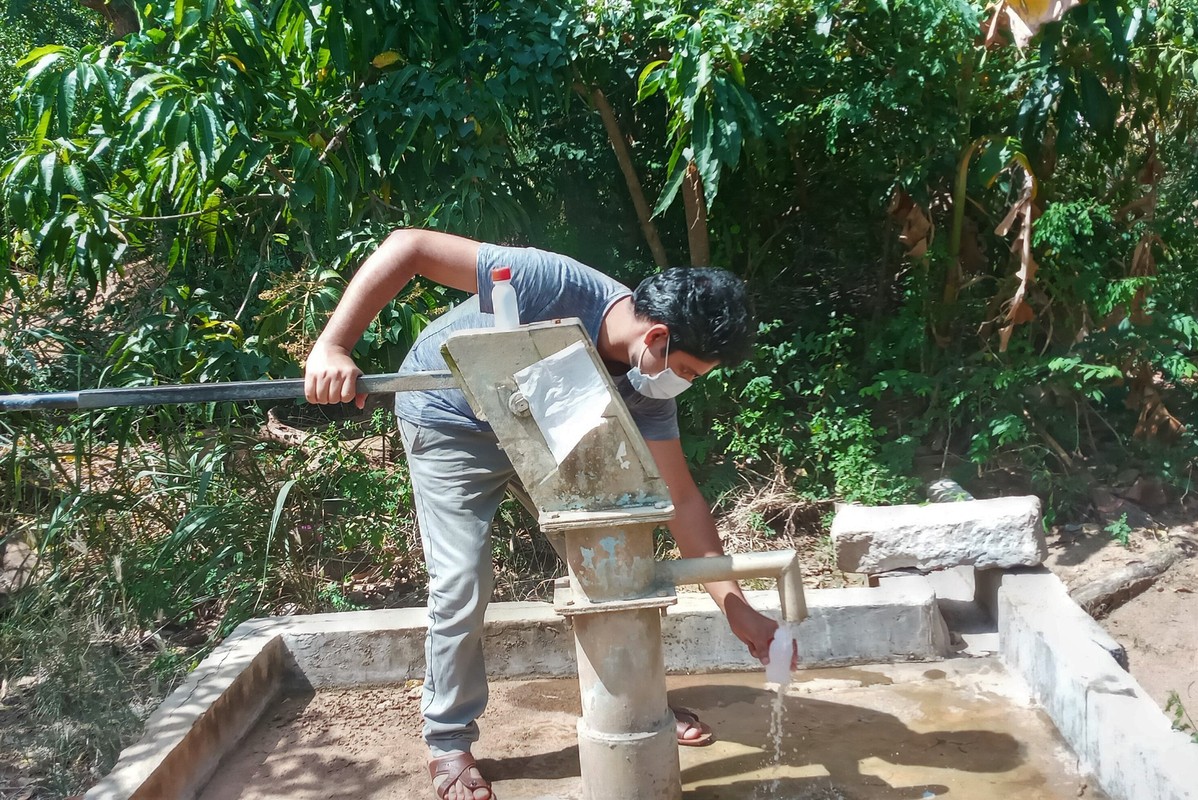 Editor's note: This news column showcases stories from around the world that bring a touch of positivity to the fight against the deadly coronavirus.
COLOMBO, Sri Lanka-In August, Sri Lanka is extremely hot and dry. And when most people choose to stay indoors to escape the summer heat, four Sri Lankan students, who earlier studied in China, have been collecting water samples under the guidance of their Chinese tutor.
"The dry season is the season with the worst water quality in Sri Lanka. Prof Wei asked us to collect water samples before the end of the season in order to collect basic data for our water purification research," said Suresh Indika Jayawardhana, referring to Professor Wei Yuansong, director of the Laboratory of Water Pollution Control Technology at the Research Center for Eco-Environmental Sciences, or RCEES, at the Chinese Academy of Sciences, or CAS.
While Indika was collecting water samples in the city of Anuradhapura, his companion Ishanka Wimalaweera was busy in the laboratory conducting tests on them.
In January, Wimalaweera returned home from China for his winter vacation. He had originally planned to join the RCEES to do research after returning to Beijing and choose the subject of his doctoral thesis. But COVID-19 not only disrupted his plans but made returning to school a distant prospect.
So, in order not to let time go to waste, Wei reformulated the study plan for his Sri Lankan students and guided them on field research and data collection in Sri Lanka. He and his students hold regular weekly video conferences to discuss their progress.
Speaking about the conferences, Indika, a master's student researching drinking water safety in Sri Lanka, said: "The weekly video is the moment I look forward to the most. Although I communicate with teachers in my daily life, the video conference is a face-to-face opportunity for me to meet the teacher and learn a lot from his guidance."
Sri Lanka has never faced a shortage of water, but lacks safe drinking water. Sri Lanka has also been plagued by a chronic kidney disease with unknown etiology, known as CKDu, in recent years.
Due to the efforts of the Chinese experts such as Wei and his Sri Lankan partners, the CAS launched the Program of China-Sri Lanka Joint Center for Water Technology Research and Demonstration in 2015.
The center not only has CKDu and drinking water safety as the core objectives of the research, but also regards training water professionals for Sri Lanka as its responsibility.
Practical solutions
Over the past few months, Isuru Shamika Yapabandara has been taking the train from Kandy to Colombo's Kelani River to collect water samples.
"Only by understanding water quality can we come up with practical solutions for the next step, namely, water purification," he said.
Although the collection of samples was done as the epidemic raged, the students' on-site investigation went very well.
Sujithra K. Weragoda, the director of the China-Sri Lanka Research Grant Project, said: "Under the premise of ensuring epidemic prevention, Prof Wei will inform Sri Lankan partners in advance every time about the students' research plans so that we can help them get through all the steps.
"Wei's work is also helping Sri Lanka's development because he is dedicated to mentoring Sri Lankan students and wants to train them to be pillars of water research in Sri Lanka."
Xinhua