Deliveryman helps keep Kazakhstan supplied
Share - WeChat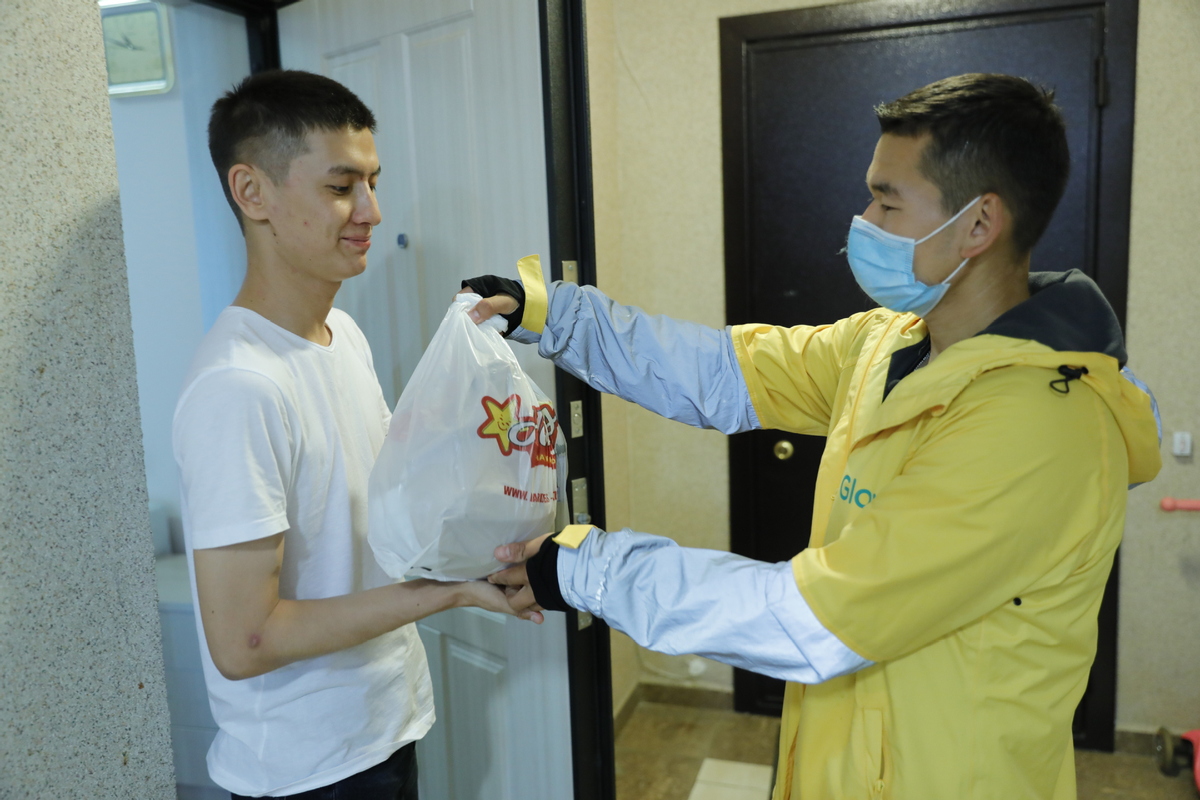 Editor's note: This news column showcases stories from around the world that bring a touch of positivity to the fight against the deadly coronavirus.
NUR-SULTAN-Sanzhar Saberbekov has been bustling across the Kazakh capital Nur-Sultan, getting on and off his bike to drop off groceries and food from a backpack for those sheltering from COVID-19 at home.
A 24-year-old college student, Saberbekov joined a growing legion of delivery riders six months ago, hoping to get some pocket money and be financially independent from his parents.
After the coronavirus outbreak in Kazakhstan in March, Saberbekov chose to continue to be a freelance rider for Glovo, a global on-demand delivery service platform.
"Of course, everyone is afraid of going out amid the pandemic. I am not a reckless person but I believe my work is important in such a difficult situation," he said.
Kazakhstan recorded over 104,718 COVID-19 cases and 1,523 deaths as of Tuesday. It has been hit hardest by the virus among the five Central Asian countries and imposed two nationwide lockdowns to curb the raging virus.
"We deliver food, medicines and other groceries within hours to our customers. Take-away food accounts for most of deliveries," Saberbekov said, adding that Glovo has intensified disinfection measures by providing riders with face masks, gloves and antiseptics every two weeks.
Saberbekov works from 10 am to 9 pm every day to meet the different demands of clients. "During the second lockdown, there was a shortage of medicines in pharmacies. After customers ordered medicines via the Glovo app, we were looking for drugs in various pharmacies.
"It feels so nice to bring medicines to the needy and get their appreciation," he said.
"Some of our customers were infected with COVID-19. They called to warn us that they were ill. Usually they asked us to leave their stuff at the door of their homes," said the courier.
According to Glovo, the number of orders from the Glovo app has increased by 34 percent across Kazakhstan amid the pandemic. About 60 percent of orders were done through online payments. Now over 1,500 couriers work for Glovo in the country.
Saberbekov said during the lockdown, he could earn an average of 10,000 tenge (about $24) per day.
"Deliverymen are needed when people cannot go out for daily necessities. Our work cannot only bring in much-needed cash for us but also help the country weather this crisis," he said.
E-commerce development
Kazakhstan is a relative latecomer to online shopping but the epidemic has been a catalyst for its e-commerce development. The trade and integration ministry said that in the first half of 2020, the e-commerce retail business in the country grew by more than 150 percent from a year ago.
The ministry estimated that the e-commerce market will reach 900 billion tenge by the end of 2020, and 1.9 trillion tenge by 2022, accounting for about 13 percent of the country's retail business, compared with 2.9 percent for 2019.
Xinhua