Women's plan feeds 10,000 via food bank
Share - WeChat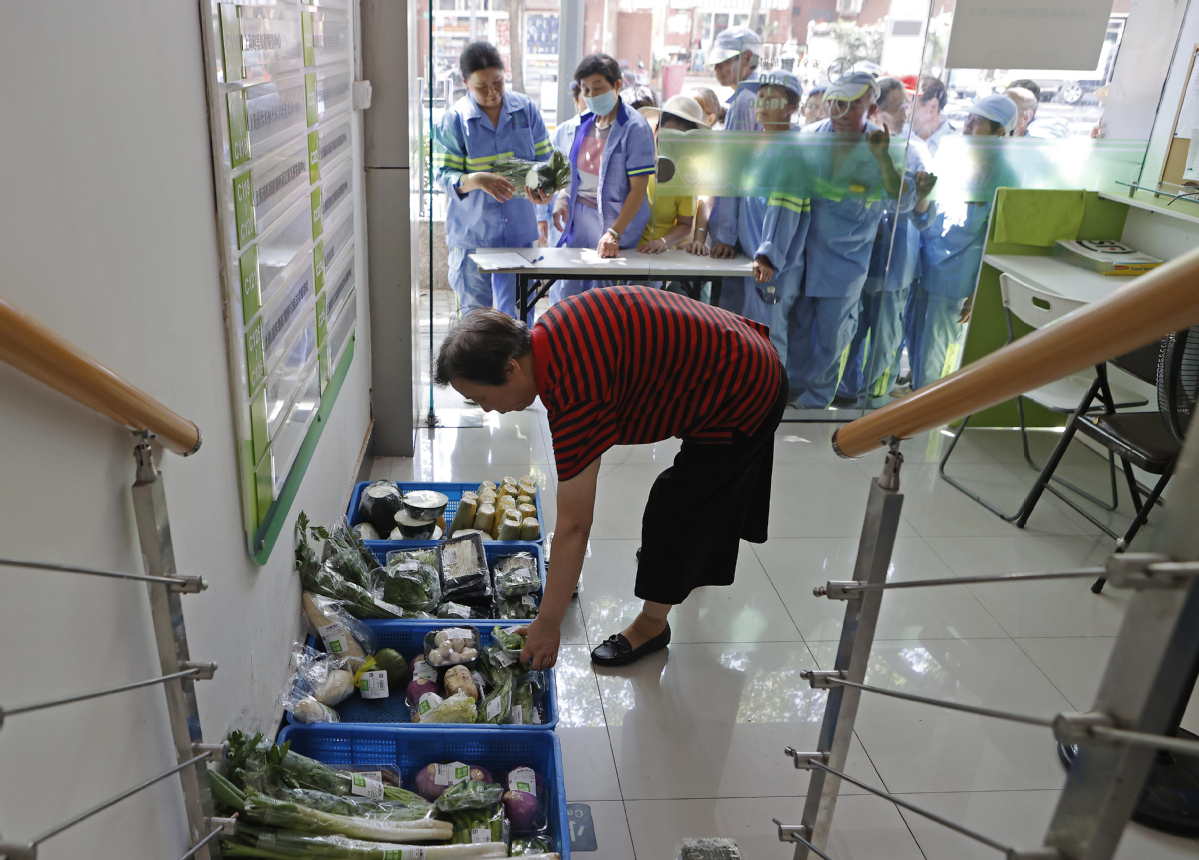 PDT Food Depot saves nearly 26 tons amid national push to reduce waste
Nearly 26 metric tons of food that would have been destined for landfills in the past three years in Guangzhou, Guangdong province, have instead been used to feed more than 10,000 people thanks to a local food bank.
Chen Jiahua and Zhang Ying, both in their early 20s, started a food bank in 2017 to salvage food that was still good but was not used or close to expiring. The food bank, PDT Food Depot-named for the French word for potato, pomme de terre-started distribution in communities in Guangzhou. It then expanded to a much greater part of the city with the help of the Shanghai Oasis Ecological Conservation and Communication Center, which had created the country's first food bank in 2014.
The program also joined Oasis' food bank network. Partners within the network share information about obtaining donated products-usually food items close to their "best before" dates from supermarkets and producers or excess from restaurants-so that the food can be redistributed to the nearest recipients.
"We also learned from Shanghai Oasis the practices and legal framework for operating a food bank in the country," said Chen, who has signed up 12 food businesses, including major companies like Kellogg's and Kraft Heinz Co, as donors. PDT also has opened 19 social work facilities that offer such services as centers to care for the homeless and welfare facilities for mentally challenged children who are hungry.
"Our goal is to develop a food redistribution network covering South China while exploring a future of zero food waste with joint efforts from food enterprises and consumers, especially as the country recently started a nationwide drive to avoid unnecessary food waste," Chen said.
She learned about food banks while studying environmental science at McGill University in Montreal, Canada. There, Chen and others who helped create the Guangzhou food bank were honored when PDT Food Depot won second place in the university's 2019 competition for the McGill Dobson Cup for the best startup idea, according to the July issue of a McGill newsletter.
For 2020, the program aims to reduce by 100 tons the amount of food wasted in Guangzhou through sharing and donation, she said.
Just like in Guangzhou, food banks-which mostly redistribute staple foods, cooking oil and milk powder to impoverished families-have grown up around the country. The goals are not only to salvage food that otherwise would be wasted, but also to protect the environment and help low-income individuals and families, said Li Bing, founder of Shanghai Oasis, a nongovernmental organization.
"We hope to help impoverished families cut down on food expenses and to be able to use the money for health and education purposes instead, while helping enterprises minimize their food waste," she said.
Oasis' food bank network has been extended to at least 11 provincial-level regions, including Beijing, Sichuan province, the Xinjiang Uygur autonomous region and Liaoning province. Some of those efforts have been supervised by Oasis, but at least five local food banks learned from the Oasis model and joined its food distribution network.
Oasis said 580 tons in food worth more than 31 million yuan ($4.5 million) produced by 202 food enterprises had been salvaged by the end of 2019. The food was distributed to 760,000 individuals at nearly 250 nonprofit organizations, communities and schools.
"However, what made us happier was not the figures but the rising awareness of reducing food waste among more enterprises, institutions and grassroots and city-level governments, which reached out to us to work together," Li said.
She said local communities always gave a positive response to food banks wherever they went because people received tangible benefits.
"We often said, in amazement, that the donated food items are of very good quality. We ourselves wouldn't even buy some of them because they are pricey. But, without food banks, they would have been wasted only because of overproduction or their approaching the end of their shelf life," said Zheng Liang, a volunteer for the food bank in Shanghai.