Li: Boost ties with Mekong River nations
Share - WeChat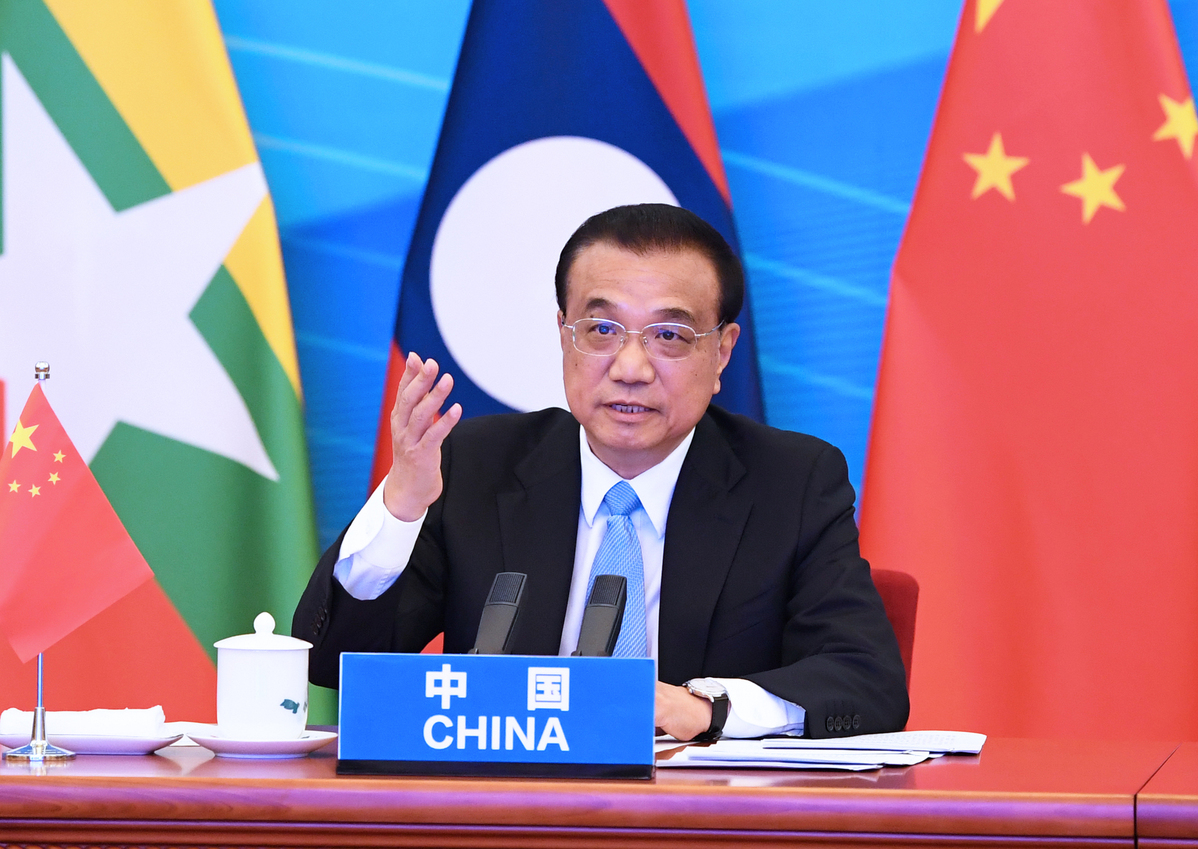 China will increase cooperation with Mekong River countries in coping with droughts and floods and responding to public health emergencies, and will take steps to share its COVID-19 vaccines as they reach commercial use, Premier Li Keqiang said on Monday.
Speaking via video link at the third Lancang-Mekong Cooperation leaders' meeting, Li announced steps to share hydrological data on the upper reaches of the river, known as Lancang in China, throughout the year to help nations along the river better cope with climate change and natural disasters.
"Drinking water from the same river, we, the LMC countries, are close as one family living in a community with a shared future. Enhancing mutually beneficial cooperation is both conducive to our own interests and contributes to others' success," Li said.
China will set up a special fund for public health under the LMC Special Fund, the premier said, and continue to provide material and technical support to Mekong countries to the best of its ability.
China's COVID-19 vaccines, once developed and put into commercial use, will be provided to Mekong countries on a priority basis, Li said, adding that "we need to carry out information sharing and joint responses in major public health emergencies, and strengthen cooperation in early warnings on communicable diseases".
He also highlighted the need to work toward the signing of the Regional Comprehensive Economic Partnership agreement this year and ensure the success of the China-Laos and China-Thailand Railways.
China welcomes imports of more quality agricultural products, livestock and by-products from Mekong countries, he added.
It is important to better synergize the New International Land-Sea Trade Corridor, a trade and logistics passage jointly built by western Chinese provincial regions and the Association of Southeast Asian Nations, and the LMC mechanism to unblock trade passages and optimize resource allocation, he said.
The meeting, co-chaired by Li and Prime Minister Thongloun Sisoulith of Laos, also brought together Cambodian Prime Minister Samdech Techo Hun Sen, Myanmar President U Win Myint, Thai Prime Minister Prayut Chan-o-cha and Vietnamese Prime Minister Nguyen Xuan Phuc.
They affirmed progress on cooperation in water resources and expressed readiness to bolster public health cooperation with China.
Zhai Kun, a professor of Southeast Asian studies at Peking University, said Beijing has responded to the appeal from the Mekong River countries in its decision to share the hydrological data for the year. That will lay the foundation for the future exploration of the river's water resources, he said.
The establishment of a special fund for public health will help Mekong River countries boost their public health system and secure victories during the COVID-19 pandemic, he said.
He said since the Mekong River countries are major exporters of farm products, the LMC mechanism can focus more on ensuring grain security and additional agricultural cooperation.
Yang Guang, head of the Lancang-Mekong Center for Agricultural Cooperation, said such cooperation has seen fruitful outcomes. The total trading volume for agricultural products reached $21.2 billion in 2019, up by 12.5 percent from the previous year.
The countries must bolster strategic alignment, focus on key sectors and improve the competitiveness of the region's farm production and related products in furthering agricultural cooperation, she said.