Harnessing collective action
Share - WeChat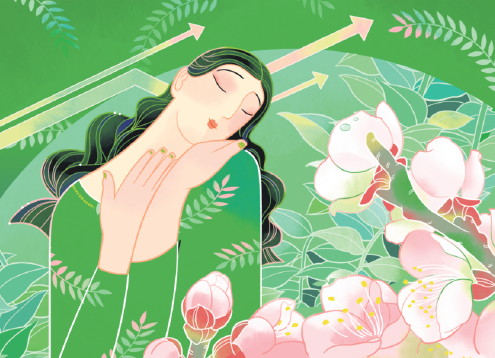 By pursuing the realization of an ecological civilization, China can promote sustainable global land management
As the novel coronavirus continues to ravage lives and deflate hopes for rapid economic recovery, anxious people are asking when life can go back to normal. However, returning to things as they were would mean rising carbon emissions, mass deforestation, habitat loss and extinction rates tens to hundreds of times higher than the average over the past 10 million years-and all of these harmful trends accelerating.
Habitat destruction through irresponsible land management is the major cause of biodiversity loss, followed by climate change. It is therefore critical that we prioritize sustainable land management, including the management of the world's valuable tropical forests. Having managed to implement seemingly effective prevention and control measures to contain the novel coronavirus, China can help lead the way to realize a "great reset" that will enable a recovery that is more sustainable and more resilient than before, while the World Economic Forum's recent New Nature Economy Report II, "The Future of Nature and Business" offers guidance for making this transition, and identifies "collective action "as critical to its success.
With half of the global GDP-$44 trillion-at risk from nature loss, the decision to act should not be difficult, yet the transition will not be quick, cheap or easy. But, by simply addressing three socio-economic systems-food, land and ocean use; infrastructure and the built environment; and energy and extractives-we can reduce 80 percent of the pressure on the species most at risk from habitat loss and climate change.
China has a powerful leadership role to play if the global community is to succeed in building a shared sustainable global economy, and its ability in this regard should not be underestimated.
Following the 1998 summer floods in China-which killed 3,000 people, affected 230 million more and eroded 2 percent of national GDP-the nation recognized that two-thirds of the Yangtze and Yellow rivers sediment came from excessive erosion caused by deforestation and intensive farming, and land management policies were adjusted accordingly to address this.
Another example is the national "Grain for Green Programme" launched in 1999 that has returned more than 33 million hectares of farmland to forests and grassland. Although at the same time, China, which is natural resources deficient, has tried its best to meet the livelihoods needs of its people by turning to chemicals to increase productivity, creating other environmental challenges. With just 6.3 percent of the planet's landmass, China is home to 15 percent of the world's known vertebrates and 12 percent of its known plant species. Its natural heritage cannot remain at risk. Today, innovative "nature-based solutions "offer China the opportunity to meet its "ecological civilization" goals and to secure the nation's foundation for global health and economic stability without biophysical risks.
China's "ecological civilization" goals embrace the source of our sustenance-the mountains, waters, forests, meadows, farmland, wetlands, lakes and grasses as one united ecosystem landscape. Sovereign nations have borders, while nature and climate do not. An insect flapping wings in the Amazon forest may trigger ripple effects that bring storms to the Pacific region.
Shanghai consumers and Brazilian soy growers are also bound by a common fate should lands not be sustainably managed. China must ensure its food related imports are sustainable and zero-net deforestation sourced, and Brazil must take action to ensure its agricultural production avoids primary forests conversion and massive biodiversity losses.
By working collectively to make global commerce more transparent and international trade more inclusive, we can ensure a sustainable balance between renewable supply and responsible demand. The World Economic Forum reports that a nature-positive approach to food, land and ocean use is not only good for the planet but can have a significant impact on livelihoods and economies, generating 191 million jobs and $3.6 trillion in business opportunities over the next decade.
Infrastructure and the built environment generate 40 percent of global GDP. As urbanization adds 1.5 million people to cities each week, it impacts 29 percent of threatened and near threatened species. Setting a positive example, rather than trying to contain sprawl or react to congestion, Suzhou Industrial Park, a model of China's economic cooperation with Singapore, quantified its land use ratios early on to safeguard a balanced development, allowing the city to breathe, attract new business investments and build climate resilience among Suzhou residents.
The negative impacts of the energy and extractives industry erodes $9 trillion annually or around 10.5 percent of global GDP. In response, the collective pioneering action of industry, governments and civil society has rehabilitated 650,000 hectares of the Kubuqi Desert, in the Inner Mongolia autonomous region. Time Magazine hailed this as "a model for land restoration projects everywhere", highlighting the Elion Resources Group's creation of an ecological microclimate by allowing afforestation to take place under sand-protecting barriers, and its energy transition as being not just nature-positive but also good for the economy. Elion Resources Group, a private enterprise in China, has been promoting sand control in the Kubuqi for over 30 years.
In expanding biodiversity benefits beyond national borders, China can seize the current crises as an opportunity to strengthen South-South cooperation and contribute to a new global development model informed by China's own "ecological civilization" goals. However, the risks and rewards of ensuring global sustainability are too large for any single sector or country-even for China with its size and influence. To truly transition toward and benefit from a nature-positive foundation-the ecological civilization-leaders of the world must step up and work together, through collective action.
Akanksha Khatri is the head of Nature and Biodiversity at the World Economic Forum. Justin Adams is the executive director of Tropical Forest Alliance at the World Economic Forum. The authors contributed this article to China Watch, a think tank powered by China Daily. The views do not necessarily reflect those of China Daily.
Most Viewed in 24 Hours
China Views