Trump calls Biden's approach to coronavirus 'anti-scientific'
Share - WeChat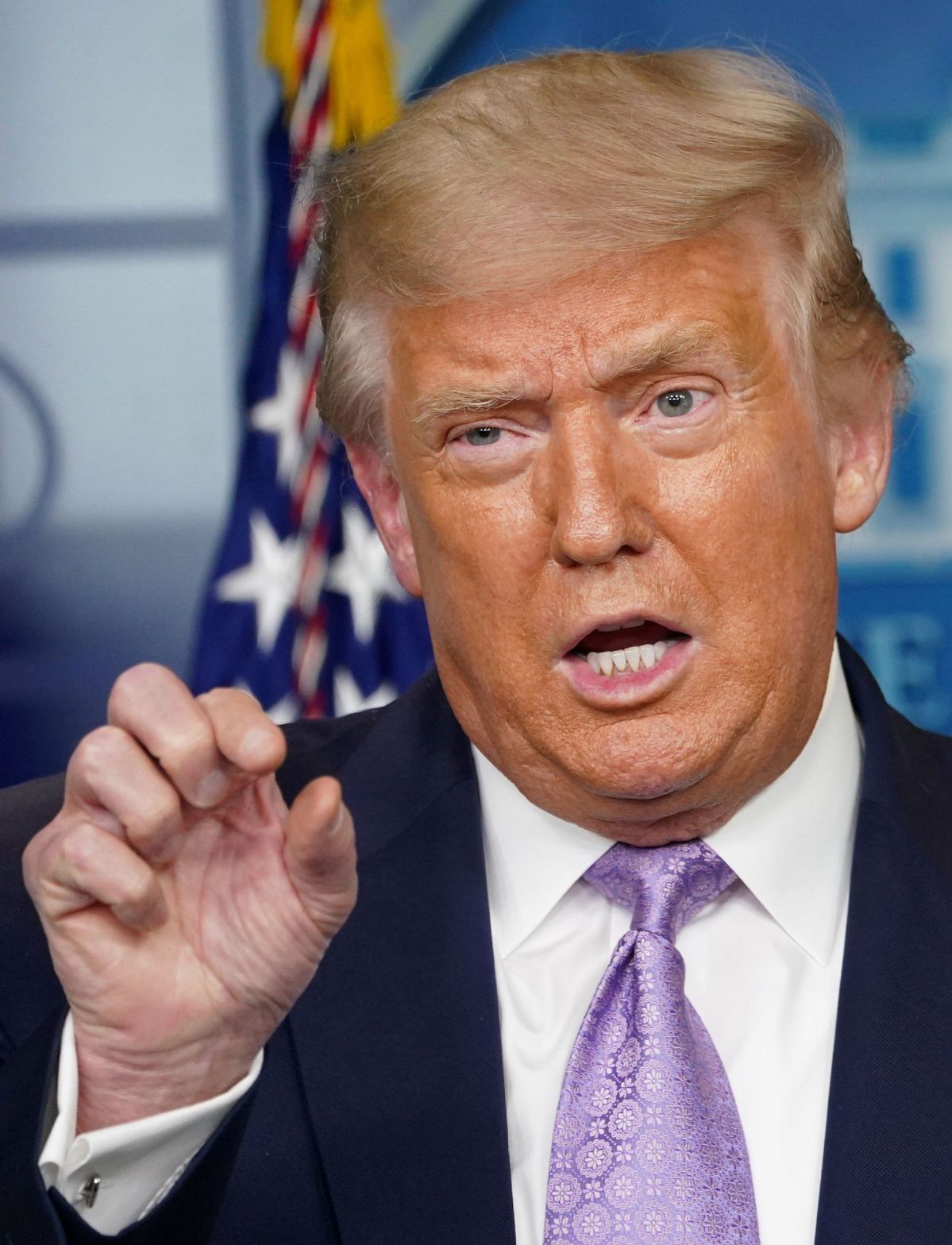 US President Donald Trump on Thursday said that Democratic challenger Joe Biden should "stop playing politics" with the novel coronavirus pandemic and called Biden's ideas on the virus "anti-scientific", adding that they would trigger an economic depression.
Trump said the former vice-president was more interested in keeping Americans "locked in their basements for months on end" than listening to medical experts.
Biden on Thursday called on governors to institute a mask-wearing mandate for three months to control the spread of COVID-19. Trump said that the proposal threatened to step on Americans' individual freedoms.
"If the president has the unilateral power to order every single citizen to cover their face in nearly all instances, what other powers does he have?" Trump asked. "To Joe, I would say: Stop playing politics with the virus. Too serious," he added.
Dr Robert Redfield, director of the US Centers for Disease Control and Prevention (CDC), on Wednesday warned that Americans must follow recommended coronavirus measures — including wearing face masks — or the US could have "the worst fall, from a public health perspective, we've ever had".
"For your country right now and for the war that we're in against COVID, I'm asking you to do four simple things: wear a mask, social distance, wash your hands and be smart about crowds," said Redfield. "I'm not asking some of America to do it," he told WebMD. "We all gotta do it."
To reduce the threat that the approaching flu season will combine with the continuing coronavirus outbreak and overwhelm US doctors and hospitals, drugmakers including Astra Zeneca and Glaxo SmithKline are making about 200 million flu shots this year, up 13 percent from last year and a record, according to the US Centers for Disease Control and Prevention (CDC), The Wall Street Journal reported Thursday.
As many as 45 million people in the US get the flu annually, causing more than 34,000 deaths, nearly all of them older adults, according to the CDC.
The US on Wednesday reported nearly 56,000 new coronavirus cases, the highest one-day tally in four days, and 1,499 deaths, its highest daily count since May 27, when there were 1,518, according to data compiled by Johns Hopkins University.
On Thursday, the number of new cases decreased by 90 to 55,910.
Total coronavirus cases in the US topped 5.2 million, about a quarter of the worldwide total, according to the data. More than 166,000 people have died in the US of COVID-19 as of Thursday.
More than half the deaths reported Wednesday were in five states. Texas reported more than 300 deaths, Florida more than 200, and Arizona, California and Georgia all had more than 100 each.
Although the number of new cases has fallen from its late-July peak, deaths have remained high, with the country averaging more than 1,000 a day for more than two weeks. By early summer, deaths had declined to fewer than 500 per day, but then increased because of Sun Belt outbreaks.
Admiral Brett Giroir, assistant secretary of the Department of Health and Human Services, who is in charge of the country's coronavirus testing strategy, said Thursday that the US is doing enough testing and dismissed critics who say otherwise.
"It is just a false narrative — and I'm really tired of hearing it by people not involved in the system — that we need millions of tests every day," Giroir said on a call with reporters, according to The Washington Post. "If that were true, we would not be reversing the outbreaks we have."
The US was performing an average of 740,000 tests per day as of Tuesday, according to the COVID Tracking Project, a decline of more than 100,000 daily tests compared with two weeks ago, the Post said.
The virus' prevalence in the US continues to affect the opening of schools.
More than 2,000 students, teachers and staff have been placed under quarantines in the few reopened public school districts in several states, CNN reported. Of those, at least 230 positive coronavirus cases have been reported among the school districts reopened for in-person learning.
In Georgia, more than 1,100 students, teachers and staff in the Cherokee County School District, about 40 miles north of Atlanta, are under quarantine due to dozens of positive cases or exposure. Schools reopened 10 days ago.
In new guidance released Thursday, the American Academy of Pediatrics advised face coverings can be worn safely by children over the age of 2, with rare exceptions.