Storms set to end Europe's heatwave
Share - WeChat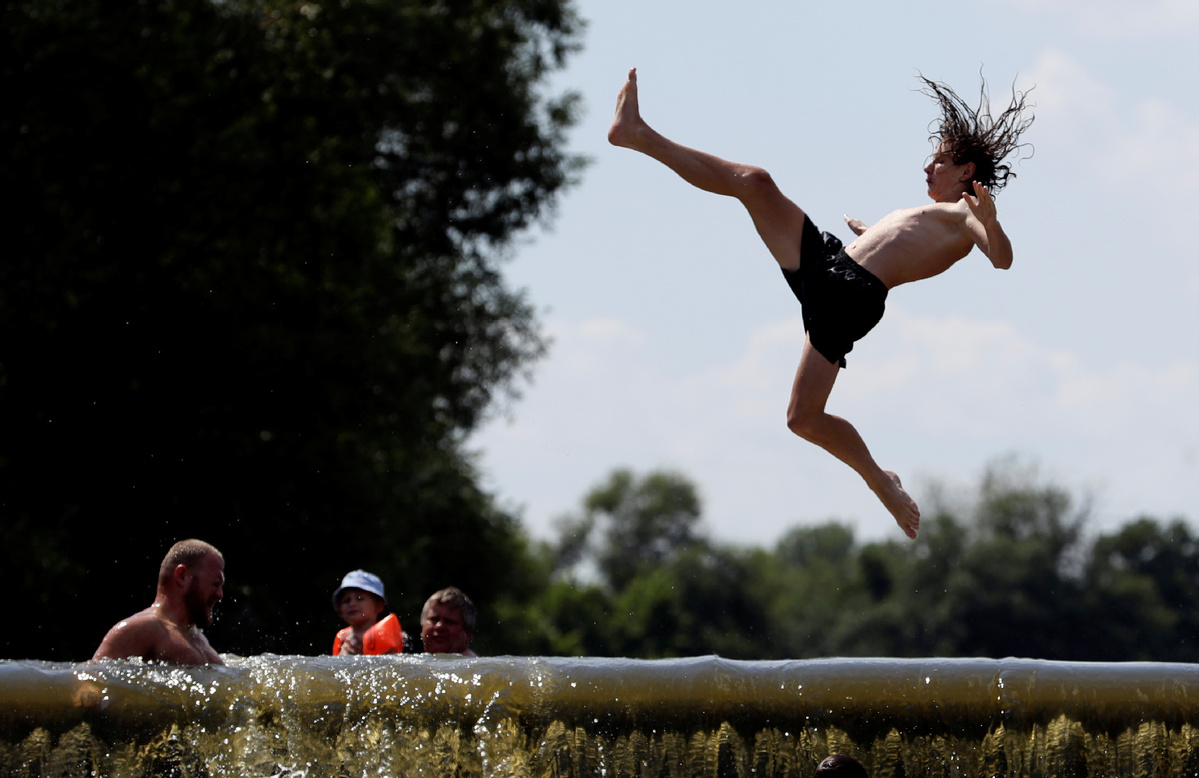 Sweltering temperatures of up to 37 C have scorched Europe this week with tropical nights falling no lower than 20 C, adding to the humid environment.
Meanwhile, forecasters warned that the heatwave was set to continue across the continent on Thursday, but the extreme weather looks set to gradually ebb away amid heavy thunder and rain on Friday and over the weekend.
Researchers say such summer heatwaves on the continent will become increasingly normal, due to human influence on the climate.
The heatwave in Europe has been longer and more intense than usual and has been accompanied by an extended run of thunderstorms. Temperatures are almost 10 C above average for this time of year.
Western and central European nations including the Czech Republic, Poland and Hungary have all seen temperatures above the 30 C mark for almost a week.
Authorities in Paris and Amsterdam are reportedly handing out free bottles of water to help combat the impact of the heat. In Italy and Spain, health officials are encouraging people to stay inside during the hottest hours of the day, while Italian farmers are worried crops in the fields may wilt due to a lack of rain and a shortage of workers. In Portugal, officials expressed worries that the heat might cause wildfires, while in Germany people fleeing steaming cities were turned away from over-crowded beaches.
New record in England
The highest temperatures in England have been 34 C or more for six consecutive days, since Aug 7, which is a new record in Met Office archives of individual days of temperature dating back to 1961.
The standout heatwave in England was in June and July 1976, when southern England had 15 days running of temperatures of 32 C or more.
No heatwave has come near this since then; the closest was summer 2018, which had nine consecutive days above 32 C. And 1976 also achieved the rare feat of three successive days above 35 C, matched only in August 1990 and this month.
The past two summers have seen periods of significant and uncomfortable heat across the United Kingdom and Europe.
Met Office researchers are clear that these hot summers occurred partly as a result of warming gases originating from human activities.
Research published in June showed "that the likelihood of extremely warm days in the UK has been increasing and will continue to do so during the course of the century with the most extreme temperatures expected to be observed in the southeast of England".
A severe heatwave in August 2003 caused many thousands of deaths across Europe, particularly in France where nearly 15,000 lost their lives.
The scale of the tragedy in that incident led France to put in place better measures to deal with future heatwaves. After record temperatures last year, the French government said these preventive measures had helped keep the death toll to a tenth of the 2003 numbers.
Xinhua contributed to this story.