Britons adopt green life in lockdown
Share - WeChat Olivia Vaughan-Fowler is at war with foxes. She has been gardening more than ever during the COVID-19 lockdown, and most nights the creatures will drop by to dig up the fruits of her labor.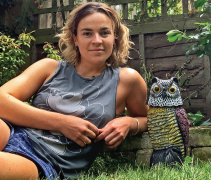 She has tried a number of deterrents ranging from the conventional (fencing) to the creative (a model owl decoy). At present she is hoping a newly-purchased motion-sensored sprinkler will do the job.
"Lockdown has given me the space and time to be very multifarious," Vaughan-Fowler, a London-based product strategist, told China Daily. "I've enjoyed making clothes, and making green things grow, and I have exercised a lot to stop myself from going mad."
Like many Britons, Vaughan-Fowler's daily routine has changed dramatically since the COVID-19 pandemic hit. She no longer journeys around the city on public transport for work meetings, a huge time-saver that has allowed her to start a new small business called Not-So-Long Johns, where she makes children's garments out of repurposed fabrics.
"A less traditional routine has made me very happy, and I intend to retain it going forward," she said.
Surveys have revealed an uptick in environmentally friendly behaviors during lockdown in the United Kingdom, including gardening, cycling, and meal planning, and transport consultancy Sia Partners has reported a 60 percent reduction in passenger vehicle emissions.
New research conducted by Manchester and Cardiff universities suggests that a majority of Britons intend to maintain a greener lifestyle when society starts to open up again.
Out of 1,800 people surveyed in the study, 63 percent said they spent nothing on clothes and footwear from March to May, up from 9 percent over the three months prior to lockdown. There has also been a marked increase in meal planning, a small but detectable reduction in meat consumption, and 92 percent of those surveyed said they are now wasting less food. A majority of respondents also said that, going forward, they plan to use local transport less and buy fewer flights than they did pre-lockdown.
"Our surveys demonstrate that lockdown has provided the public with opportunities to try out low-carbon behaviors, like working and socializing online, spending more time on creative hobbies and gardening, buying less, and cutting food waste, and many are keen to continue with these behaviors once restrictions are lifted," said Lorraine Whitmarsh, director of the UK Centre for Climate and Social Transformation at Cardiff University.
Hannah McClean, an actress from Northern Ireland, says that she now mostly gets around by walking and cycling, whereas prior to lockdown her bicycle had been "gathering dust".
"I can see myself sticking with that," McClean told China Daily. "And pre-lockdown I would buy groceries on a daily basis, according to what I fancied for dinner that evening. I've now cut down trips to the shops and I buy for the weeks ahead. This means I use everything before repurchasing, cutting down on food waste massively. I will definitely be keeping this up."
Researchers said they expected that climate concerns would take a back seat during the COVID-19 crisis, but they have found the opposite to be true. In the survey, 72 percent of respondents said that climate change should be addressed with urgency, compared to 62 percent in August last year.
"Lockdown really got me in touch with my own resourcefulness," Amber Anderson, a London-based actress, told China Daily. "For years I've been someone who travels a lot and primarily eats out, but the pandemic forced me into my own kitchen, and I really enjoyed taking on projects like making my own jars of pickled eggs and making pizza dough."
Anderson also said that movement restrictions have left her "feeling a little stagnant".
"Something I can't wait to go back to normal is the freedom to travel again," she said. "I am happiest when I've got some kind of trip planned."
Claire Hoolohan, a social scientist at Manchester University, said that while the survey revealed that people enjoy some aspects of lockdown, many reported experiencing feelings of stress and guilt while "trying to balance caring responsibilities and work".
"The question that faces society now, is how do we recover from COVID-19 in a way that means society is healthier, happier and more sustainable than before," Hoolohan said. "This is a challenge that policymakers, businesses, and other organizations must all rise to if we are to lock-in low-carbon lifestyles."