Belarus eases security in Minsk after poll protests
Share - WeChat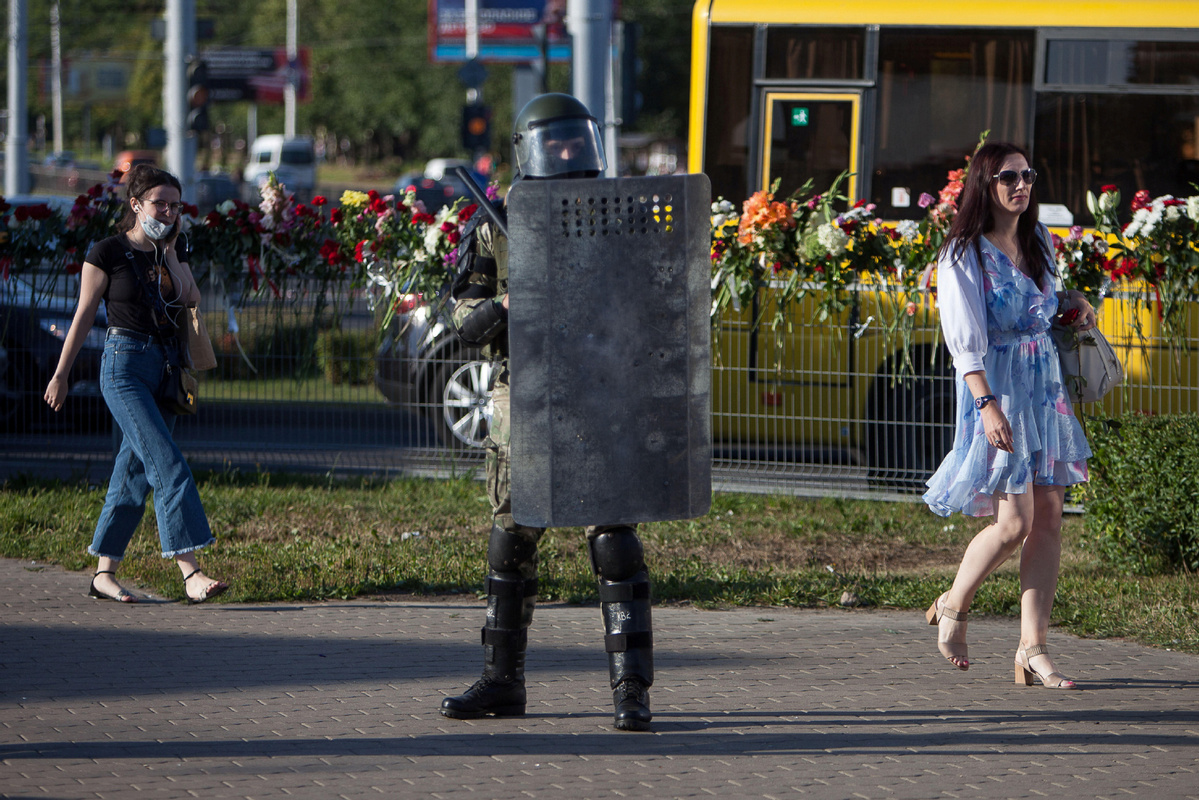 Belarusian law enforcement officers on Tuesday began lifting a cordon that had been set up around downtown Minsk after protests against President Alexander Lukashenko's reelection at the weekend.
One protester died during the clashes that erupted with police when thousands of opposition supporters took to the streets in the Beralusian capital. The protests continued for a second night on Monday.
Interior Ministry spokesman Alexander Lastovsky said the man who died was part of a crowd protesting against the results of Sunday's presidential vote. The protester intended to throw an explosive device, but it blew up in his hand and killed him, Lastovsky said.
The death came as demonstrations took place in at least four areas of Minsk, meeting a harsh response from police who tried to disperse the protesters with flash-bang grenades and rubber bullets. Near the Pushkinskaya subway station, nearly 3,000 protesters tried to build barricades, The Associated Press reported.
The Interior Ministry said 89 people were injured during the protests late on Sunday and early on Monday, including 39 law enforcement officers. About 3,000 people were detained, nearly 1,000 of them in Minsk.
Protesters said one person died after being run over by a police truck-a claim the authorities denied.
Lukashenko said the protesters met an appropriate response after injuring dozens of police officers and attempting to take control of official buildings in several cities.
"We will not allow them to tear the country apart," he said.
Election officials said Lukashenko won a sixth term in office with more than 80 percent of the vote, while opposition challenger Sviatlana Tsikhanouskaya got nearly 10 percent. Tsikhanouskaya later submitted a formal request for a recount to the Central Election Commission.
Tsikhanouskaya, 37, a former English-language teacher without any political experience, entered the race after her husband, an opposition blogger who had hoped to run for president, was arrested in May.
Challenger leaves
Economic damage caused by the coronavirus has helped swell the opposition ranks, and Tsikhanouskaya quickly gained supported through social media networks among young Belarusians in recent months.
She had earlier dismissed the official results of the election, claiming the election was rigged.
Lithuanian Foreign Minister Linas Linkevicius said on his Twitter account that Tsikhanouskaya is now "safe" in Lithuania.
Russian President Vladimir Putin called for peace talks between the opposition and the government after the protests, and reiterated the will for more integration between the two countries.
Putin said he hoped Belarus would opt, too, for closer military and political ties with Russia inside a defense bloc that they both belong to.
In a statement, US Secretary of State Mike Pompeo said the election was not free and fair, adding: "We strongly condemn ongoing violence against protesters and the detention of opposition supporters."
The European Union called for the immediate release of all those detained.
Agencies contributed to this story.