Lebanon's Cabinet quits amid outrage
Share - WeChat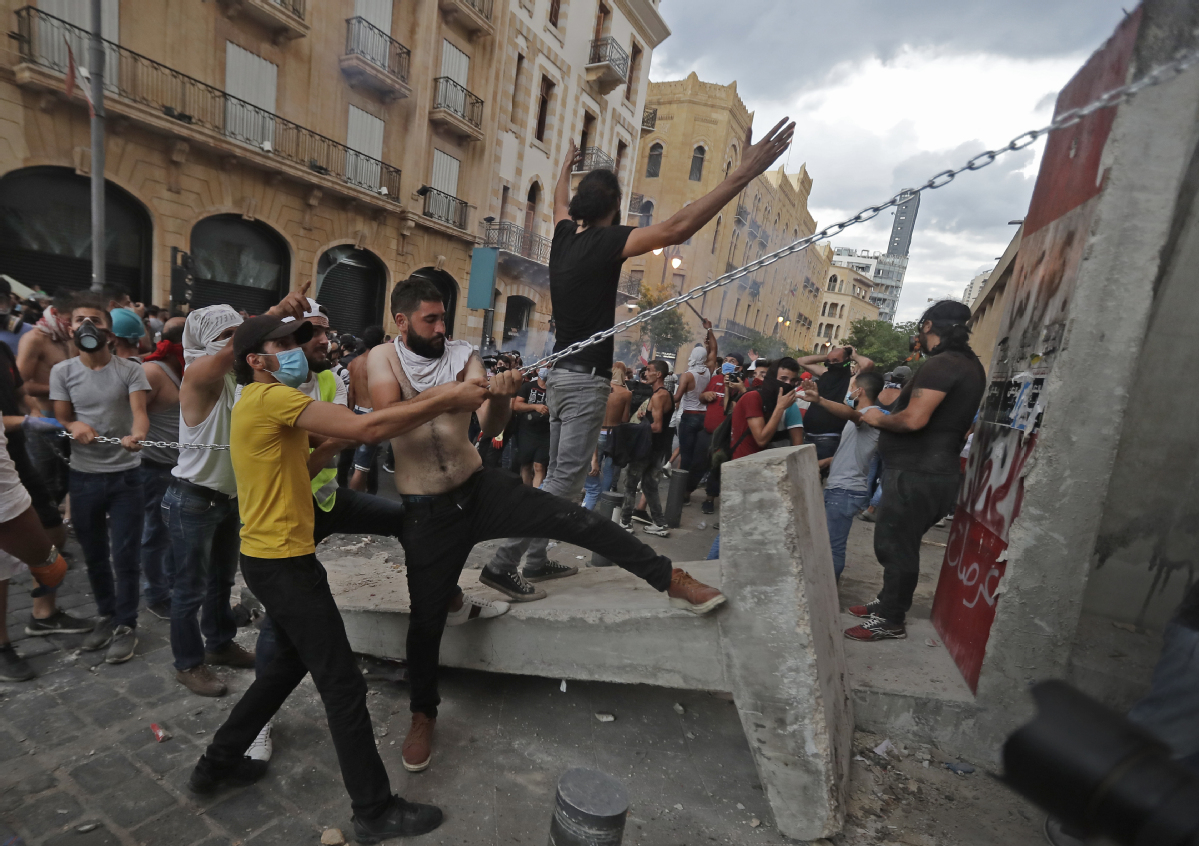 Outgoing PM blames graft for blasts; analysts want technocrats to step in
BEIRUT-Lebanon's prime minister has announced his government's resignation, saying the huge explosions that devastated Beirut last week and triggered public outrage were the result of endemic corruption.
The blasts on Aug 4 at the port killed at least 163 people, injured more than 6,000 and destroyed swathes of the Mediterranean city, compounding months of political and economic meltdown. The authorities had admitted that more than 2,000 tons of highly explosive ammonium nitrate had been stored at a port warehouse, sparking outrage from citizens.
"Today we follow the will of the people in their demand to hold accountable those responsible for the disaster that has been in hiding for seven years," Prime Minister Hassan Diab said in a speech on Monday announcing the resignation.
He blamed the disaster on endemic corruption and said those responsible should be ashamed because their actions had led to a catastrophe "beyond description".
While Diab's move was aimed at responding to popular anger about the blasts, it also plunged Lebanese politics deeper into turmoil and may further hamper already-stalled talks with the International Monetary Fund on a financial rescue plan.
The talks, launched in May, were put on hold due to inaction on reforms and a row between the government, banks and politicians over the scale of vast financial losses.
Lebanese President Michel Aoun accepted the resignation and asked Diab's government-formed in January with the backing of the Hezbollah group and its allies-to stay as a caretaker until a new Cabinet is formed, a televised announcement said.
Ahead of Diab's announcement, demonstrations broke out for a third day in central Beirut, with some protesters hurling rocks at security forces guarding an entrance leading to the parliament building; they responded with tear gas. Anti-government protests in the past two days have been the biggest in the capital since October.
Diab's Cabinet had been under severe pressure to step down. Some ministers had already resigned over the weekend and on Monday while others, including the finance minister, were set to follow suit, ministerial and political sources said.
Diab said on Saturday he would request early parliamentary elections.
Foundations of civil state
Ibrahim Halawi, a lecturer on Middle East politics at Royal Holloway, University of London, said an independent government with executive power in Lebanon should be formed. This structure would allow it to implement necessary reforms without being manipulated by sectarian leaders.
Halawi said that Lebanon should avoid the return of the status quo, and revive the state by allowing the new government to build the foundations for a civil state. Efforts should start with a rapid and comprehensive fiscal and accounting study of the state's losses and reserves, as well as a population census, which has not been done since 1932. The country stands out as the only one to have gone so long without a demographic study.
Rajeh Khoury, a columnist with An-Nahar, a leading Arabic-language newspaper, said Lebanon needs a technocrat government that has nothing to do with political parties in Lebanon.
"This government would be given the power to implement short-term reforms to gain support after the explosions, long-term reforms to attract support by the IMF to save the country's economy from collapse, and then come up with a new electoral law while launching early parliamentary elections," he said.
Lebanese are struggling to come to terms with the scale of losses after the blasts wrecked entire areas.
"The economy was already a disaster and now I have no way of making money again," said Eli Abi Hanna, whose house and car-repair shop were destroyed. "It was easier to make money during the civil war. The politicians and the economic disaster have ruined everything."
The Lebanese army said on Monday that a further five bodies were pulled from the rubble, raising the death toll to 163. Search and rescue operations continued.
An international donor conference on Sunday raised pledges worth nearly 253 million euros ($298 million) for immediate humanitarian relief, but foreign countries are demanding transparency over how the aid is used.
Agencies - Xinhua