Washington told to end its interference in China
Share - WeChat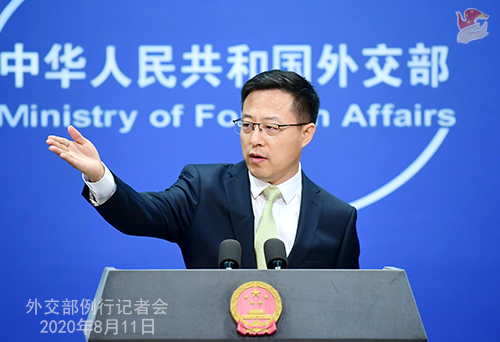 Divisive attacks rejected overwhelmingly by public, major news website poll finds
Some people in the United States should cast aside their illusions that they can change China according to their own needs and stop interfering in China's internal affairs, Foreign Ministry spokesman Zhao Lijian said on Tuesday.
Zhao made the remark at a daily news conference as major news website huanqiu.com started an online poll on Monday about China-US ties.
More than 80,000 people had participated in the poll as of the end of Monday, huanqiu.com said on its WeChat account, adding that 96 percent indicated they had a negative impression of the US.
As many as 98 percent of them agreed that by attacking the Communist Party of China, the US aims to sow discord between the Chinese people and the CPC, undermine China's solidarity and garner support for a "new Cold War" against China, according to huanqiu.com.
Also, more than 97 percent said they support China in taking countermeasures against US provocations.
"Some people in the US should take a good look (at the poll) and understand that the Chinese people have seen through their vicious attempt to disrupt China-US ties and create separation and confrontation," Zhao said.
Their "perverse act" will only make the Chinese people more unified and more patriotic, he said, urging them to face reality, correct their errors, stop trying to block China's legitimate interests and work with China to bring bilateral ties back on the right track.
Speaking of US Secretary of State Mike Pompeo's comments on the arrest of Apple Daily founder Jimmy Lai Chee-ying, Zhao said Pompeo has been making erroneous remarks on Hong Kong-related issues.
Pompeo has made irresponsible comments over China's legitimate action to protect its national security, and such political lies are not at all based on fact, he said.