Decision to keep sixth LegCo continue duties 'very important and timely'
Share - WeChat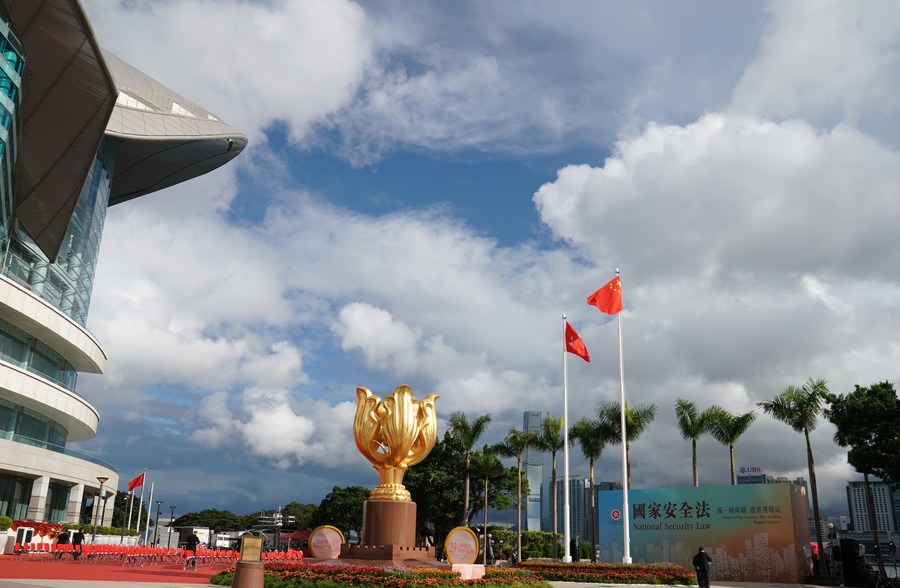 The State Council's Hong Kong and Macao Affairs Office said the decision adopted by China's top legislature on Tuesday for Hong Kong's sixth Legislative Council to continue performing duties is "very important and timely".
The office released a statement on Tuesday expressing its firm support for the decision, saying it provides a solid legal basis for the continued operation of the sixth LegCo and also will help maintain constitutional order and the rule of law in Hong Kong, as well as ensuring the normal administration of Hong Kong government and the normal operation of local society.
The statement said in view of the severe situation of the COVID-19 pandemic in Hong Kong, the city's chief executive and the Executive Council made the decision to postpone the election for the seventh LegCo for one year in accordance with the law, reflecting strong responsibility for the lives and health of Hong Kong citizens while ensuring public safety and the fairness and justice of the LegCo election.
In the case of vacancies in Hong Kong's legislature, the Standing Committee of the National People's Congress approved the decision to allow the sixth LegCo to continue performing its duties for no less than one year after its term expires on Sept 30, until the term of the seventh LegCo begins, it said.
The statement said the reality since the return of Hong Kong has made people increasingly aware of "who really cares for Hong Kong".
"Whether it was resisting the impact of the international financial crisis, fighting against the severe acute respiratory syndrome outbreak in 2003 or today's risks brought by the COVID-19 pandemic, whether it was introducing major political measures to support Hong Kong in overcoming economic difficulties and improving people's livelihoods or enacting important laws to help Hong Kong subdue the chaos, solve constitutional issues and return to normal development, it is the central government and 1.4 billion people from the motherland who have always been the most considerate and cared the most for Hong Kong," the statement said.
"The Chinese mainland has always been the biggest backing force for Hong Kong to stand against difficulties," it said, adding that Hong Kong's bright future lies in the comprehensive and accurate implementation of the "one country, two systems" principle and in developing and prospering together with its increasingly powerful motherland.