Aid pours in as Beirut fears higher blast toll
Share - WeChat Hundreds of people have been reported missing after the massive explosions that shook Beirut on Tuesday, killing at least 137 people and injuring 5,000, raising fears that the death toll will rise.
More than 300,000 people have been displaced from their homes by the blast, which destroyed an entire neighborhood, according to Agence France-Presse.
Authorities declared Beirut a "disaster city" and imposed a two-week state of emergency.
Lebanon imports most of its food, and large quantities of grain stored in the port have been destroyed, causing fears of widespread food insecurity to come, BBC reported. The future of the port itself is in doubt due to the destruction, it said.
"Beirut needs food, Beirut needs clothes, houses, materials to rebuild houses. Beirut needs a place for the refugees, for its people," Beirut's governor, Marwan Abboud, told BBC.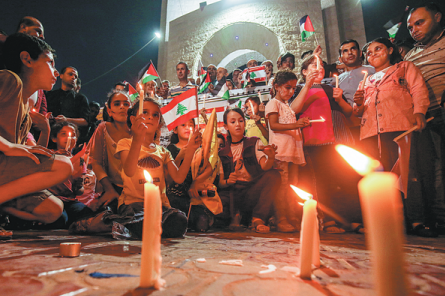 BBC also reported that Lebanese President Michel Aoun tweeted it was "unacceptable" that the 2,750 tons of ammonium nitrate that caused the blast had been stored unsafely.
People in Beirut have expressed anger at the government over what they say was corruption, neglect and mismanagement that led to the huge explosion.
The ammonium nitrate-which is used as a fertilizer in agriculture-reportedly had been in a warehouse at the Port of Beirut for six years after being unloaded from a ship in 2013, according to media reports.
A number of Beirut port officials are being placed under house arrest pending an investigation into the blast, Lebanon's government said.
Specialists at the University of Sheffield in the UK estimated that the blast had about one-tenth of the explosive power of the atomic bomb dropped on Hiroshima, Japan, during World War II, and was "unquestionably one of the biggest non-nuclear explosions in history", BBC reported.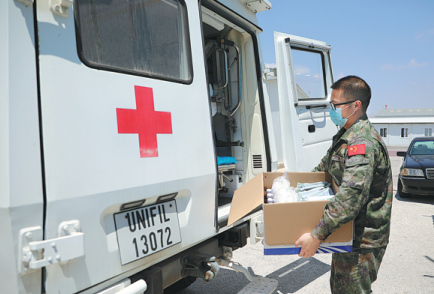 Lebanon's Supreme Defense Council vowed that those found responsible will face the "maximum punishment" possible.
The ammonium nitrate arrived on a Moldovan-flagged ship, the Rhosus, which entered the Beirut port after suffering technical problems during its voyage from Georgia to Mozambique, according to Shiparrested.com, which deals with shipping-related legal cases.
The Rhosus was inspected, banned from leaving and was shortly afterward abandoned by its owners, sparking several legal claims, and its cargo was stored in a port warehouse, the report said.
Beirut is still coming to terms with the sheer magnitude of destruction. Streets were strewn with shattered glass, mangled storefronts, smashed cars and splintered trees, Lebanese newspaper The Daily Star reported. Lebanese Army bulldozers plowed through rubble to reopen roads around the port on Thursday.
French President Emmanuel Macron left Paris for Lebanon on Thursday for the first visit by a world leader to Beirut after the blast, the Elysee Palace said. He was to meet with President Aoun and Prime Minister Hassan Diab, among others, it said.
Meanwhile, the medical unit of the Chinese peacekeeping forces in Lebanon will provide medical aid to Beirut, Xinhua News Agency reported on Thursday.
An emergency team of nine medical workers from fields including surgery, internal medicine, burns and anesthesiology, as well as medical supplies and equipment, were sent to Beirut, Xinhua said.
On Wednesday, France sent three planes to the Lebanese capital loaded with rescuers, medical equipment and a mobile clinic, according to AFP.
Other countries including Greece, Qatar, Kuwait and Turkey, as well as the European Union, have sent medical supplies, humanitarian aid and search-and-rescue teams.
Brazilian President Jair Bolsonaro said he had called Lebanon's ambassador to Brazil and offered to help the country, CNN reported.
Brazil, home to more than 8 million people of Lebanese descent, is the largest community of Lebanese outside of Lebanon, according to the Brazil-Lebanon Cultural Association.
Lebanon has already been going through its worst economic crisis since the 1975-90 civil war. People have faced daily power cuts, a lack of safe drinking water and limited public healthcare, BBC reported.
Losses from the blast could be between $10 billion and $15 billion, the Associated Press quoted Abboud, Beirut's governor, as telling Saudi-owned TV station Al-Hadath on Wednesday.