Wrongfully convicted Jiangxi man reunites with family after acquittal
Share - WeChat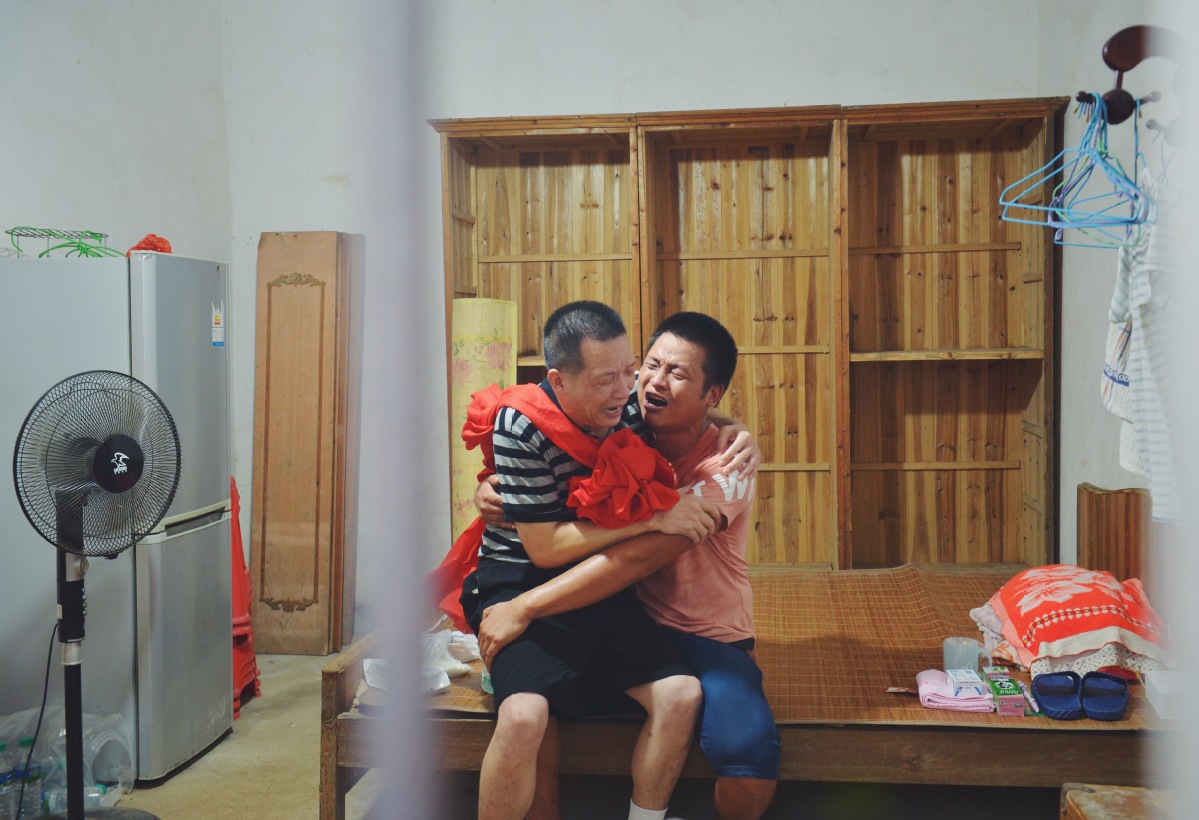 Zhang Yuhuan, reportedly China's longest-serving wrongfully convicted inmate, visited his father's grave on Wednesday, one day after he was freed and returned home to Jinxian county of Nanchang, Jiangxi province.
"Dad, I'm sorry that I didn't come to see you for a long time," Zhang said, holding flowers as he knelt in front of the grave. "I was wrongly detained for more than 20 years, but finally I was proved innocent."
On Tuesday afternoon, the Jiangxi High People's Court overturned the original ruling in which Zhang was given a suspended death sentence for killing two boys and found the 52-year-old man not guilty as the chain of evidence in his case was incomplete and not strong enough to support his conviction.
He was released immediately from a prison in Nanchang after the acquittal and returned home. When he saw his 83-year-old mother and relatives standing at the door to greet him, he could not help shedding tears.
"Our past 27 years of struggling and appealing was for this moment of family reunion. No words can describe our feelings," Zhang's family members said in a letter they wrote and posted on Sina Weibo on Wednesday.
The high-profile case dates back to October 1993, when the bodies of two slain boys were discovered in a reservoir in a village in Jinxian. A few days later, Zhang was identified as the suspect and detained.
He was sentenced to death with a two-year reprieve for intentional homicide by the Nanchang Intermediate People's Court in January 1995, which means his sentence would be commuted to life imprisonment as long as he committed no new offenses during the two-year period.
Zhang denied being the killer and appealed to a higher court, adding that he was tortured by police during interrogations.
In March 1995, the high court sent the case back to the lower court and ordered a retrial due to insufficient evidence. But the retrial was not heard until 2001, and the conviction and sentence were both upheld.
Zhang appealed to the high court again, but this time his appeal was rejected. As he remained incarcerated, his ex-wife and family members helped him continue to appeal.
After years of appealing, the high court decided to retry the case in 2019, and the retrial began on July 9.
Recalling the past 9,778 days of waiting and the difficulties they had in appealing, many members of Zhang's family could not stop crying.
"We never lost hope, and we never gave up, because we always believed Zhang was innocent," they said.
They also expressed great thanks to the lawyers who helped with Zhang's case, saying they would take care of Zhang and help him adapt to society.
The family members also said they accepted the high court's apology for the wrongful conviction, but they will apply for state compensation and ask for those who committed judicial miscarriages to be held accountable.
Zhang said the wrongful conviction cost him the best years of his life, depriving him of the opportunity to look after his parents and witness his two sons' growth. Now his children are married and have their own kids.
"It's hard for the compensation to make up for the damage of the wrongful conviction to me and my family, but I still hope to get compensated quickly to repair my house and care for my mother," he added.
Further, Wang Fei, Zhang's lawyer, said the mental health of released convicts should be given more attention and suggested that the country offer Zhang psychological aid to help him get back on track and live a better life.
He began helping Zhang appeal in 2017.
"I was sympathetic to my client and his suffering," he said, adding that overturning this wrongful conviction was also made possible because of the family's persistence and efforts by many others.
Ruan Chuansheng, a law professor at the Shanghai Administration Institute, said correcting the wrongful conviction is a result of the advancement of the rule of law and was an inevitable choice to protecting human rights.
Lauding the Jiangxi High People's Court that highlighted the principle of 'no punishment in doubtful cases' under the Chinese Criminal Procedure Law, he called for judicial authorities to prevent wrongful convictions by removing and excluding evidence that is obtained improperly, such as that gained by torture.