Post-pandemic era must be greener
Share - WeChat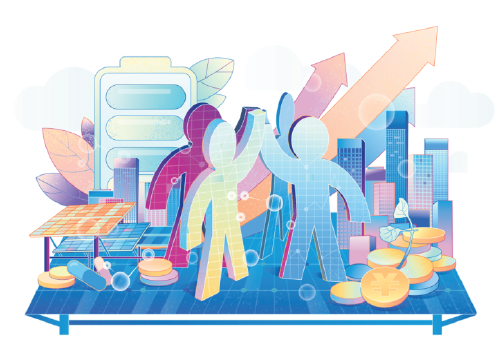 China's support for international cooperation to promote sustainable development is conducive to realizing the goals of the climate agreement
The novel coronavirus has been a big blow to the global health governance system, and at the same time, had a profound impact on the global economy, relations between major powers and multilateral mechanisms. Also, risks of non-traditional security issues, such as environmental and climate issues, have increased, especially for developing countries. So, in the coming post-pandemic era, the international community needs to promote green cooperation, adhering to the principle of sustainable development.
Due to the pandemic, vulnerable populations in developing countries and regions have been under severe health and daily life pressures, which has weakened their ability to cope with other risks. However, the effects of climate change, which include droughts, floods, pests and diseases, and even regional conflicts, are also threats to people's health and safety and their livelihoods. Poverty and starvation are staring many people in the face.
In this case, if countries restart their economic development and international cooperation through developing high-emission industries, a sharp increase in pollution and greenhouse gases will occur. That will only aggravate the risks of climate change.
At this time, the international community must reach a consensus on a green recovery in the aftermath of the COVID-19 pandemic. However, the United Nations Climate Change Conference and the 15th meeting of the Conference of the Parties to the Convention on Biological Diversity have been postponed to next year. As a result, international cooperation in terms of climate change and environmental protection that is urgently needed have yet to materialize.
In addition, major global environmental governance forces may shrink financial support and hinder multilateral cooperation in this regard, along with the downward economy. Meanwhile, the differences among countries in their responses to the public health crisis, as well as simmering frictions have added to the challenge of forging meaningful cooperation.
In the face of the shortcomings in climate and environmental governance, countries and regions should carry out sustainable cooperation, focus on green development, adhere to multilateralism and ensure the rights and interests of developing countries, with solidarity and responsibility.
China has played a decisive role in promoting green cooperation globally, and in high-quality social and economic recovery in developing countries.
The past 70 years have seen the progress that China has achieved in public environment improvement, industry upgrading and transformation of its development model. The country has realized a leap from primary industrialization to industrial modernization, and it has grown into a pillar of global climate cooperation, thanks to experience learned during the process.
From the perspective of ideas, China attaches great importance to building a fair global environment and global governance system with cooperation and mutual benefits. Each country should design specific and detailed plans according to their resources, stage of development and local conditions, following the standards that meet their development needs. The developed countries should provide more financial, technological and policy support for the developing countries to reduce their greenhouse gas emissions and adapt to the inevitable effects of climate change.
China is at the forefront of emerging fields such as renewable energy and smart cities. In particular, China has become the largest investor in renewable energy for years. Its capacity for photovoltaic module manufacturing accounts for 70 percent of the world's total.
Besides, China has supported the progress of green industries in other countries, especially developing countries, with cost-effective technology, equipment and infrastructure. For instance, the project of a 50 megawatt solar power farm launched in Garissa, Kenya is the largest photovoltaic electricity station in east Africa. China has helped Zambia build about 2,000 solar-powered milling plants to reduce food costs in rural areas.
In the post-pandemic era, some countries will promote economic recovery through new investments in energy and infrastructure, which can be an opportunity for international development cooperation. Making full use of China's green industries' advantages, international collaboration can serve as a new driver and growth point for countries, including China, in industrial development, and contribute to the global energy transformation.
China's support for international cooperation to promote sustainable development is conducive to forging a stronger bond with other countries that uphold multilateralism and pushing forward the climate agreement to tide over the difficulties caused by the pandemic.
China advocates the establishment of a practical and long-term international cooperation mechanism for global green development while assisting other countries in the fight against the coronavirus. Through bilateral and multilateral channels, the country can share its experience and resources in sustainable growth, environmental governance, climate change and renewable energy. It can also work with countries with green development plans to create more demonstration projects of higher standards and quality, by increasing assistance with assessment and control of their impacts on climate and ecology. Through financial support and other policy methods, China can expand trade activities and investment that emphasize green development, in a bid to help developing countries increase production capacity, output value and employment in sustainable industries.
The author is vice president of the Chinese Academy of International Trade and Economic Cooperation under the Ministry of Commerce. The author contributed this article to China Watch, a think tank powered by China Daily. The views do not necessarily reflect those of China Daily.
Most Viewed in 24 Hours
China Views