Can the UK afford to ruin ties with China?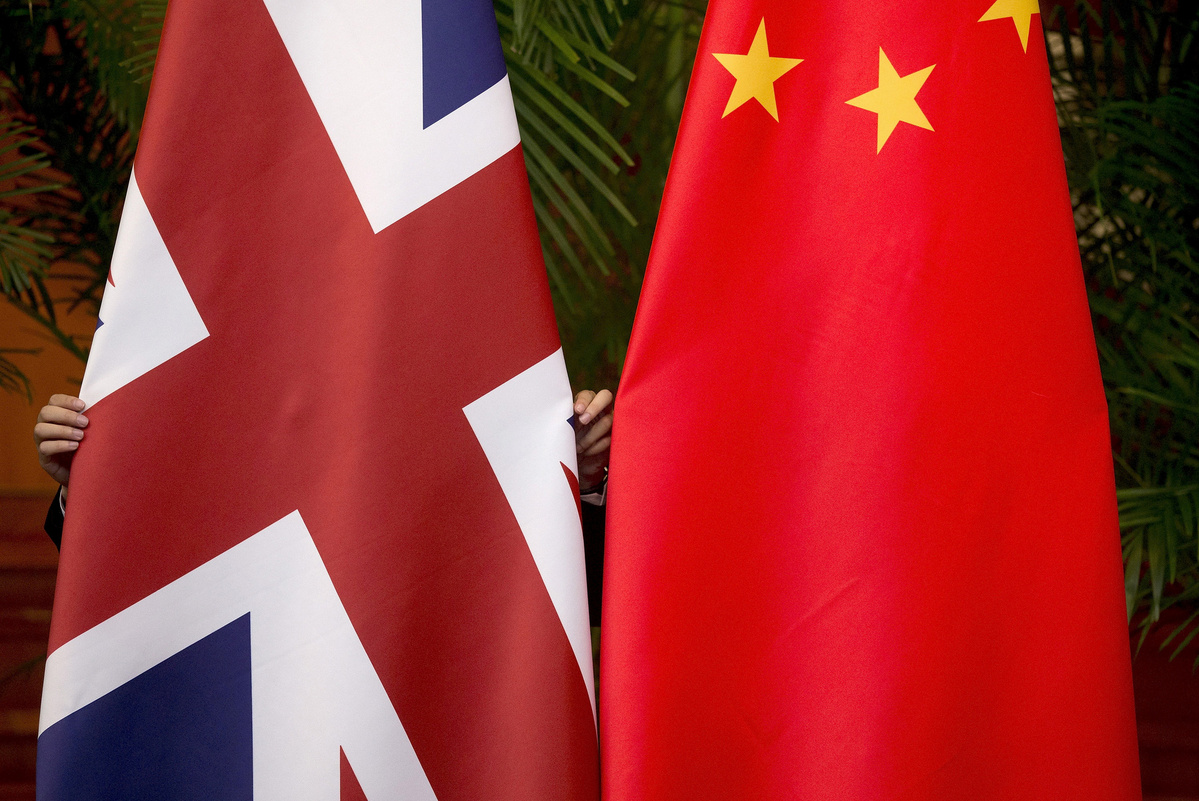 It may be too early to say the coronavirus is reshaping the world order. But one thing is for sure: It's pushing the UK to "get real" in its approach toward the world's second-largest economy.
For decades, the UK has been dancing to the US' tune. With Washington piling on the pressure, London has quickened its step recently: banning Huawei, making waves on China's human rights condition and calling for an investigation into China's anti-coronavirus response. After all, doing the US' bidding is a prerequisite for strategic support from the world's superpower.
But is it still wise today?
Take a look at the figures. China is now the third-largest export destination for British goods. In 2019, Britain exported goods worth 26.4 billion British pounds ($33.1 billion dollars) to China, more than seven percent of the country's total global shipments.
Britain is also China's largest investment destination in Europe. Since 2000, China has invested more than 44 billion British pounds ($55 billion dollars) in the UK, doubling that of Germany, the second-largest European recipient.
Britain is also running an expanding surplus with China in the services sector. According to a BBC report, the number of Chinese students in Britain has increased from 90,000 in 2014 to over 120,000 in 2019. That's compared with 27,000 Indian students in Britain, the second-largest foreign student population in the country.
In 2019, Chinese students were estimated to have contributed 1.5 billion British pounds ($1.75 billion dollars) to the UK's higher education sector.
Britain's role in China's economy cannot be underestimated either. The country is China's second-largest trading partner in Europe. It's no secret the UK has strengths in its chemical industry, as well as its machine manufacturing and biological engineering sectors. Cooperation in these areas is vital for China's economic growth. In 2019, the two countries saw bilateral trade hit 86.3 billion US dollars, a 7.3 percent increase year on year.
These figures point to a plain fact: It's vital for both countries to maintain sound economic ties.
This is particularly true during the ongoing pandemic. As the coronavirus stifles the UK's economic growth, China's market is even more crucial for many British industries.
According to David Bailey, a professor at Birmingham Business School, "China is the biggest car market in the world and one of the biggest markets for premium and luxury brands in the UK – Rolls-Royce, Bentley, Jaguar Land Rover. This is a hugely important market for them. Jaguar Land Rover might only have 20 percent of the cars sold in China, but maybe 50 percent of their profit comes from China. So, it is absolutely critical for the firm that China's market recovers. So, the UK and China are really interlinked when it comes to the auto industry."
Cooperation with China means more job opportunities for the UK.
According to The Telegraph, China Jingye's purchase of British Steel has saved nearly 4,000 jobs at the company and over 20,000 in the supply chain. Meanwhile, British telecoms company BT said excluding Huawei would cost it 500 million pounds ($627 million dollars).
"China will remain an important powerhouse of world economic growth. It is my hope that British businesses will seize opportunities in China's economy and take the lead in global economic recovery once the pandemic is over," said Liu Xiaoming, Chinese ambassador to the UK.
Courting the US may have bought the UK some prosperity in the past. But figures show China is becoming a partner that Britain cannot afford to lose, especially in the post-Brexit era. In pursuit of a Global Britain, the country will need to be more open for business. This means China will become increasingly significant to Britain as it finds a new place in the world, outside the EU.
The UK divorced the EU for prosperity. But prosperity means taking opportunities. While China is instilling more momentum in the UK's economic growth, Washington's protectionism and hawkish behavior are shutting off opportunities. Britain might not want to follow that path.
Most Viewed in 24 Hours
China Views