Barr, Democrats battle over federal agents sent to cities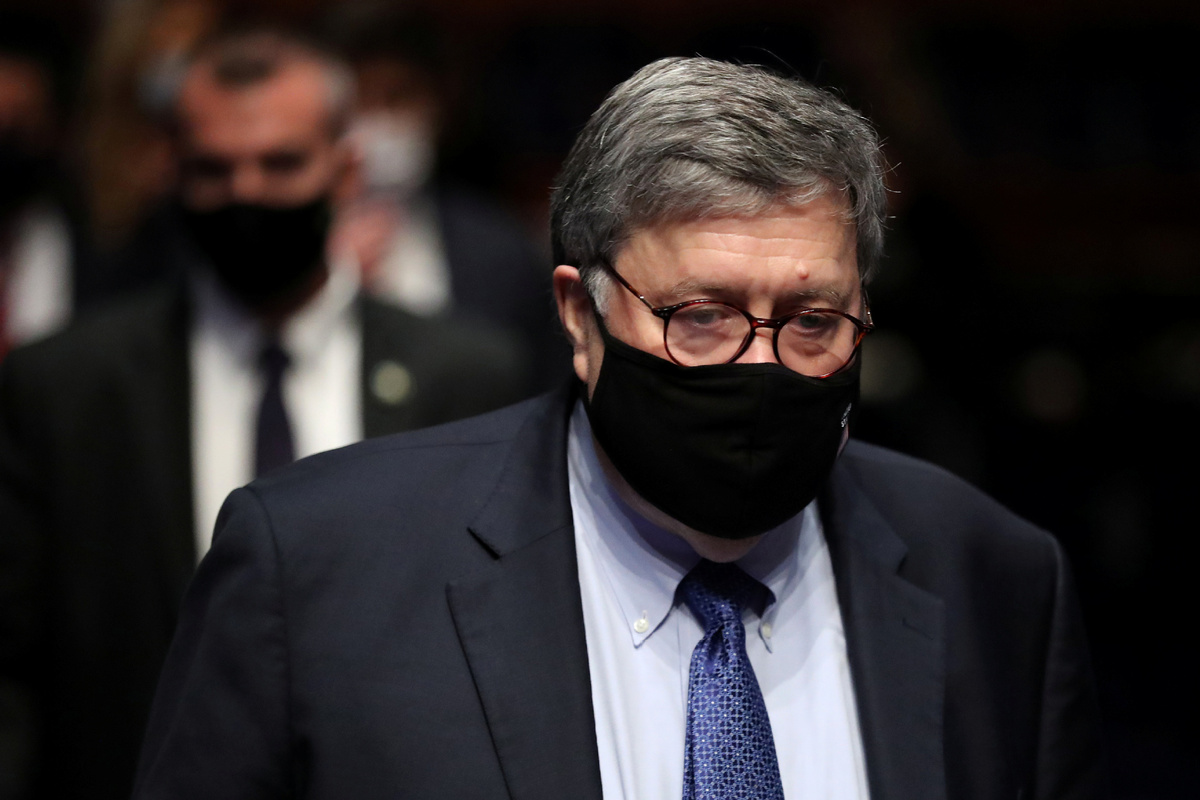 US Attorney General William Barr and House Democrats clashed Tuesday over the deployment of federal agents to counter violence stemming from some ongoing protests in several cities.
For the first time since taking office in February 2019, Barr testified to the House Judiciary Committee in Washington over the role of the Justice Department in dispersing protests against racism and police brutality in Portland, Oregon, and Washington DC.
Barr also was questioned about pardons granted by President Donald Trump, among numerous other topics.
Committee Chairman Jerrold Nadler, Democrat of New York, opened the hearing by telling Barr: "Your tenure is marked by a persistent war against the department's professional core in an apparent effort to secure favors for the president."
Barr replied, "I feel complete freedom to do what I feel is right."
Nadler said the Trump administration had "twisted the Department of Justice into a shadow of its former self".
Committee Democrats repeatedly interrupted Barr as he spoke, often using the allotted time before he could answer.
Trump's fellow Republicans responded by letting the attorney general address the Democrats' criticism during their own floor time.
"I don't think we've ever had a hearing where the witness wasn't allowed to respond to points made, questions asked, and attacks made," said committee member Jim Jordan, an Ohio Republican.
Jordan used his opening statement to show an eight-minute video that spliced together images of violence by protesters around the country, showing law enforcement officers under attack in Chicago, Portland and New York.
Representative David Cicilline, a Democrat from Rhode Island, presented his own video at one point.
"I want to let you see now a video that fairly represents peaceful protest that is happening now across America that you conveniently omitted from your testimony and your statement," Cicilline said to Barr. In the video, protesters were shown kneeling and chanting "Hands up, don't shoot."
During one exchange about Portland, where protests have persisted for two months, Barr responded, "We cannot just stand aside and watch the federal courthouse be destroyed."
Protests nationwide began after the death of George Floyd in police custody in Minneapolis on May 25.
"Largely absent from these scenes of destruction are even superficial attempts by the rioters to connect their actions to George Floyd's death or any legitimate call for reform," Barr said of the Portland protests.
"As elected officials of the federal government, every member of this committee — regardless of your political views or your feelings about the Trump administration — should condemn violence against federal officers and destruction of federal property," Barr said. "So should state and local leaders who have a responsibility to keep their communities safe."
Barr blamed the arson and violence at some protests primarily on the left-wing Antifa (antifascist) group and has urged federal prosecutors to bring criminal charges whenever possible.
"Nadler calls ANTIFA violence a MYTH. They are Anarchists with miles of "tape" showing their illegal activity. Jerry, blame it on Russia , Russia, Russia!" Trump tweeted on Tuesday.
The department's internal watchdog launched probes last week into federal involvement in the Portland and Washington protests.
Representative Pramila Jayapal, Democrat of Washington state, asked the attorney general: "Do you think it was appropriate at Lafayette Park (in Washington DC) to pepper-spray, tear-gas and beat protesters and injure American citizens?"
When Barr said he disagreed with her characterization, she said: "Mr. Barr, yes or no? I am starting to lose my temper."
Under questioning by Representative Sheila Jackson Lee, a Texas Democrat, Barr dismissed accusations of widespread racial discrimination in policing.
"You indicated that the killing of George Floyd was shocking. I disagree," Jackson Lee said. "You seem to have a difficult time understanding systemic racism and institutional racism that has plagued so many."
Barr replied: "I don't agree that there's systemic racism in police departments."
Barr rejected Nadler's assertion that the deployment of federal agents was an effort to boost Trump's re-election campaign.
The attorney general also denied taking actions to help associates of the president, saying they do not deserve special breaks but also should not be treated more harshly.
The House Judiciary Committee launched a broad inquiry last month into whether the Justice Department has become politicized.
It followed Barr's intervention in several high-profile criminal cases involving people close to Trump. In February, he moved to scale back the Justice Department's sentencing recommendation for Trump's friend Roger Stone, whose sentence the president later commuted.
In May, Barr sought to drop the criminal charge against former national security adviser Michael Flynn, setting the stage for an ongoing legal battle with the federal judge who was due to sentence Flynn, who had previously pleaded guilty to lying to the FBI.
In June, Barr ousted the top federal prosecutor in Manhattan, Geoffrey Berman, while that office was investigating Trump's attorney Rudy Giuliani.
In July, the Bureau of Prisons, which reports to Barr, ordered Trump's former attorney Michael Cohen out of home confinement and back to prison after he hesitated to sign a gag order that would have prevented him from releasing a book about the president.
A federal judge ordered Cohen released last week, saying there was evidence the Bureau of Prisons had retaliated against him.
"In this Justice Department, the president's enemies will be punished, and his friends will be protected, no matter the cost to liberty, no matter the cost to justice," Nadler said.
Barr was pressed in detail about his intervention in the Flynn and Stone cases, both of which arose from special counsel Robert Mueller's Russia investigation. Democrats criticized Barr for partly considering the health and age of Stone, 67, and said those standards haven't been used in similar cases.
Representative Hank Johnson, a Florida Democrat, said to Barr of the Stone case: "You think the American people don't understand that you were carrying out Trump's wishes?"
"Do you think it is fair for a 67-year-old man to be sent to prison for seven to nine years?" Barr replied.
Reuters and The Associated Press contributed to this story.