Development of high value added products key to SMEs' survival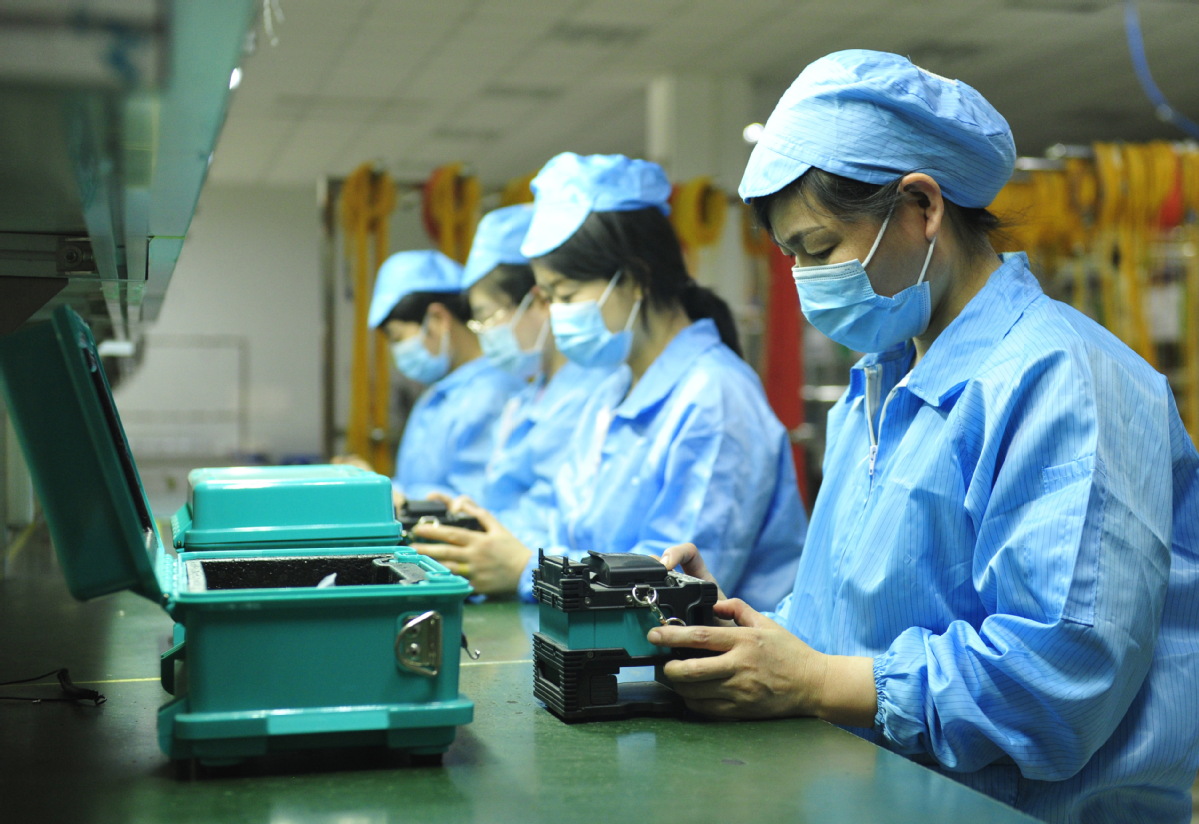 That the novel coronavirus pandemic is yet to be contained globally has caused global market demands to drop drastically, which has seriously undermined international trade. According to World Trade Organization data, the global trade volume in the first quarter of the year declined 3 percent year-on-year-and is expected to further decline to 18.5 percent in the second quarter.
China's foreign trade, too, faces great pressure. The General Administration of Customs has said China's total import and export trade in goods in the first half of the year was 14.24 trillion yuan ($2.03 trillion), a decline of 3.2 percent year-on-year. In particular, some micro, small and medium-sized enterprises could face a survival crisis as they lack adequate anti-risk capacity.
But since China has largely contained the epidemic at home, most enterprises have resumed normal production and operations-and consumption is gradually recovering. Thanks to multiple supportive policies including tax and fee cuts, customs clearance facilitation, enhanced financial and loan support, and allowing the sale of products originally meant for exports in the country, many micro, small and medium-sized enterprises are upgrading their structure and adopting a new development pattern to explore both the foreign and domestic markets, thereby showing strong resilience against the health crisis.
The government has taken measures to boost foreign trade, especially enhance support to micro, small and medium-sized enterprises in order to ensure their stability. The government has increased the export tax refund rate for 1,464 products to reduce enterprises' operation costs, and created channels for businesspeople to coordinate with their counterparts in other countries and smoothen the international logistics routes.
Besides, China held the Canton Fair online in June, thereby exempting enterprises from paying the participation fees, and expedited the process of developing new foreign trade models such as cross-border e-commerce and building foreign trade service platforms targeting small and medium-sized enterprises (SMEs). China has also helped foreign trade enterprises explore and exploit the domestic market to get through the difficult times. Also, the Ministry of Commerce will hold a national consumption promotion campaign later this year to help foreign trade enterprises better coordinate with e-commerce platforms.
Cross-border e-commerce retail has developed rapidly, helping Chinese companies explore the overseas markets. In the first five months of this year, cross-border e-commerce retail increased 12 percent year-on-year. And on July 1, the General Administration of Customs launched cross-border business-to-business (B2B) export supervision pilot zones in 10 regions including Beijing and Tianjin, so as to integrate the customs operations for B2B export of goods.
Many foreign trade enterprises, especially SMEs, face difficulties in getting funds due to the epidemic. As such, the tax authorities have been offering more tax and fee reduction for such enterprises.
During the June 18 online shopping festival, the total sales of two leading e-commerce platforms Tmall and JD.com was about 1 trillion yuan, reflecting the gradual recovery of domestic consumption. And major domestic e-commerce platforms such as JD.com and Pinduoduo have taken steps to help foreign trade enterprises sell their products in the domestic market, providing a direct domestic sales channel for products originally meant for exports.
The international market faces great uncertainties in terms of demand and trade rules, while China's market has become the world's largest single market with rising potential. So, foreign trade enterprises should adjust their development strategy to explore the domestic market.
But it is difficult for micro, small and medium-sized foreign trade enterprises to transition from the old to the new business model because they lack anti-risk capacity. Perhaps they could overcome the challenges by making products according to domestic standards and use e-commerce platforms and livestreaming marketing channels to expand their businesses in the domestic market. However, they should be aware of legal risks including violation of intellectual property rights.
But the key to micro, small and medium-sized enterprises' survival is in enhancing development and innovation in high value added products, and improving their competitive edge.
The author is a researcher at the Foreign Trade Research Institution, Chinese Academy of International Trade and Economic Cooperation.
The views don't necessarily represent those of China Daily.
Most Viewed in 24 Hours
China Views