Reforms to boost performance of China's public health system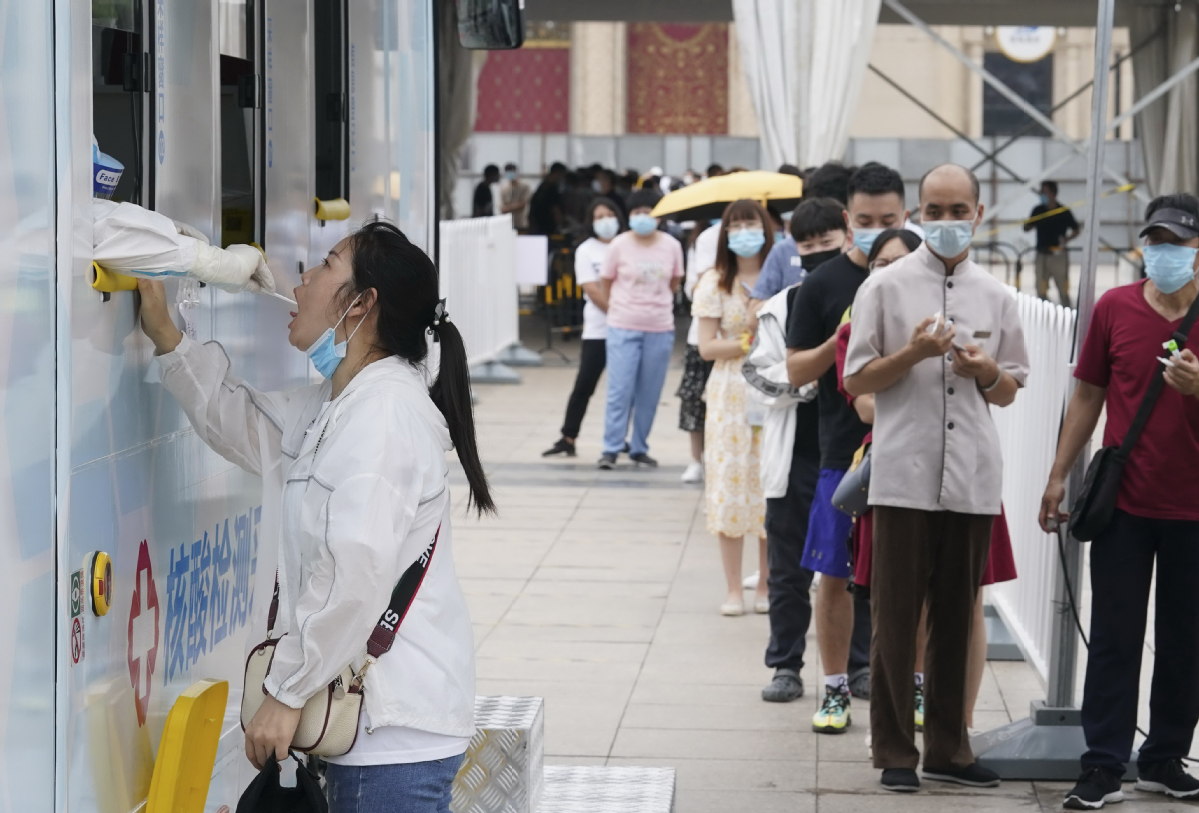 Three-year plan for capital to improve prevention and control of epidemics
Even though the success of China's public health system in fighting the COVID-19 pandemic has proved its general effectiveness, the country's top leadership has called for reforms to improve its response to major public health emergencies.
With the COVID-19 pandemic well under control domestically, local authorities across China, including those in Wuhan, Hubei province, and in Beijing, are responding quickly, and some have proposed reforms to empower their public health systems to better protect people's health.
"A draft for reforming the existing public health system at the national level has not come out yet, but different areas are advancing their own reforms considering their realities," said Feng Zijian, deputy director of the Chinese Center for Disease Control and Prevention.
In Beijing, a three-year plan has been released to comprehensively improve the city's ability to respond to public health emergencies and prevent and control major epidemics.
A sound public health system that covers every residential compound in the city will be established by 2022, with significantly improved public health and basic medical care services, according to the plan, which was released last month.
A multi-tiered system will be established to monitor public health emergencies, and checkpoints will be built at key places such as airports, train stations and schools. Fever clinics at community health centers will also be improved, and fever screening checkpoints will be set up at 189 community health centers to improve early warnings about infectious diseases.
Meanwhile, improved standards will be applied at centers for disease control and prevention in Beijing and its districts to improve their facilities and talent resources so they are better placed to perform duties such as virus testing, epidemiological investigation and the handling of emergencies.
More connectivity between hospitals and public health institutes such as CDCs, a core part of the public health system, is expected via exchanges and training with the aim of improving disease prevention and control and treatment of patients during outbreaks of major infectious diseases.
In addition, authorities will draft a list of major public buildings that can be temporarily transformed into isolation sites and makeshift hospitals for patients in case of major public health emergencies, the plan said. Potential needs for quarantine and treatment of patients in emergency situations should be taken into account when building big public facilities such as sports stadiums and theaters so they can be quickly adapted when needed, it said.
Wuhan takes a step forward
In Wuhan, the Chinese city hit hardest by the pandemic, a similar plan to remodel the city's public health emergency system was released late last month. Special committees responsible for handling public health emergencies will be established at different levels of government, ranging from the city government to villages and towns, according to the plan.
Wuhan will give CDCs at the city and district levels more power, including elevating their administrative status and establishing an epidemiological force comprising no less than 1,000 professionals. Meanwhile, existing infectious disease hospitals in the city will be expanded, and some new hospitals specializing in infectious diseases will be built.
Wei Shanbo, an official at Wuhan's health commission, said measures will be taken to build up public health talent in the city, including creating special posts for chief public health experts at the commission and the city's CDC.
Meanwhile, CDCs in Wuhan will expand their recruitment of talent, and every major public hospital in the city will be required to have at least one senior executive with academic training in public health, Wei said.
Feng, from China CDC, said: "All these measures released by local authorities are aimed at enhancing their public health management, including intensifying the role of CDCs. Such explorations in reform are positive signs, but time is needed to evaluate their effectiveness."
Wu Hao, director of the Fangzhuang community health center in Beijing, said in addition to improving CDCs, empowering grassroots medical institutions, such as community public health centers, is crucial to improved disease control and prevention.
"Patients will first go to public health centers in their communities for diagnosis and treatment if they have trust in them, rather than swarming into big hospitals, which can cause cross-infection," he said.
Relying on big public hospitals alone would not control and prevent the spread of a disease during a major outbreak, as had been proved during the initial stage of the pandemic in Wuhan, Wu said.
Basic public health service providers, such as community health centers, are a weak link in the public health system in many places across China, resulting in patients flocking to top hospitals in cities.
In Beijing, 186 community health centers did not have a single bed by the end of last year, accounting for more than half the community health centers in the city, according to the municipal government. The capital will intensify the training of general practitioners and guide them to community hospitals and public health centers so they can serve as residents' health gatekeepers, it said.