Cargo trains provide cross-continental relief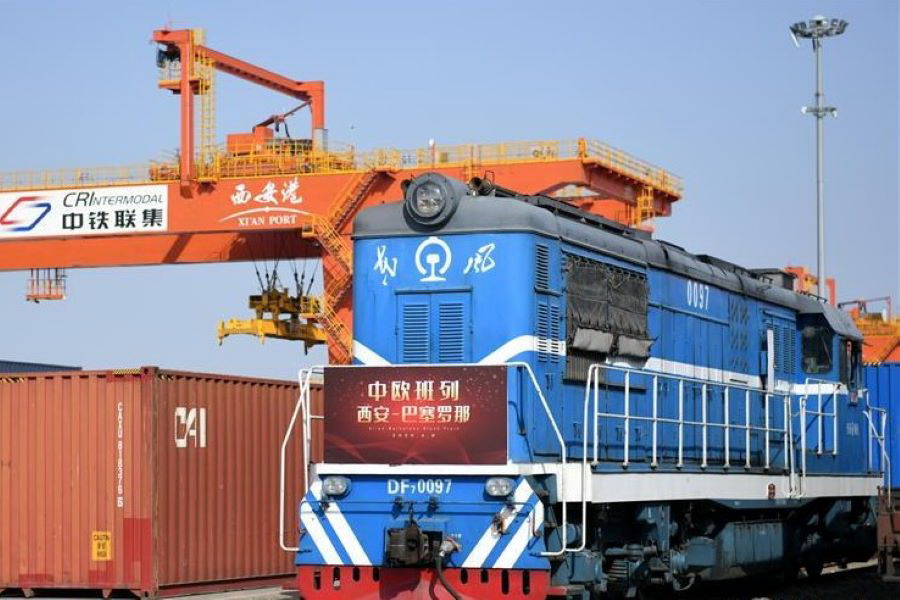 After a two-week journey, a freight train loaded with Chinese-made laptops and computers, small electrical appliances, daily necessities, toys and office supplies arrived in Budapest, capital of Hungary.
The train, which started in Southwest China's Chongqing municipality, is part of the regular operations of the China-Europe cargo fleet, like its counterparts from the eastern city of Yiwu, Zhejiang province, and Wuhan, capital of the central province of Hubei.
Wang Huoquan, deputy general manager of Yuxin'ou-Pacific Integrated Logistics Group Multimodal Co, said the China-Europe cargo trains have maintained a reliable transportation channel across the continents after air cargo supply chains faced capacity shortages due to the grounding of passenger aircraft and the resultant suspension of their bellyhold operations in the wake of the novel coronavirus outbreak.
"The regular Chongqing-Budapest rail service has met the booming logistics needs of current cross-border e-commerce, illustrating its strategic value in ensuring the international supply chain amid the pandemic," Wang said.
In 2017, the China-Europe rail service began making occasional trips to transport Chinese-made goods to Budapest, but it was not feasible to launch regular operations because the rail freight volume was relatively low at the time and very little cargo needed to be shipped back.
With only occasional orders, the train would usually arrive at other European cities and the cargo would be transported to Budapest by truck, said Qi Dan, general manager of Yuxin'ou (Chongqing) Logistics.
The sudden spread of the COVID-19 pandemic has prompted global traffic restrictions, leaving tons of goods at their places of origin and unable to reach their destinations.
"We received an urgent application from a company that has long cooperated with us, asking us to open a direct route from Chongqing to Budapest to cut the journey time and cost," Qi said, adding that the first dedicated cargo train set off on April 26, after days of preparation.
Qi noted that less than two weeks later, when the first train had yet to reach its destination, a second had already started its journey, which served as evidence that the customer was satisfied with the service and fully trusted the China-Europe cargo trains.
Since then, the company has launched a weekly Europe-bound service.
The latest company statistics show that more than 4,000 containers have been transported to Hungary on China-Europe cargo trains, with more than 900 traveling from January to May, a rise of more than 50 percent from the same period last year.
"We are delighted to be able to provide a solution for many businesses during this stressful time. The China-Europe freight train service has clear benefits and has become the main means of transporting goods between China and Europe," Nie Hongyan, director of the Chongqing Municipal Logistics Office, said.
"I have no doubt that the future is bright for freight trains from China to Europe, as many other businesses have recognized the benefits."
Rail services in other parts of the country have seen strong growth because China-Europe freight trains have carried urgently needed anti-coronavirus supplies to other countries, along with daily necessities and production materials.
The first train carrying medical supplies departed Yiwu on March 21.
By the end of May, China-Europe freight trains had carried 12,524 metric tons of materials to fight the epidemic to countries such as Italy, Germany, Spain, the Czech Republic, Poland, Hungary and the Netherlands, according to the China State Railway Group.
On March 28, the China-Europe train service resumed in Wuhan, which was one of the places hardest hit by the coronavirus outbreak, soon after the city eased traffic controls following a two-month lockdown.
Having started in 2011, the China-Europe rail transport service is seen as an important part of the Belt and Road Initiative, which aims to boost trade between China and participating countries.