Double standards on HK legislation reflect old myths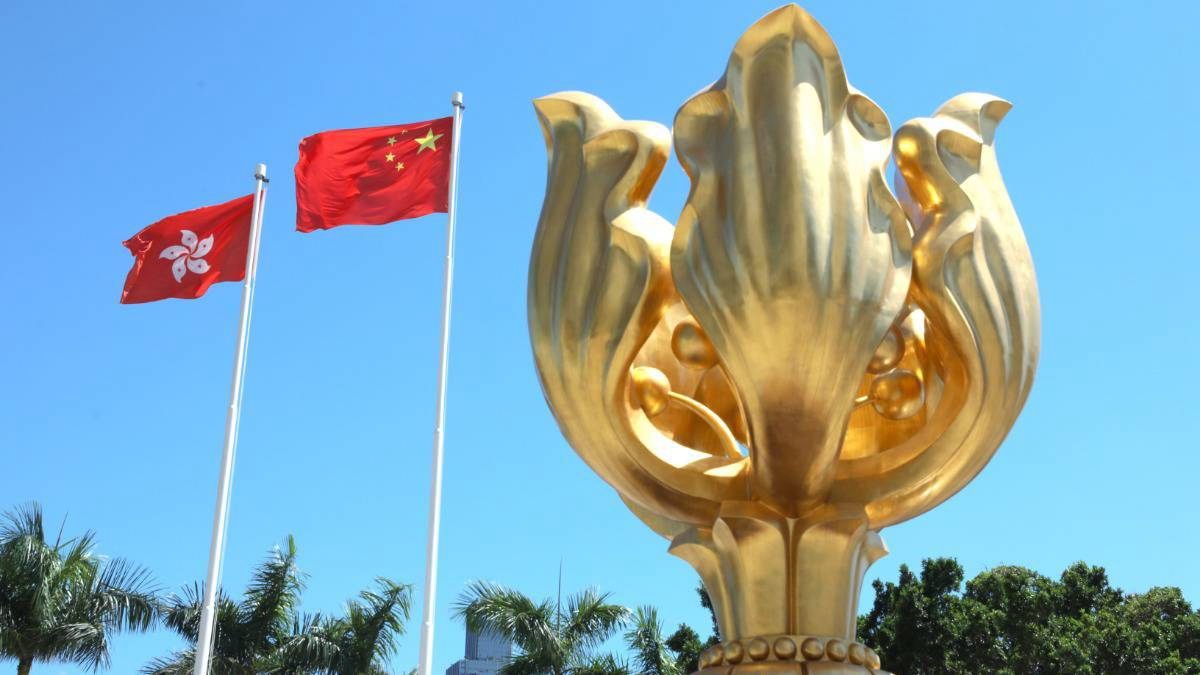 The past few years have witnessed too many double standards on Hong Kong issues. The latest development is Britain and the United States accusing the National Security Law for Hong Kong of "violating" human rights, demanding China reconsider the legislation. It looks odd when you remember those two countries both have tons of legislation on national security. The US has the world's largest and most complicated legal system of national security, with up to 1678 pieces of relevant legislation. Britain has 941. Why can't China have a national security law in its own special administrative region?
This exposes a rigid mindset, originating from realpolitik. By holding that, 'I am entitled to do it while you are not, and what I do is righteous while what you do is illegal', some politicians in the US and UK proclaim the Minnesota National Guard's arresting of protesters was for restoration of public order, while the Hong Kong Police's arresting of rioters who stormed the HK Legislative Council building last year was excessive use of force.
According to this logic, it is also claimed by certain politicians US forces in Afghanistan suspected of committing war crimes should not be investigated by the International Criminal Court, while China should be sanctioned, according to US laws, for its vocational education and training for local people in Xinjiang, which serves as a community response to counter terrorism. The list of double standards is long.
The colonial legacy comes first. Since the handover of Hong Kong in 1997, Britain has been advancing a strategy of "sovereignty in exchange for administration" in the territory. The fact the Hong Kong Court of Final Appeal and other district courts are mainly made up of British nationals proves Britain's resilient influence on Hong Kong's public affairs even after 1997. A similar situation exists in economic sectors, where British-owned enterprises still have important weight in Hong Kong's aviation, finance and real estate. This is a fait accompli in favor of former colonists that cannot be compromised by any potential risks like the national security law.
What followed is "Western centrism". It is a realpolitik vision originating in modern Europe but is increasingly turning into a worldview of an America-led geopolitical constellation, in which the US acts as the core and its allies, partners and others act as the periphery. Each has its own commitments and obligations to the US to sustain the system. So when a member of the periphery like Huawei shows its potential to develop from middle-end industries to high-end ones, the answer from the core is often ruthless suppression. Hong Kong is absolutely part of the system and is not allowed to trespass, even if a national security law is badly needed.
The third is weaponization of human rights. This maneuver was first deployed by the US, when it was wrestling with the Soviet Union during the Cold War. The US issued country reports of human rights practices for decades, accusing other countries of violating human rights according to standards even the US itself has failed to achieve. Meanwhile racial discrimination and social inequality within US society have been selectively ignored. The current domestic atmosphere of political polarization in the US further escalates the weaponization of human rights in its foreign policy, which makes politicization of human rights on Hong Kong inevitable.
It should be recognized that double standards on Hong Kong are reflections of historical inertia of realpolitik, and behind it lies some great powers' vested interests in the region. They, to maintain their advantage, do not even pretend to honor the international norms that inter-state interactions should be conducted under a fair and standard rule system. If this continues, the world will again fall victim to the law of the jungle.
The national security law could be seen as a consequence of America's realpolitik game in East Asia. It is under this background that China promulgated the law in the aftermath of an US-launched tariff war in 2018 and severe turbulence over a proposed bill in Hong Kong in 2019. With the US increasingly using Hong Kong as leverage against it, China has to plug national security loopholes to avoid future troubles. In this scenario, China is defensive, while the US is on the offensive, pressing hard only to make the situation backfire.
The battle of the national security in the context of realpolitik is a typical example of a 'negative-sum game'. In competition with China, the US will continue to implement a cost-imposed strategy via Hong Kong, under which both sides and even other parties will continue to "bleed". The US may think it can control the situation, but it needs to recall the day Sparta defeated Athens also marked the eve of the collapse of its own hegemony. Rational thinking and behavior are needed more than ever.
Britain had an understanding when it signed the Sino-British Joint Declaration with China on Hong Kong in 1984. That is, with China's exercise of sovereignty over Hong Kong is restored, Britain can develop a good relationship with China and benefit itself under the framework of "one country, two systems". But this was damaged by last year's riots and turbulence that jeopardized the foundation of "one country". Britain, whether involved actively or passively, is actually drifting off the scheduled course, exposing itself to the risk of long-term loss in Hong Kong. The British government needs to think how to maintain its interests in the region without being hijacked by the situation.
Although realpolitik continues on its own trajectory, human beings should not slide blindly to unknown territory. The US and Britain can preserve their interests in Hong Kong by respecting China's sovereignty and abiding by laws in the region. The realpolitik of double standards cannot work.
The people of Hong Kong, especially the younger generation, need to notice and debunk the old myths of realpolitik and turn their love for Hong Kong into constructive actions based on self-esteem and self-confidence. The irrational pursuit for freedom via violence resembles feeding a malignant tumor in society, which does not improve Hong Kong's democracy and governance. After all, Hong Kong's stability and prosperity can only be maintained and developed by the hands of Hong Kong residents.
The author is an observer of current affairs.
Most Viewed in 24 Hours
China Views