Graduates ponder job options amid pandemic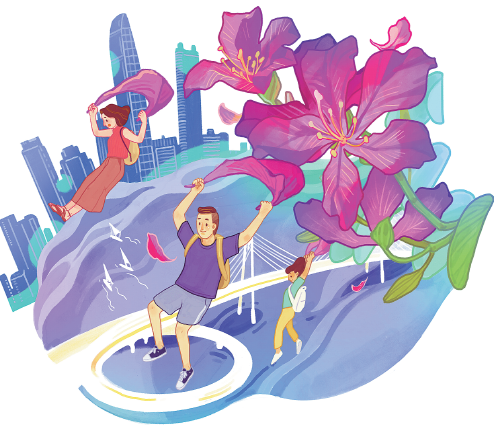 Some university leavers in Hong Kong are looking for opportunities on the mainland. Gu Mengyan reports from Hong Kong.
The figures are daunting: Hong Kong's GDP growth forecast for this year has been revised down to as low as minus 7 percent, the jobless rate has hit a 15-year high of 5.9 percent, while starting pay for graduates is falling.
All are buckling to the brutal force of the novel coronavirus pandemic, which has led to the worst global economic fallout since the 1930s.
Fresh graduates set to emerge from ivory towers and fight for a slot in Hong Kong's dwindling workforce are probably in for a rude awakening.
Luke Chu is about to complete his master's at a Hong Kong university, but is already fretting about his chances of landing a job in the city and his hopes are evaporating by the day.
Last summer, the 28-year-old quit a plum job as a digital marketing specialist with a tech giant in Beijing, headed to his "dream city" of Hong Kong in search of "another way of living" and became a university student for the second time.
To his dismay, his five years of specialist work experience don't seem to matter.
Chu is still waiting to be called for an interview after hurling dozens of resumes into the city's coronavirus-battered labor market, joining a generation lost in the worldwide pandemic.
He is at his wits' end. "I thought my work experience would give me an edge over other fresh graduates, but it didn't. I'll try to lower my salary expectations or even make do with junior posts, probably in other sectors," he said, adding that he had wanted to claim a spot in Hong Kong's film or variety show industries.
Estimates by the Joint Institutions Job Information System-a matchmaking platform for employers and university students run by Hong Kong's eight government-funded universities-speak volumes.
The number of openings for new graduates in the first four months slumped by 44 percent year-on-year to about 15,000 as COVID-19 took a toll on livelihoods in the city.
Compounding the dire climate, at least 30,000 new local university leavers are scrambling for their first job amid the sharpest economic downturn in decades, which has forced employers to freeze recruitment, rescind offers, slash wages, enforce unpaid leave or lay off employees.
The unemployment rate among people in the city age 20 to 24 recently reached 13.4 percent, close to a record high, without even counting this summer's graduates, according to Hong Kong government data.
Kate Sun, a social science graduate from the City University of Hong Kong, is another probable casualty. Eager to launch her career as a management trainee or graduate trainee in Hong Kong, she has submitted about 30 job applications in the city, as well as 20 to companies in Shenzhen, Guangdong province, since February. She has yet to receive any positive news.
"The past few months should have been the best time to build up networks through interviews, careers fairs and social gatherings. But we just got cooped up at home," the 23-year-old said, adding that she has decided to try her luck with other jobs in addition to trainee positions.
Victor Kwok Hoi-kit, a specialist on youth affairs at Our Hong Kong Foundation, a policy think tank, said trainee jobs, favored by fresh local graduates, are among the hardest hit by the pandemic. Many companies have reportedly scaled back or put trainee programs and hiring on the back burner for this year.