Fauci-White House friction flares up again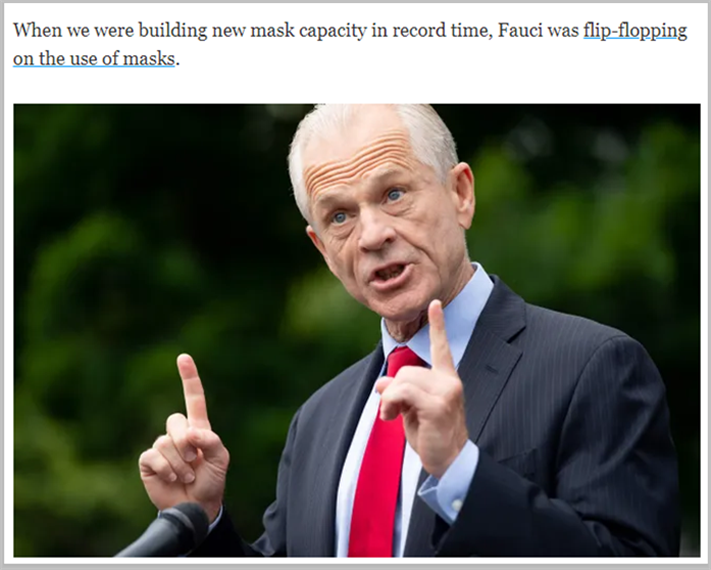 The backbiting between the White House and Dr Anthony Fauci continued on Wednesday, with the infectious diseases expert calling criticism of him by an adviser to President Donald Trump "bizarre".
Peter Navarro, director of the Office of Trade and Manufacturing Policy, wrote in an opinion piece published Wednesday in USA Today: "Dr Anthony Fauci has a good bedside manner with the public, but he has been wrong about everything I have interacted with him on."
Before departing for a trip to Atlanta, Trump was asked whether Navarro had circumvented White House communications policy.
"Well he made a statement representing himself. He shouldn't be doing that. No, I have a very good relationship with Anthony," Trump said.
Vice-President Mike Pence defended the doctor Wednesday.
"Dr Tony Fauci is a valued member of the White House Coronavirus Task Force. We just completed our latest meeting today, and we couldn't be more grateful for his steady counsel as we continue to meet this moment with a whole-of-government approach, a whole-of-America approach," Pence said.
Fauci, director of the National Institute of Allergy and Infectious Diseases, called for an end to divisiveness over the country's response, saying "let's stop this nonsense".
"One of the things that's part of the problem is the dynamics of the divisiveness that is going on now, that it becomes difficult to engage in a dialogue of honest evaluation of what's gone right and what's gone wrong," Fauci told The Atlantic in an interview.
"When we were building new mask capacity in record time, Fauci was flip-flopping on the use of masks," Navarro wrote.
"When Fauci was telling the White House Coronavirus Task Force that there was only anecdotal evidence in support of hydroxychloroquine [a drug backed by Trump] to fight the virus, I confronted him with scientific studies providing evidence of safety and efficacy. A recent Detroit hospital study showed a 50 percent reduction in the mortality rate when the medicine is used in early treatment," Navarro stated.
"Now Fauci says a falling mortality rate doesn't matter when it is the single most important statistic to help guide the pace of our economic reopening. The lower the mortality rate, the faster and more we can open."
Fauci told The Atlantic: "I can't explain Peter Navarro. He's in a world by himself. So I don't even want to go there."
USA Today late Wednesday said the Navarro article did not meet its "fact-checking standards".
The White House over the weekend distributed a list of statements that Fauci made early in the pandemic that turned out to be inaccurate.
Fauci said in a Financial Times interview last week that he had not briefed Trump in two months. He said on Wednesday his advice is passed onto the president via Pence.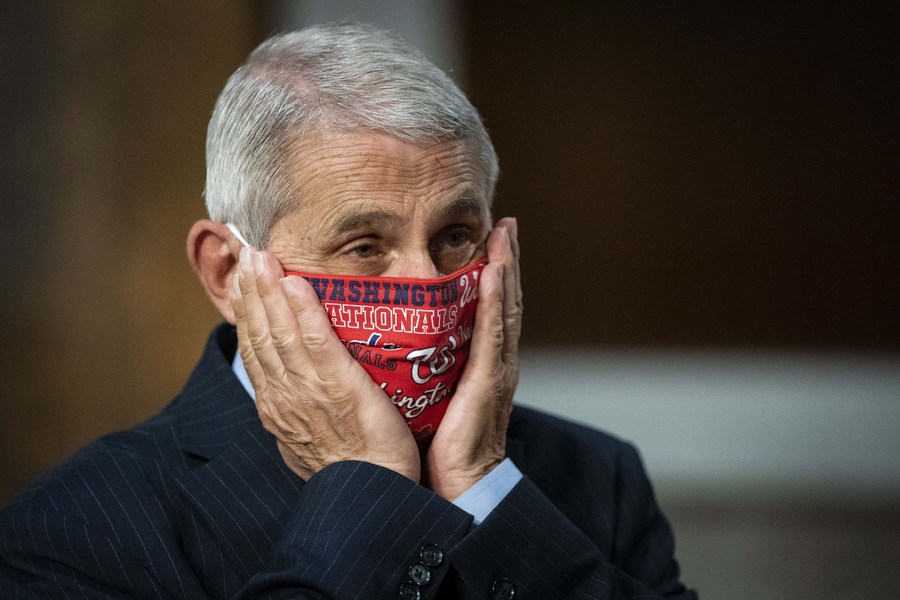 Elsewhere, as coronavirus infections surged in Oklahoma, the state's governor, Kevin Stitt, said Wednesday that he had tested positive for the novel coronavirus.
Oklahoma reported a record case increase for the second straight day Wednesday, with 1,075 new cases, bringing its total to 22,813.
Stitt had recently posted on Twitter a picture of himself and two of his children at a crowded restaurant.
"I got tested yesterday for COVID-19, and the results came back positive," Stitt said in a call with reporters. "I feel fine, really, I mean you might say I'm asymptomatic or just slightly kind of a little bit achy."
On June 20, Stitt attended a rally held by Trump in Tulsa,with thousands of other spectators.
The first-term Republican governor said he had worked with contact tracers on when his symptoms developed, and they believed he would not have been contagious before Saturday.
Since the Tulsa rally, coronavirus cases in the surrounding county have risen above 5,200 — a near 220 percent increase over the last four weeks, according to a Reuters analysis.
The number of US cases in the South and West has multiplied since local officials started relaxing economic and social restrictions aimed at slowing the virus' spread. Across the US, new cases are now averaging around 60,000 a day.
In Alabama, Governor Kay Ivey on Wednesday reversed a prior position and ordered all residents to wear masks, effective Thursday.
"I always prefer a personal responsibility over a government mandate," Ivey said at a briefing. "And yet I also know with all my heart that the numbers and the data over the past few weeks are definitely trending in the wrong direction."
Florida on Wednesday reported another 10,000 new cases, putting its total over 300,000. It also reported 112 new deaths, down from 133 reported on Tuesday.
California reported 11,126 new coronavirus cases on Wednesday, its second-highest daily count. The state reported 11,694 new cases on July 7.
Chicago Mayor Lori Lightfoot criticized young people in the city for not taking the pandemic seriously enough, citing data showing an increase in cases among people age 18 to 29.
As of Wednesday, the US was approaching 3.5 million coronavirus cases, with nearly 137,000 COVID-19 deaths, according to data compiled by Reuters.
Also, the Trump administration ordered hospitals to bypass the Centers for Disease Control and Prevention (CDC) and send all coronavirus patient information to a central database in Washington, starting Wednesday, according to a Health and Human Services document updated July 10.
The CDC has agreed to step out of the traditional data collection process "in order to streamline reporting", Dr Robert Redfield said during a call with reporters.
Elsewhere, Brazilian President Jair Bolsonaro has again tested positive for the coronavirus, he told reporters Wednesday in Brasilia.
The president has said he remains in good health and would resume his normal work schedule if he tested negative this week.
A former army captain, Bolsonaro first announced his diagnosis on July 7 after dismissing the severity of the COVID-19 pandemic, calling it a "little flu".
Reuters and the AP contributed to this story.