Britain to have inquiry into virus response
Share - WeChat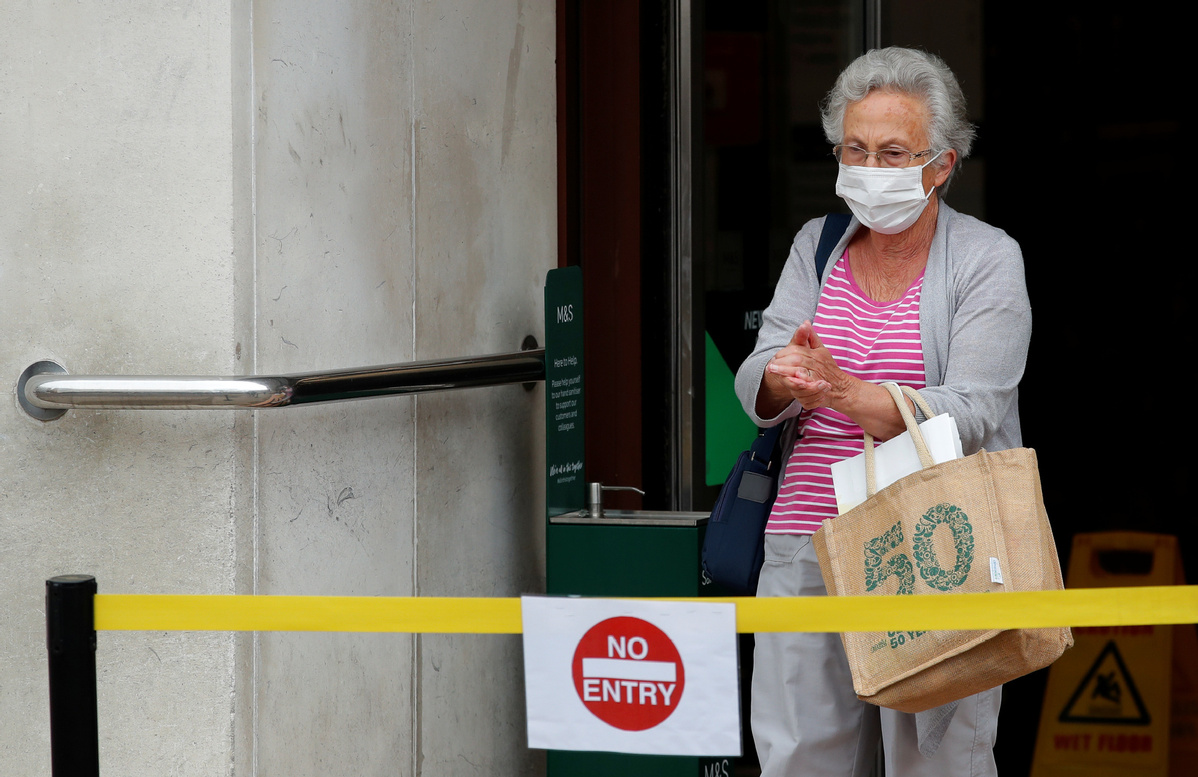 Prime Minister Boris Johnson has committed the United Kingdom to hold an independent inquiry into his government's handling of the novel coronavirus pandemic.
He made the promise on Wednesday during Prime Minister's Questions in the House of Commons in response to a question from Ed Davey, the acting leader of the Liberal Democrats.
But Johnson said the probe will have to wait until "the future" because of a lack of time and resources.
His health minister, Matt Hancock, added detail to that governmental response by saying the nation will not extend its recently announced face-mask rules to make them mandatory for office workers.
"It is something we've looked at and rejected," he said on BBC Breakfast while explaining that masks work well in protecting people during brief encounters but offer little protection to those in close contact with others for prolonged periods. He said the government will not recommend them to students for the same reason.
"The point is, when you're in an interaction with people who you aren't normally with, that's where the mask may be particularly helpful," he said.
He added that face masks-mandatory since June 15 on both public transport and within National Health Service facilities, and now required for visits to shops from July 24 - are likely to be a fixture of British life "for the foreseeable future".
But he said people must also continue to protect themselves by maintaining social distancing and washing their hands frequently.
Face masks have become important, in part, because of the need to get the high street moving again after it was mothballed for months as part of the UK's lockdown.
Ironically, those who head out in their masks for some retail therapy will not get as much for their money as they did pre-lockdown, with prices having gone up recently for games and clothing, something that pushed the nation's consumer price inflation up in June after it fell to its lowest level for four years the month before.
The Financial Times said Office for National Statistics data shows inflation accelerated by 0.6 percent year-on-year in June. Earlier, economists had told the Bloomberg news agency to expect 0.4 percent. Higher prices for recreational items, such as computer games and clothing, were reportedly off set by lower prices for food, hotels, and restaurants.
Core inflation, which does not include volatile items such as food, fuel, and cigarettes, rose to 1.2 percent. The Bank of England has set a target of keeping inflation at around 2 percent.
Inflation may be pushed down further in future by smaller salaries and job losses, as well as the government's temporary VAT cut for the hospitality and leisure industries, which came into effect on Wednesday. The cut means the surcharge that is normally 20 percent will be 5 percent until January, part of a bid to encourage spending on food and drink in order to save jobs.
Other data released on Wednesday shows the so-called R rate - the number of people being infected by someone who has the virus - was not as bad as feared during May.
Research by Imperial College London for the government shows there were 13 positive cases for every 10,000 people, meaning the R rate was 0.57 instead of the 0.7-to-1 estimated at the time.
The same researchers found 69 percent of those who tested positive reported no symptoms on the day of their test, or during the previous week.
Meanwhile, the virus has had at least had one positive impact on the UK, with more than 1 million smokers quitting during lockdown, according to a survey for the charity Action on Smoking and Health. It shows 41 percent of those who quit did so because of the virus, with some saying it was for health reasons, and others saying it was either for social reasons or to do with a lack of supply.
Another survey, by University College London, found more people stopped smoking in the year ending June 2020 than in any year since the survey began in 2007.
Elsewhere in Europe, the Reuters news agency said Russia recorded another 6,422 virus cases to take its total to 746,369, the fourth-highest in the world. And the Spanish region of Catalonia reintroduced some lockdown measures after the virus resurfaced there, with 745 cases in a 24-hour period.
A similar spike in Luxembourg prompted Germany to advise its citizens against visiting that country.