US schools' reopening plans vary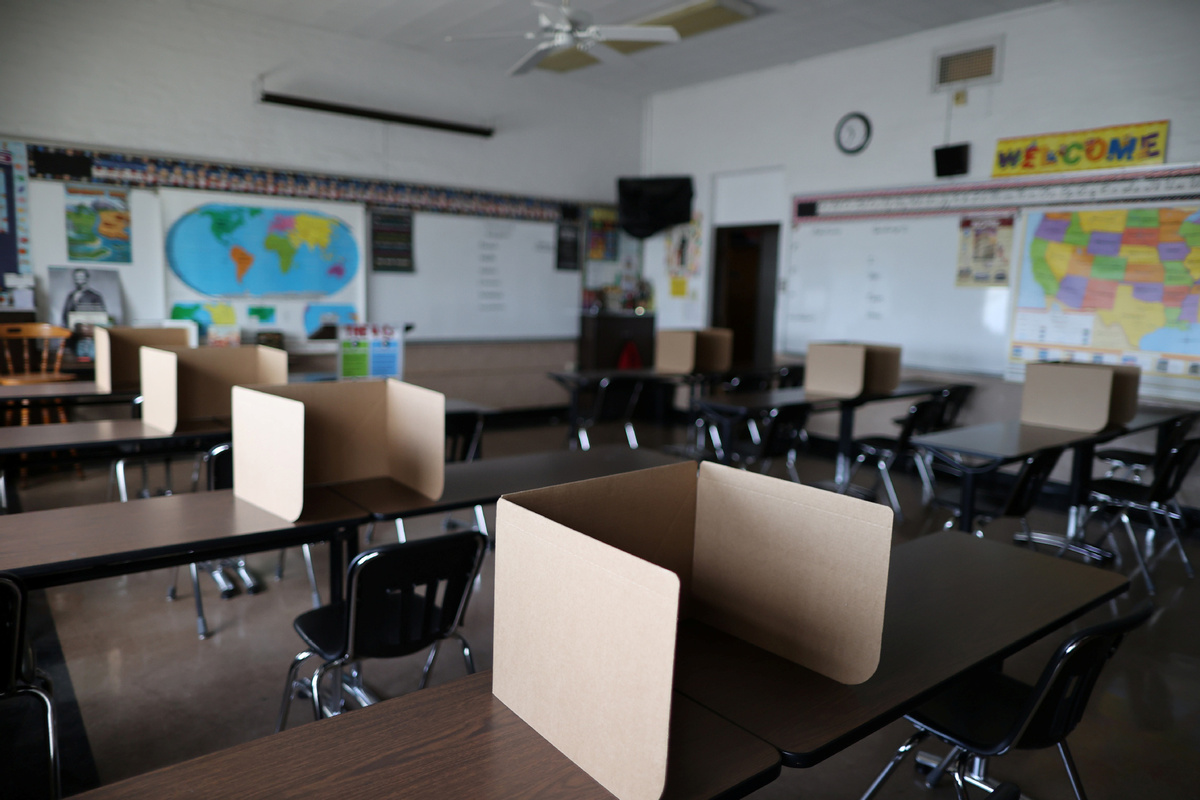 School districts across the country are taking different approaches to reopening despite the Trump administration's insistence that all schools reopen next month for in-person instruction or the government will withhold funding.
As schools make their plans, novel coronavirus cases are surging in some parts of the country. In the past two weeks, Florida, Texas, Arizona and California have become new hot spots with record numbers of infections and deaths.
Florida saw a record 15,300 new infections Sunday and more than 12,600 on Monday. Collectively, the death toll in the four states has surpassed 16,700.
In Southern California, neighboring school districts have made drastically different decisions on reopening.
The Board of Education in Orange County, which has nearly 30,000 students, voted Monday to approve reopening schools that don't include the mandatory use of masks for students or increased social distance.
The board leaves reopening plans up to individual school districts and recommends daily temperature checks, frequent hand-washing and use of hand sanitizer, and nightly disinfecting of classrooms, offices and transportation vehicles.
Los Angeles County, along with San Diego, announced Monday that only online classes will be offered in the fall semester because of increasing coronavirus infections. The two districts serve roughly 800,000 students.
Last week, the Texas Education Agency mandated that all schools make sure that daily on-site learning will be available to all parents who would like their students to attend school each day. However, parents will have the option to choose remote learning for their children at any point during the year.
The agency requires that all students, teachers, staff and visitors coming to campuses must be screened before being allowed in, and masks will be required while in school buildings.
While some Texas school districts have planned to reopen based on such guidelines, Fort Bend ISD, which is located southwest of Houston and serves more than 75,000 students, decided to begin the upcoming school year with online instruction only.
"Fort Bend ISD will begin the 2020-21 School Year 100% online in order to give students, parents and staff an opportunity to adjust to online learning and safety procedures. No in-person extracurricular will occur during this period of distance learning," the district announced on its Twitter account Monday.
Houston ISD, with more than 200,000 students, hasn't announced a reopening plan. Dallas ISD tweeted that the Board of Trustees "will convene later this month for a special called meeting at which time, the administration may make recommendations for an alternative start date for the 2020-2021 school year".
Last week, New York City Mayor Bill de Blasio announced a hybrid plan for the largest school district in the country to reopen for in-person instruction two or three days a week in the fall.
However, New York Governor Andrew Cuomo said Monday that he will decide if schools will open or not.
Cuomo said that for in-person class to be allowed, a region must be in phase four of reopening, and New York City is not there yet. He also requires school districts reopening to be in regions where the daily infection rate remains at 5 percent or lower for 14 days. A final decision on reopening schools will be made the first week of August.
Reopening school physically has met strong resistance from some educators. A recent poll by United Teachers Los Angeles showed that of 18,000 teacher members, 83 percent oppose reopening schools.
Some teachers tweeted that they are writing their wills when facing the reality of being forced back to school to face the virus.
Math teacher Ximena Cardos-Sloane with tweeter account @MathRoXCS tweeted: "Never in my wildest imagination I envisioned that going back to work as a #Teacher would be the reason that will push me to write a will."
But the online-only classes also met resistance from some parents and students.
In Florida, Palm Beach County School District Superintendent Donald Fennoy recommended full-time distance learning while the county is in phase one of its recovery plan. His idea was protested by some parents and students, according to WPTV.
"Because I have to work, and it's definitely for socialization, and I think they should give us a choice," parent Melissa Smith was quoted.
One student, Logan Showalter, said he wants to go back to school. "Not only is it much easier for me to learn in school, but also getting outside and moving around, talking to friends is extremely helpful for my mental health," he said.
"I have watched my son struggling with online learning since lockdown in March," said Robert Joe, a Houston parent. "Sometimes he missed homework, and I had to check to make sure he would complete all assignments last semester. It was a lot of extra work and stressful for me. I didn't have these issues when he was learning in school."
In addition, Joe said that he could see the toll that social isolation is taking on his teenage son.
"He's not going out. He's not seeing his friends. He has gained weight. The online learning and lockdown are very unhealthy for him."
Yet Joe said he's not sure what decision he will make for his son in the fall.
"It's awful for my son to start high school without interaction with teachers and classmates. However, both my wife and I have some underlying health issues. Sending him to school physically could mean a life-or-death risk for us. I don't know what I will do," he said.