Australia pub cluster adds to virus concerns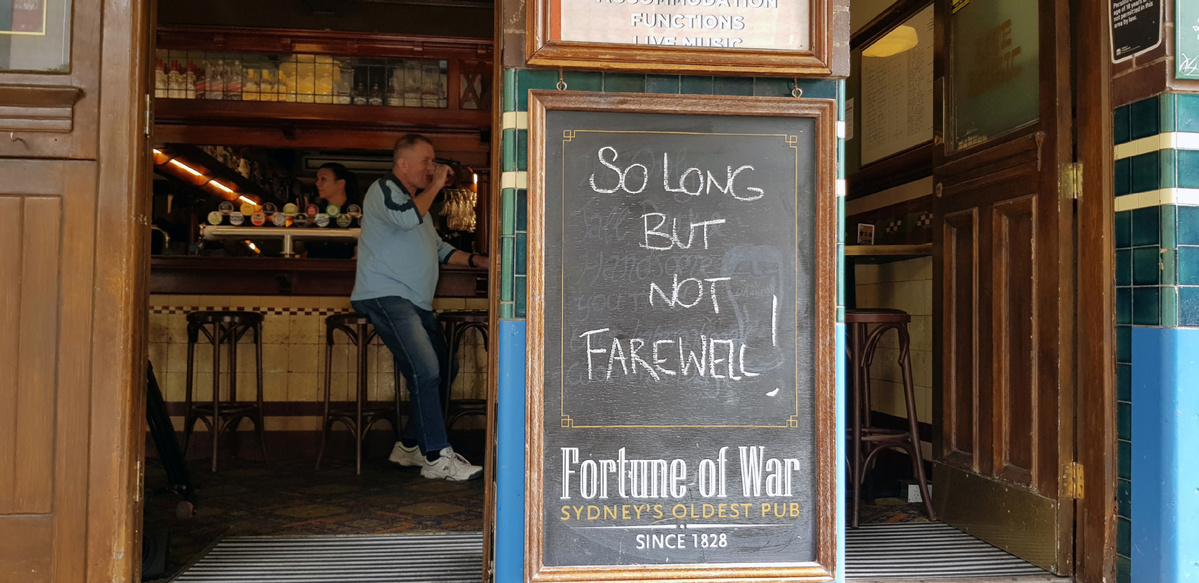 SYDNEY-Sydney residents were warned on Monday to put the brakes on partying as a new coronavirus cluster emerged at a pub in Australia's biggest city on the heels of a major outbreak in Melbourne.
Three pubs in Sydney and its surrounds were closed after being linked to outbreaks or failing to comply with social distancing requirements, while other events were under investigation with Australia on edge over a resurgence of the virus.
The new cluster emerged after the southern city of Melbourne entered a six-week lockdown on Thursday, and surrounding Victoria state was sealed off from the rest of the country in an effort to contain the virus.
Authorities reported 177 new infections in and around Melbourne on Monday, marking a week of triple-digit increases.
New South Wales Police Assistant Commissioner Tony Cooke on Monday slammed the "moronic behavior of people at dance parties", after local media published footage of large private get-togethers in Sydney's wealthy eastern suburbs.
City residents are allowed a maximum of 20 visitors to their homes under restrictions which have been gradually eased in recent weeks as the number of infections dwindled.
At least 21 infections have now been linked to a growing cluster at Sydney's Crossroads Hotel, a popular drinking spot on a major traffic route, raising concern the virus could be spreading in the state.
The bulk of these community transmission cases were people who recently visited the pub in southwest Sydney, taking the cluster to 13 in all.
"The concern is that this hotel is used by freight drivers who are transporting essential supplies across the country," Australia's Deputy Chief Medical Officer Michael Kidd told the Australian Broadcasting Corp.
"They are not being tested."
In a bid to curtail the spread, authorities urged anyone who visited the pub to isolate for two weeks and get tested.
On Monday, long lines of cars were waiting more than three hours to attend a drive-through test clinic at the venue.
Stepped-up penalties
A dozen military personnel who visited the pub while poised to deploy on an anti-virus mission were on Monday in isolation at an army base in rural New South Wales.
Authorities are worried about rising cases of community transmission.
The virus, however, has already spread to at least one more high-traffic venue, with a patron at Sydney's Star Casino on July 4 testing positive for COVID-19, the Star Entertainment Group said.
David Elliott, the state's police minister, warned that if the situation was not brought under control, pubs could be closed again.
"If we have to close hotels and clubs again, the patrons will have to take some of the ownership of that," he said on Monday.
"I will, however, work to my dying breath to make sure that doesn't happen."
Australia's Minister for Health Greg Hunt said 1,000 military personnel had been dispatched to help state officials curtail the spread of the coronavirus.
During a news conference, Hunt encouraged Victorians to wear face masks if they couldn't properly distance in public. He also demonstrated how to wear a mask.
After placing the mask lopsided across his face with a quick "one, and two" count, Hunt managed to strap it on, but with a slight adjustment to stop it covering his eyes.
Police have stepped up penalties for breaching coronavirus restrictions in recent days, with almost A$220,000 ($153,000) in fines handed out across Melbourne over the latest 24-hour period.
On Friday, a group whose house party was exposed by their large order from fast-food operator KFC was fined A$26,000. while six people from Victoria who tried to cross Queensland's border illegally were each fined A$4,000 the following night.
Australia has avoided the high COVID-19 casualty numbers of other nations with swift and strict measures, recording fewer than 10,000 cases in total, or about a sixth of the daily cases seen in the United States in recent days. The country has recorded 108 fatalities.
Scientists, meanwhile, have begun trials of a potential COVID-19 vaccine developed at the University of Queensland.
Agencies - Xinhua