Sri Lanka holds first wedding exhibition since COVID-19 outbreak
Share - WeChat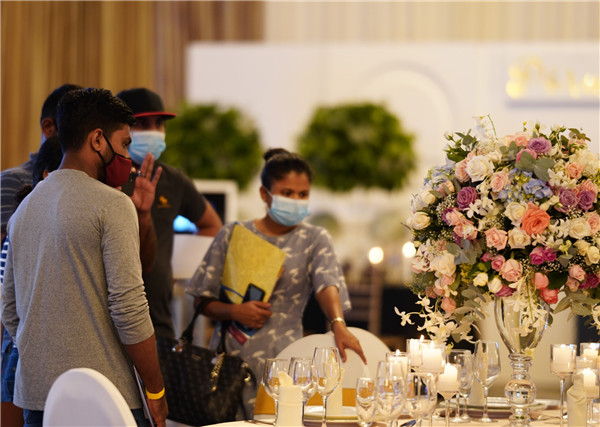 Early Saturday, young Ranjani Gunatilake, who is planning her wedding in December, traveled to the Waters Edge resort in Sri Lanka's capital Colombo to attend "Wedding Boutique 2020," the first wedding exhibition held in the country after a COVID-19 curfew was lifted.
She has been looking forward to the event since she saw the advertisement on social media a few days ago.
Ranjani is a client manager in a business process outsourcing company in Colombo. Her fiance, an IT professional, is currently stranded in Malaysia because of COVID-19 travel restrictions. "My father passed away and my mom is not in good health. Therefore, only I could come to the wedding exhibition to customize my wedding plans and do my shopping," Ranjani told Xinhua.
Fortunately for Ranjani, the pandemic situation in Sri Lanka is now stable and the government lifted the curfew last month and has gradually relaxed the restrictions on holding weddings.
A wedding occupies a very important place in the social life of Sri Lankans. Holding a decent wedding is a top priority for a family. And preparing for a wedding is a major responsibility for the bride and groom's families as many items need to be purchased.
There are only a small number of wedding companies in Sri Lanka that provide a "one-stop-shop" service and many families head for them.
The "Wedding Boutique 2020" exhibition held on Saturday and Sunday had many eye-catching and dazzling wedding products on display. There were also wedding planners, floral designers, makeup artists, hairstylists, professional tailors, jewelers, catering service providers, fancy cake makers, photographers, sound systems and lighting experts, among others.
Among the busiest at the wedding show were the creative designers who could provide comprehensive services and guidance for planning a wedding.
The wedding photographers' counters were also surrounded by people. A young couple were seen holding an album as the photographer and salesman pointed to their ideal wedding picture.
Most Popular