HKSAR rolls out drastic distancing measures amid local case spike
Share - WeChat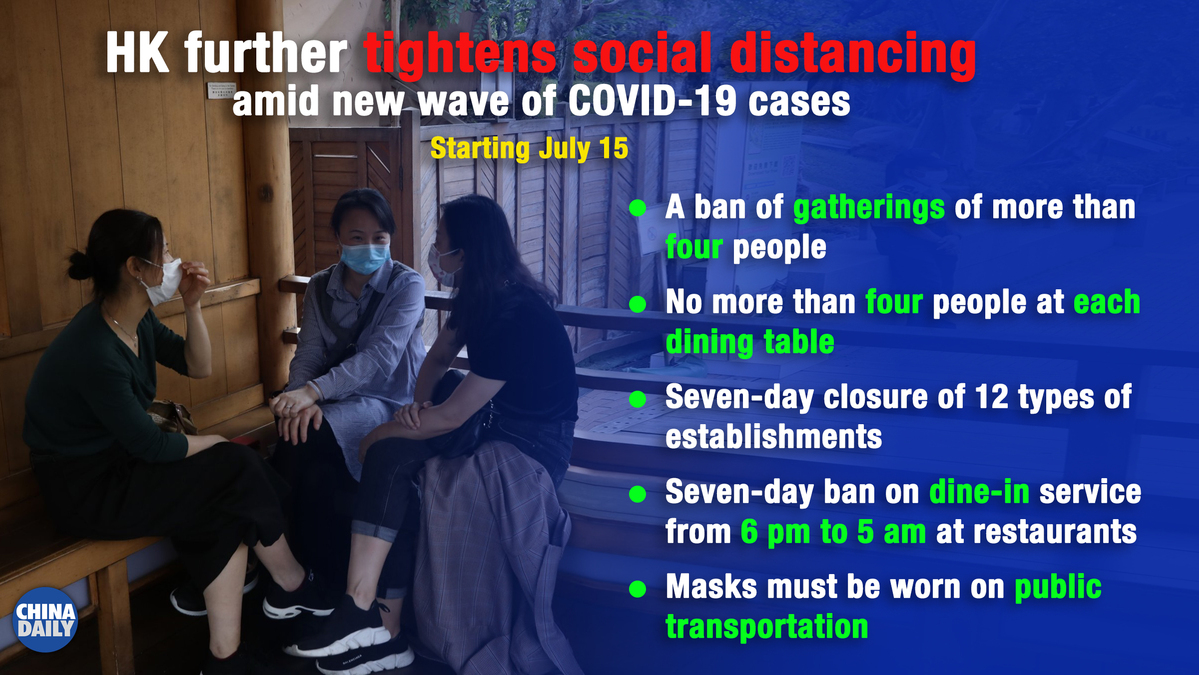 The Hong Kong government drastically tightened up its social-distancing measures on Monday, while expanding virus tests to vulnerable groups following a worrying new wave of COVID-19 infections in the city.
The new restrictions came shortly after Hong Kong recorded 52 new coronavirus cases amid an escalating third wave of infections characterized by local transmissions.
Starting from Wednesday, the limit on public gatherings will be reduced from 50 people to four. No more than four patrons will be allowed per table at restaurants — down from eight permitted previously. Restaurants will not be allowed to provide dine-in services from 6 pm to 5 am for a week, the government said.
Twelve kinds of leisure venues, including the recently reopened Ocean Park and Hong Kong Disneyland, will close again for at least a week, the government confirmed.
In addition to these restrictions, first introduced in March and gradually lifted later, the government has also made it mandatory for passengers to wear face masks when using public transport. The maximum penalty for those who breach this rule will be a HK$5,000 (US$645) fine.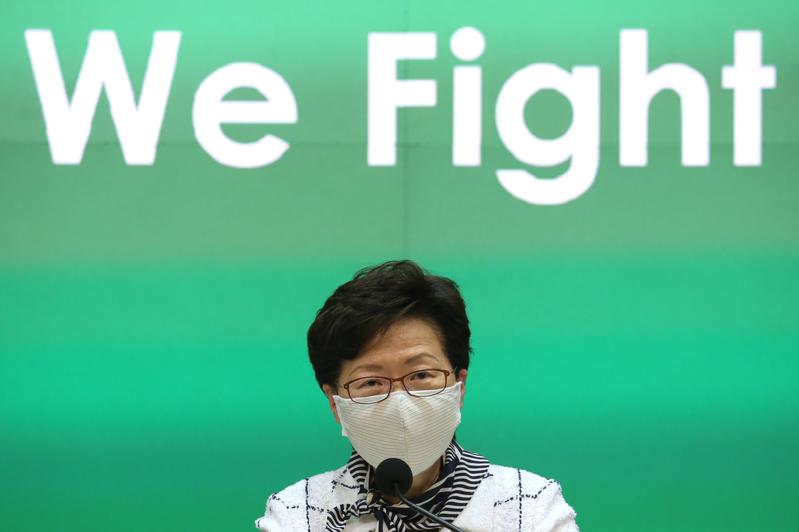 Chief Executive Carrie Lam Cheng Yuet-ngor announced the latest requirements to contain the coronavirus on Monday evening. She urged the public to comply with these rules, while admitting the resumption of economic activities in the city would be delayed.
Lam said she has encouraged the private sector to allow employees to work from home. The government has also announced free virus tests for employees in four areas: restaurants, elderly homes, taxi drivers and property management. About 400,000 people are expected to be tested.
Lam said a resurgence of coronavirus cases was hard to avoid based on scientific analysis and the experience of other places. She advised people not to panic or to become complacent.
Monday's COVID-19 cases include a record high of 41 locally transmitted infections. The source of 20 local cases remains unknown; 21 new patients were linked to previous infection clusters, the Centre for Health Protection said.
The city's total number of COVID-19 infections stands at 1,521 — with eight related deaths. The latest fatality was recorded on Monday evening after a 95-year-old woman was hospitalized on Friday. The woman had a medical history of disease. She is believed to have caught the virus at an elderly care home where at least 33 residents and staff members had contracted it.
The third wave of COVID-19 cases, which health experts described as the "worst local outbreak" since the disease first struck Hong Kong in January, emerged last week. Clusters of infections then spread to many city districts.
Between July 6 and 13, a total of 253 cases were confirmed in the city. This included 182 local cases with infection clusters linked to the elderly home, at least five restaurants and at least 12 taxi drivers.
Health authorities are still tracing the sources of 54 local infections during this period.
The sustained outbreak has also prompted the government to postpone the much-anticipated annual book fair scheduled to start on Wednesday, as well as three other public events this month, citing public health concerns.
The Hong Kong Trade Development Council said on Monday the Hong Kong Book Fair at the Hong Kong Convention and Exhibition Centre in Wan Chai, the Sports and Leisure Expo, the Education and Careers Expo and Entrepreneur Day would be rescheduled.
Although Hong Kong's strong border control measures remain in place and imported cases are largely under control, the government still requires people flying to Hong Kong from high-risk areas to show they have tested negative for the coronavirus before boarding flights.