Grads turn to web to improve life in their hometown
Share - WeChat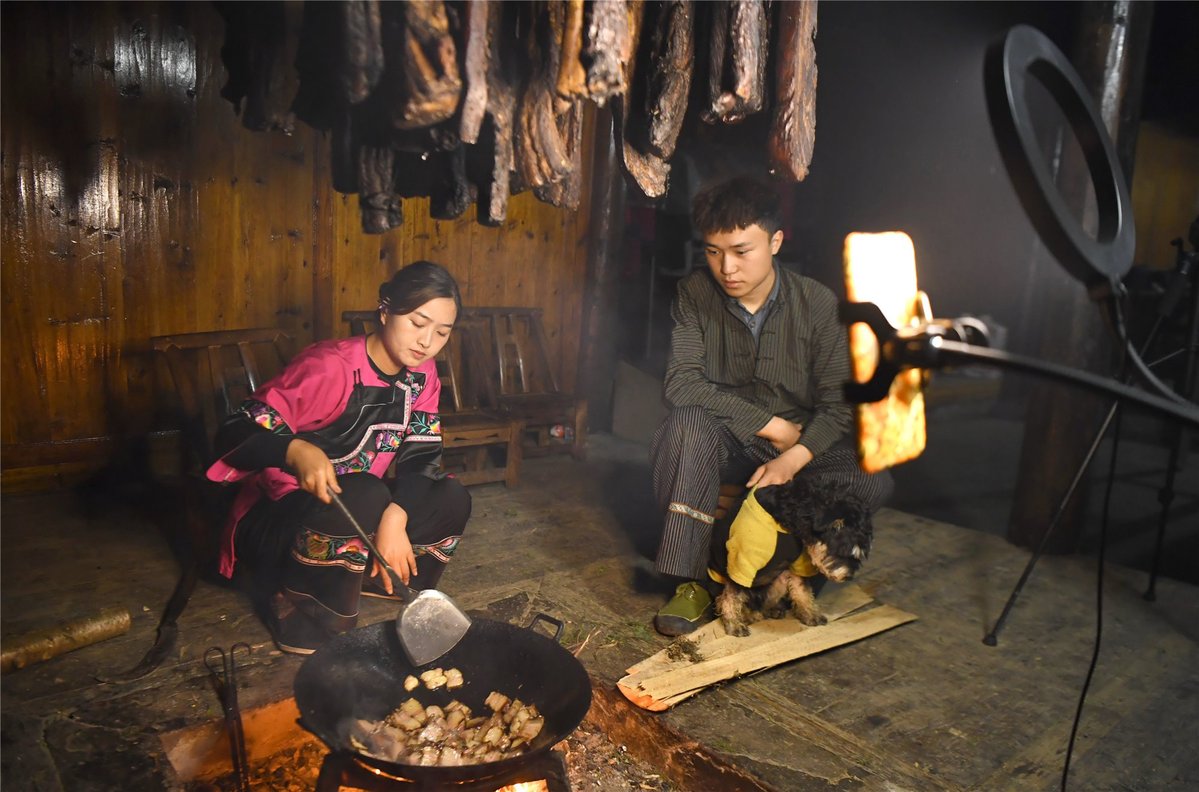 Shi Linjiao, a college graduate majoring in vocal music, quit her job in the city and returned to her hometown of Shibadong village, Hunan province, in February.
"When I was a child, I had a dream of being a singer. I looked forward to getting out of the deep mountains and pursuing my dream in the larger world, because a moderately prosperous life seemed so distant back then," she said.
"However, when I revisited my hometown this year, I dreamed of a place where the villagers were better off and modern conveniences were equipped. I found a lot of opportunities can be seized here," she said.
She decided to stay and do something for the village with two other young men who also grew up there-helping local villagers sell specialties via short videos and livestreaming.
The videos they made and uploaded to Douyin, a popular video-sharing platform, are usually 10 seconds long and feature the 24-year-old woman's daily life in the rural background of the village.
They depict her making smoked Miao-style bacon, transplanting rice seedlings, picking up firewood or feeding chickens.
The videos quickly attracted viewers curious about this village in the Xiangxi Tujia and Miao autonomous prefecture. The most liked comments included: "This Miao village situated in green mountains and clear water has the taste and smell of an earthly life", "The video reminds me of my childhood" and "So that's how Miao-style bacon is cooked. I want to buy some".
"Neither the video composition nor background were fancy. We just recorded the most common things in rural areas," she said.
Since February, when the first video was released, the short video account at Douyin has attracted nearly 100,000 followers. The team of three also do livestreaming to help with sales.
Over the past five months, the team has helped villagers sell specialties worth about 40,000 yuan ($5,720), including smoked bacon, pickled radish and Miao clothing. In return for their promotion efforts, the team garnered about 20 percent of the sales profit.
The three are all college graduates. Shi, a graduate from the Zhejiang Conservatory of Music in Hangzhou, Zhejiang province, is the heroine in the videos. Before she returned home, she worked in the publicity department of a fireworks company.
Shi Zhichun, who graduated law school at Jishou University in Jishou city in Hunan and returned home in 2017, is the planner and plot writer, while Shi Kang, who came back home in 2018 after graduating from Hunan College of Information, is in charge of video shooting and editing.
Shi Zhichun, who started the team, said he aimed to help villagers in Shibadong increase their incomes through short videos and livestreaming sales, and by promoting the natural scenery and boosting tourism.
"In the past, villagers could hardly sell their goods at Shibadong's tourist attractions because of poor promotion. Now it turns out that people who have been touched by our videos tend to trust us and purchase online," he said, adding that the key is to focus on traditional things and people in rural areas.
"I was born and raised in Shibadong. I have a deep affinity and sense of belonging with this place. Starting a career here instead of in big cities makes me feel more fulfilled," he said.