Portraits of piety
Share - WeChat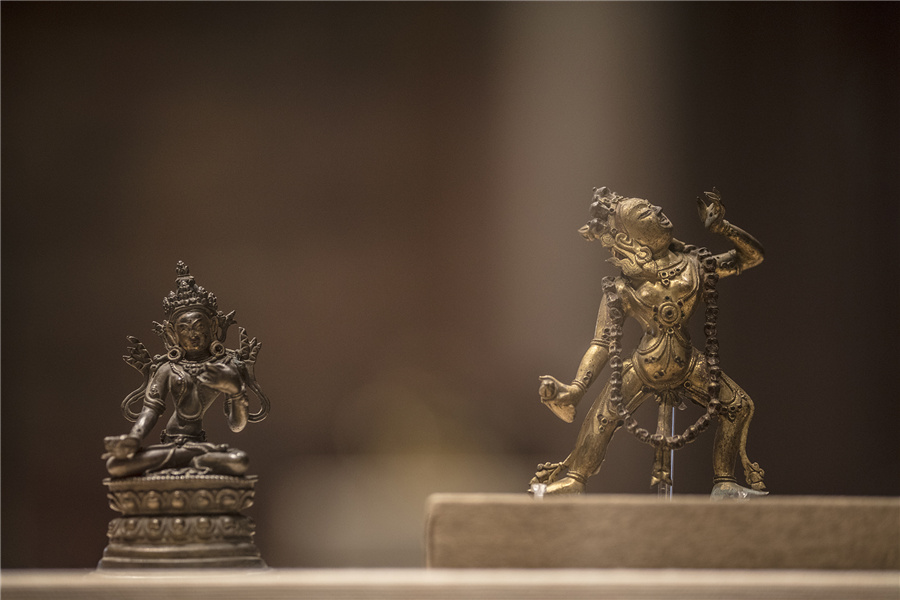 An exhibition of traditional Tibetan Buddhist scroll paintings in Beijing reveals the rich history of thangka.
The late 20th-century author and scholar Shen Congwen is best known for examining regional cultural heritage in his works.
Lesser known is that he developed an authority on the study of ancient Chinese attire.
Shen once donated four vintage Tibetan thangka paintings from his own collection to the Central Academy of Arts and Design, which merged with Tsinghua University in 1999 to become the Academy of Arts and Design.
These traditional Buddhist paintings were then transferred to the collection of the Tsinghua University Art Museum after it opened in 2016. They're now on show at Auspicious Land, an exhibition of Tibetan Buddhist paintings and sculptures that's running through Oct 25.
It displays 38 thangka paintings from the Tsinghua University Art Museum's roughly 13,000 works. The scrolls are displayed in juxtaposition with dozens of gilt-bronze Tibetan Buddhist statues on loan from the Capital Museum in Beijing.
The Tsinghua University Art Museum is temporarily closed because of the COVID-19 epidemic. A virtual tour of the exhibition is available on the museum's website.