Mountain echoes to the school of rock
Share - WeChat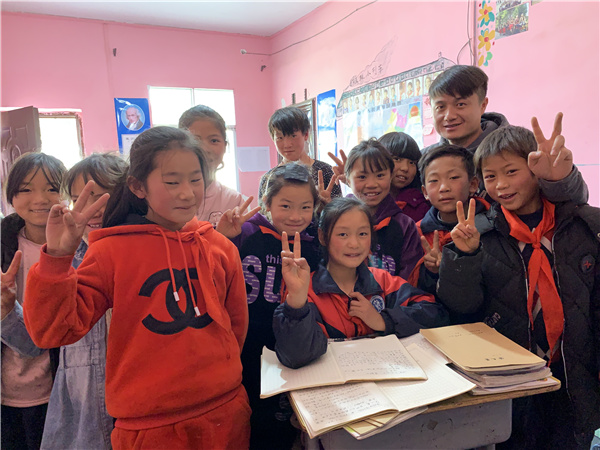 Uplifting tools
A music school graduate from Liupanshui Normal University and a guitarist, Gu became a Chinese teacher at Haiga Primary School in 2016.
In 2014, the school had fewer than 20 students and only one teacher, Zheng Long, who is also the principal. With no electricity or running water at that time, it was difficult to recruit teachers and parents would send their children to another school.
Zheng persuaded several teachers, including Gu, to teach at the school in 2016. That year, the school attracted more than 60 students. Now it has more than 120.
Gu's first impression of the school was that the students were too shy, quiet and reluctant to engage in conversation.
The ice-breaking moment came when Gu played guitar in his office. Students were immediately impressed, not least because it was the first time many had seen a guitar in their life.
Their curiosity inspired Gu to "open their heart through music".
"I am also from the countryside and rural education hasn't changed much from my time," Gu says.
In early 2018, a music program was launched at the school. Every day, the students receive one-hour music class.
With no budget for musical instruments, Zheng went to borrow a guitar, a drum kit and audio gear from a nearby school, located at the foot of the mountain.
"At first, they were too shy to move their bodies with the music or even to look at each other," Gu recalls.
To help students interact, or play as a band, Gu organized for them to watch a video recording of a live show by American metal band Dream Theater.
"I want to break down the stereotype about rural children. They can rock and be cool," Gu says, adding that music boosts their confidence.
On a wall in front of where the students are given music class, the teacher painted "Rock School", "Music" and "Rock me too" in bright colors.
This year, a new building went into operation, which included a room dedicated to music teaching and performance.
Most Popular