Russian voters approve amendments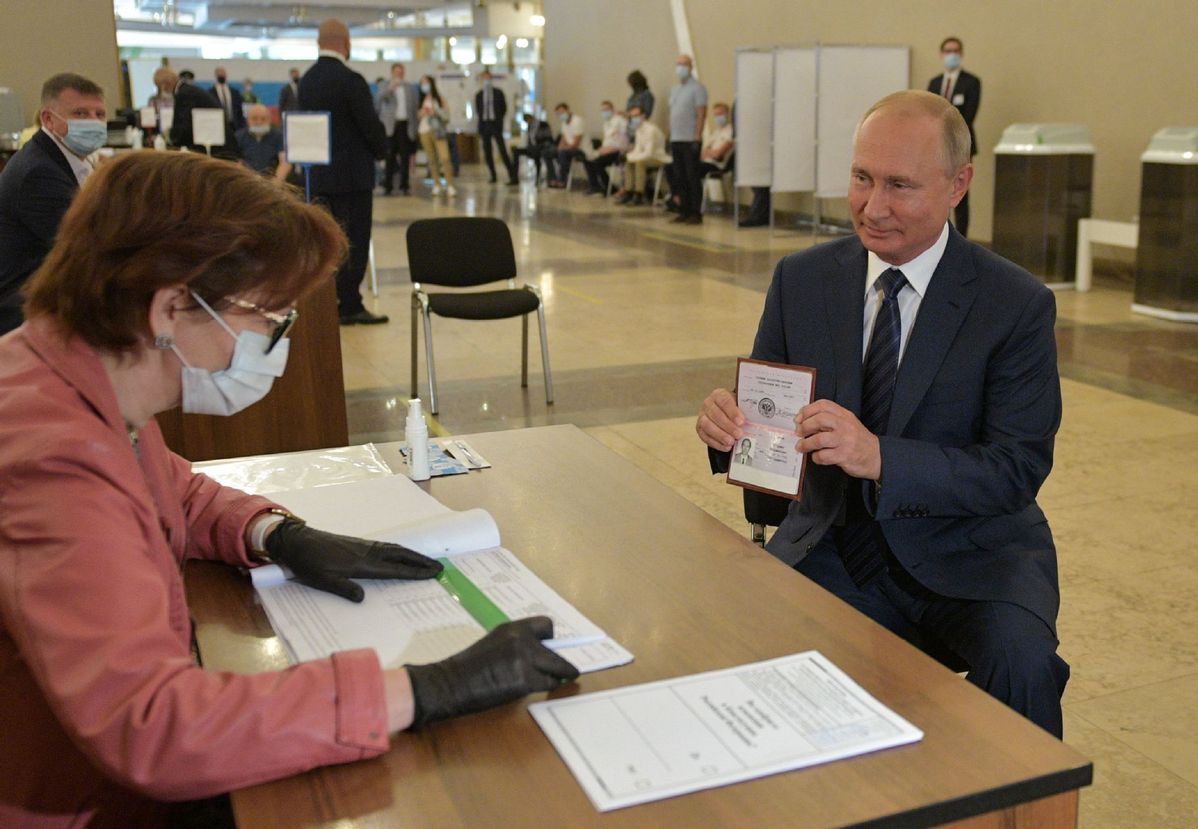 Russia's constitutional amendments were supported by 77.92 percent of voters during a week-long vote in the country and some overseas polling stations, the country's Central Electoral Commission said on Thursday.
The vote, initially set for April, was delayed due to COVID-19, and the period of voting itself was extended to allow for social distancing.
The voting day was set for Wednesday, but Russians were able to cast their ballots either for or against the 206 proposed amendments from June 25 to July 1.
Residents of Moscow, hardest hit by the coronavirus, and those in the city of Nizhny Novgorod could also vote online.
Russian RT TV reported that millions flocked to the polls all over the country on Wednesday to cast their ballots.
Russian polling stations are usually lively places with music, food stalls and entertainment.
But this vote was far more subdued with temperature checks at the door and staff handing out face masks.
The images on RT TV showed that the final day of voting was incident-free, although several hundred people in Moscow and several dozens in St Petersburg took to the streets to voice their opposition to the overhaul.
The rally in the Russian capital was peaceful, and saw police officers handing out protective masks to predominantly young activists, RT TV said.
Some critics hit out at the Kremlin for lumping more than 200 proposed amendments together in one package, but most were not upset at being unable to vote separately on the changes.
Out of trust
Taisia Fyodorova, a 69-year-old retiree in St Petersburg, said she voted yes "because I trust our government and the president".
The amendments, the bulk of which are dedicated to social issues according to Russian authorities, have grabbed headlines in the West mainly because they redefine the eligibility for the presidency and could theoretically provide incumbent President Vladimir Putin with a chance to stay in power for two more terms.
Putin made no mention of how the changes could affect his own career in an eve-of-vote speech on Tuesday.
He said he would decide later whether to run again, and that the resetting of the presidential term count was necessary to keep his lieutenants focused on their work instead of "darting their eyes in searching for possible successors".
China's Foreign Ministry spokesman Zhao Lijian said on Thursday:"The voting result reflected the choice of the Russian people."
As a friendly neighbor and comprehensive strategic partner of coordination in the new era, China will respect, as always, the Russian people's choice of their own path of development, and support the country's efforts for bringing long-term stability and security as well as promoting social and economic development, he told reporters at a regular press briefing in Beijing.
Martin McCauley, a veteran Russia-focused historian, said the vote on the amendments isn't about Putin. It's the first ever "truly Russian constitution".
Previous Russian constitutions were either inspired or influenced by foreign legislators, but the amendments that the country is voting on are truly "Russia-centered", McCauley said.