Adding color to tales of the past
Share - WeChat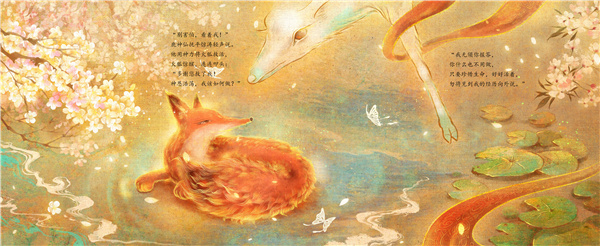 New approach sees book creators adapt ancient techniques to tell stories with a modern twist.
Chinese culture provides a rich seam of inspiration. Tales from the past have inspired generations. But to make them even more appealing, a group of seven picture book creators, with an average age of 25, are giving ancient tales a modern makeover.
With their mentor Mou Aili, associate professor at the School of Animation with Sichuan Fine Arts Institute in Chongqing, they have turned their graduating works into a collection of seven picture books on the theme of ancient Chinese legends.
The collection, entitled Interesting Chinese Mythology, was published by China Citic Press in May, and has been hailed by both critics and readers as "something original and fresh". So far, more than 6,000 copies of the collection have been sold.
The seven creators of the picture books have won much acclaim as a result, so much so that Chongqing Library is to hold a monthlong exhibition dedicated to the collection in August.
The collection is like a package of art lessons, as "it is presented in seven individual visual languages", says Mou, 39, who's also the author of the text in all seven of the books. "It's interesting to see how these young illustrators combine the ancient with the modern, and Chinese aesthetics with internationalized expressions, and above all, how they view and make use of tradition."
Among the seven books, each telling one mythical tale, it is the first time for three of the stories to be recounted in such a format. These include tales from two ethnic groups-The Yangque Bird Creating Sun and Moon from the Miao and White Feathered Flying Suit from the Dongxiang.
Editor of the collection Yu Zhixiao says she's impressed by their powerful creations, while Zeng Zirong, an art publisher, writer and head of Citic Art Museum, says that if the collection is introduced to global publishers on book fairs in Frankfurt and London, it may "get good results".
However, when these young creators first heard from their mentor that picture-book creation had been chosen as the focus of their graduation work, some of them, such as Xiao Peirou, were initially a bit perturbed at its seemingly "insignificant" nature, thinking of it as being a little childish.
But the more she researched, the happier she became, as she found that since good quality Chinese mythology picture books were rare, "there was still much room to improve and new trails to blaze".