Sampling the specialties of Santorini
Share - WeChat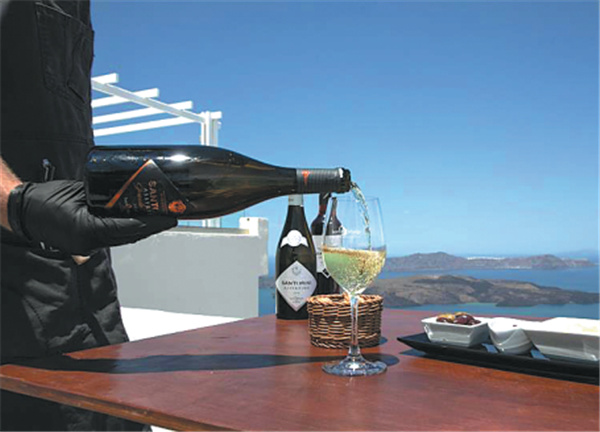 On the southern and eastern slopes of the Santorini volcano in the south Aegean Sea, away from the swarms of tourists who huddle for a view of the caldera, low vineyards stretch out to the waves, painting the rough landscape with vivid splashes of green.
Santorini's ancient wine industry is world-famous, since the island produces a range of wines from dozens of Greek grape varieties, principally Assyrtiko.
"Santorini has a small production but gives very special crops," Stavros Pelekanos says during a break from tending his vines.
The 49-year-old continues his family's tradition. He grows the local Assyrtiko variety using the same methods people on this island have used for the past 3,500 years.
He doesn't water his vines, as the volcanic soil offers all the minerals they need. And he prunes them in a round, basket-like shape to protect the grapes from the sun and strong winds.
Despite its small size, the island of Santorini boasts three European Union-certified Protected Designation of Origin products: cherry tomatoes, fava and wine.
Santorini cherry tomatoes, or tomataki as locals call them, stand out for their ridged skin, very small size and full flavor. They can be consumed fresh or in a dried-tomato paste. University of Athens research has found the Santorinian tomataki has a remarkably high concentration of the antioxidant lycopene, which helps prevent certain types of cancer.
Fava, on the other hand, is a kind of the legume Lathyrus clymenum only cultivated on Santorini. It's known for its velvety texture and sweet, earthy taste.
Clay pots unearthed during excavations at the prehistoric settlement of Akrotiri, which was destroyed by a volcanic eruption around 1500 BC, were found to contain residue of fava, whose genetic material was identical to the fava cultivated today on Santorini.
Santorini was born through a series of volcanic eruptions, the first dating back thousands of years. These eruptions endowed the island not only with its dramatic, world-famous caldera in the west but also with a very rich subsoil and a micro-climate in the east that gives produce special flavors.
Santo Wines' winery welcomes over 500,000 visitors from around the world a year, offering tours, food and wine tastings.
"Santorini might be famous for its sunsets and stunning views of the caldera, but it also has another, more charming aspect," Kasiola says.
"What we want to offer our visitors is this unique wine and gastronomic experience, enriching their overall experience of the island."
The king of Santorinian products is wine, which comes from three local white grape varieties-Assyrtiko, Atheri and Aidani.
Most Popular