Virus situation in US worsens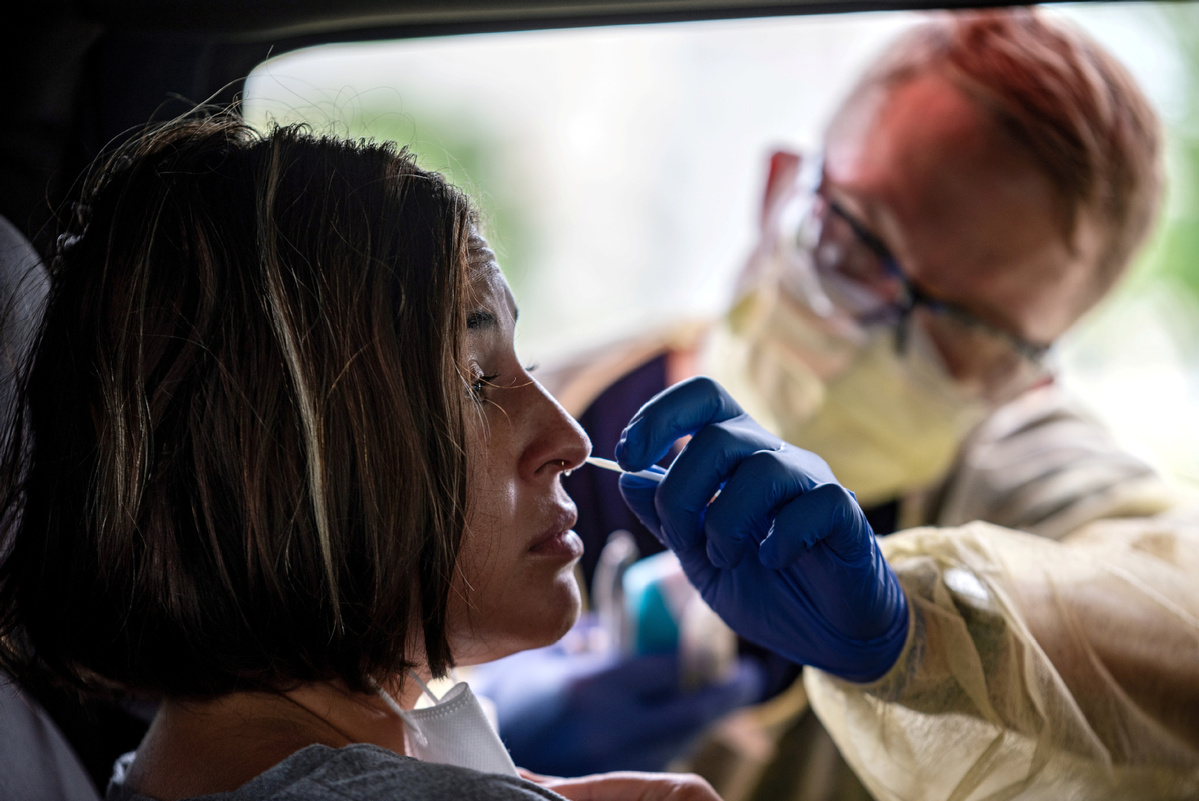 As the global total of infections from the novel coronavirus passed the 10 million mark Sunday, and cases continued to spike in most parts of the US, Health and Human Services Secretary Alex Azar warned that the "window is closing" for the country to get the coronavirus pandemic under control.
"Things are very different from two months ago," said Azar, speaking on CNN's State of the Union. "So it is a very different situation, but this is a very, very serious situation and the window is closing for us to take action and get this under control."
CNN reported that 36 states are seeing a rise in positive coronavirus cases compared to last week and only two — Connecticut and Rhode Island — are reporting declines. On Sunday, Arizona and Georgia both hit new one-day case highs.
Florida is beginning to emerge as the next epicenter for COVID-19. The state reported 9,585 new coronavirus cases Saturday, a one-day record. On Sunday, Florida reported another 8,530 new cases. Those numbers are similar to the levels seen in New York at its peak in early April.
Florida Governor Ron DeSantis said Saturday that his state's surge in cases was the result of a "test dump", echoing the notion, touted by US President Donald Trump, that the jump in cases is primarily the result of increased testing.
Indeed, on Friday, the White House's Coronavirus Task Force held its first press briefing in nearly two months where Vice-President Mike Pence declared that the US had "flattened the curve" even though the US saw its highest number of new cases in a single day for a second day in a row.
"We want the American people to understand it's almost inarguable that more testing is generating more cases," said Pence at the briefing.
"To one extent or another the volume of new cases coming in is a reflection of a great success in expanding testing across the country."
As of Sunday, more than 2.5 million people in the US have been infected with the coronavirus and at least 125,700 have died, according to data compiled by Johns Hopkins University.
Globally, the numbers are more than 10 million infected and over a half million dead.
Several states, including Texas and Washington have paused their reopening plans or reimposed some restrictions in hopes of curbing the outbreak.
On Sunday, Texas Governor Greg Abbott warned that the virus had taken a "very swift and a very dangerous turn" in his state over just the past few weeks.
Testing sites at two Houston stadiums reached capacity just hours after opening Saturday, reported The New York Times. Houston Mayor Sylvester Turner said that intensive care units there are nearly at capacity.
The number of daily new cases hit a record high Thursday of nearly 6,000, and the number of hospitalizations has reached new highs every day for the past 16 days, the Texas Tribune reported Sunday.
On Sunday, California ordered bars to close in seven counties, including Los Angeles County, constituting the first major rollback of that state's reopening process. California was first in declaring a statewide lockdown.
On Friday, Texas and Florida ordered all bars to close.
Officials across the US are pointing the finger of blame mostly at the public behavior of young people.
Azar, for his part, denied that reopening too quickly was tied to the rise in cases, pointing instead to "inappropriate individual behavior".
He warned on CNN that if Americans "act irresponsibly, if we don't socially distance, if we don't use face coverings in settings where we can't social distance, if we don't practice appropriate personal hygiene, we're going to see spread of disease."
Pence, appearing Sunday on CBS' Face the Nation, attributed the spike in part to young people who are failing to follow social distancing guidelines.
"What is happening here is a combination of increased testing — we're able to test a great deal more Americans than we were able to several months ago," said Pence, "but it also may be indication that as we're opening our economy up, that younger Americans have been congregating in ways that may have disregarded the guidance that we gave on the federal level for all the phases of reopening."
Pence went on: "One of the things that we've heard in Texas and Florida in particular is that nearly half of those who are testing positive are Americans under the age of 35. That's contributing to the fact that those that are requiring to be hospitalized, who are testing positive for coronavirus, is significantly lower than it was two months ago."
Pence also defended the president's refusal to wear a mask in public or to directly ask Americans to wear masks to protect others, even as Governor Abbott and others say the use of masks is critical to being able to reopen their states.
"Working with your governor," Pence said Sunday while visiting First Baptist Dallas, a local megachurch, "we will put the health of the people of the Lone Star State first, and every single day we'll continue to reclaim our freedom and our way of life."
Pence's Dallas trip coincided with a growing debate in Texas over masks. Abbott has resisted calls to punish those who refuse masks but has allowed local governments to order businesses to require them.
Speaking on Fox News Sunday, Tom Frieden, the former director of the US Centers for Disease Control and Prevention, contradicted the "test dump" theory, asserting that the increase in cases was not merely a matter of statistical interpretation.
"As a doctor, a scientist, an epidemiologist, I can tell you with 100 percent certainty that in most states where you're seeing an increase, it is a real increase. It is not more tests," said Frieden. "It is more spread of the virus."
Frieden went on to say that higher case numbers in the South were a direct result of premature reopenings.
Deaths are not yet spiking, he said, because deaths lag infections by about a month. He estimated that the US will see at least 15,000 more deaths in the next month.