Navarro revives baseless smear campaign against China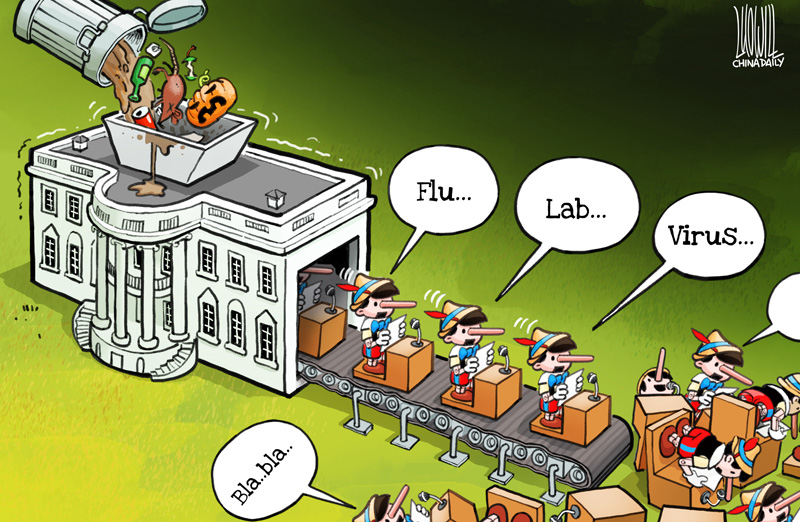 The world political spotlight has fallen on White House trade adviser Peter Navarro once again, as he revived the stigmatization of China by linking the novel coronavirus to the Chinese government. Such a shameful display put Navarro's perpetual Pinocchio act in full view.
It was not the first time Navarro, a fierce China hawk, and other allies of US President Donald Trump have floated the unsubstantiated theory COVID-19 originated or was leaked from a Chinese lab.
Such groundless accusations from some US officials go against the principles of international organizations. The World Health Organization reiterated the origin of the novel coronavirus has not been confirmed yet, and hoped to not associate the term with any region or country.
As for Navarro's fallacies, Chinese Foreign Ministry spokeswoman Hua Chunying said at a daily news briefing Navarro is a liar, and must stop any deliberate stigmatization of China. She also advised Navarro to take time to read a white paper on fighting COVID-19 released by the State Council Information Office in early June, which shares with the world China's experience in fighting the disease and shows how China raced to beat the virus and keep the world informed at every step of the way.
As WHO Director-General Tedros Adhanom Ghebreyesus has said, "We should work across party lines, across religious lines. We shouldn't waste time pointing fingers".
The COVID-19 pandemic should not be politicized, as unity is the only way to defeat the disease. Navarro and other Trump allies must stop attacking China. The top priority for the United States should be to learn from China's experience, take effective measures to control its COVID-19 epidemic and participate in international cooperation against the virus.
Most Viewed in 24 Hours
China Views